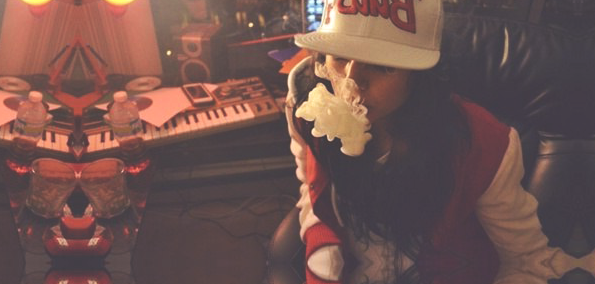 Toronto based duo Free N Losh have been tantalizing our ear buds with delicious reworkings of golden classics from the likes of Led Zeppelin to the The Mills Brothers. Their latest EP The Best Is Yet To Come  is a musical smorgasbord of glistening revivals. Free N Losh transform into Marty McFly and Doc Brown as they catapult us back into time, exploring the likes of the jazz era, the swing era and many more.  The Best Is Yet To Come is resilient and truly pays homage to the original masters while garnishing it with tight trap stylings.  So let's open up those butterfly doors and hop in the time machine, don't worry about traffic on the highway because where we're going we don't need roads.
To start the album off, Fresh N' Losh wet our appetite with a soulful trap rendition of "I Believe To My Soul" by Ray Charles, that drips in sexiness.  "Things You Don't Understand" utilizes emotionally charged guitar riffs that complement the vocals, like a slice of lime compliments a cold summer brew.  Slowed down samples from "Superstitious" by Stevie Wonder add to this gripping track, providing dynamism and weight, while still paying homage to the original masters.
Next on the decks, "Babe I'm Gonna Leave You," the first song that introduced me to Free N' Losh and got me aboard the Free N Losh locomotive. We previously praised this track declaring that, Free n Losh join in the ranks with their creative remix of Led Zepplin's "Babe I'm Gonna Leave You." FnL have taken this classic rock gem and turned it into a soulful groove. Jimmy Page's entrancing guitar chords and Robert Plants emotionally filled vocals are accompanied by a chilled-out minimalistic percussion bed that make this track certified gold.
Next up we have "Where Do They Go."  The dark and sexy remake of The Mills Brothers, "Smoke Rings." The track lead my imagination to a dimly lit bar where everything illuminates in black and white, while a smoky haze floods the room. I look over my shoulder and see Duke Ellington doing the same, slowly rocking to Lee and Myles' time-withstanding use of snare and high-hat syncopation, all while complementing the muted trumpet beautifully. Rounding out the middle of our journey back into time with Free N Losh, "Where Do They Go" is another exceptionally tasty rework of those beloved classic tunes. 
Up next on the already stellar EP is a reinvisioning of the classic song "She's Leaving Home" from The Beatles Srgt. Pepper's Lonely Hearts Club. A smooth brass section accompanied by a hard-hitting down-tempo percussion bed all accent Paul McCartney's intoxicating and iconic vocals. When the chorus hit I want to writhe my head back and forth, like an earthworm extending his head from his resting hole greeting the day's sunshine. Probably one of my favorite tracks off the album but with some many platinum reworking's it's hard to call it my absolute favorite.
What better way to end the album than a reimagining of the king of swing, Frank Sinatara's timeless classic "The Best Is Yet To Come." The brass section makes me feel as if I am running along side the pink panther solving mysteries wearing trench coats and funny top hats.  Staccato melodies accompany Sinatara's iconic and alluring vocals, making it irresistible and will keep your two-tone oxford leather shoes tapping and your fingers snapping. 
From soul to swing and all the way down to classic rock, Free N' Losh take us on a musical voyage while still holding true to the original songs. Hop in the Delorean and let Free N' Losh conduct your ride back through time. As Doc once said, "If my calculations are correct, when this baby hits 88 miles per hour you're going to [hear] some serious shit."