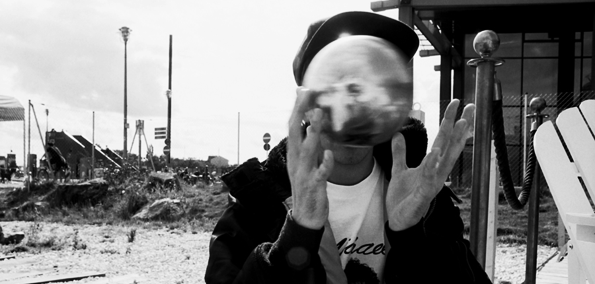 2013 so far might be most well-known as the year that genres died, and the latest five-track EP from Boys Noize keeps that narrative going strong. After spending the better part of the last year dedicated to a live tour as well as hisDog Blood side project, Boys Noize is back with Go Hard, a release of original material that sample a variety of genres.
Originally teased out weeks ago, "Starwin" is the first offering from the German producer and is a departure from his heavy-hitting electro, sampling happy disco melodies with 90's Daft Punk style acid blips. Next up is the title track "Go Hard," dropping wonky basslines and 808s underneath a Kreayshawn vocal sample. Adding in a hardstyle drum and trap anthem gun clicks might not be expected from Boys Noize, but the gritty electro stabs keeps his influence intact. Next up are a couple of straight-edge rave tracks: "Inhale/Exhale" sounds like it's straight out of a mid-90s warehouse party, with a raw but simple melody, while "Excuse Me" was a feature ID track in Skrillex's recent Essential Mix and packs a hard sample from Altern8's 1991 release "Frequency". Rounding out the EP is "Push Em Up", a rave rap hybrid that lays a darker, sharp melody against a simple hip hop vocal. 
All in all, it's without question the most experimental release from Boys Noize, but breaking down the genre barrier and testing the waters of new sounds is something that we'll always welcome. Check out the rest of the Go Hard tour dates to see these new tracks in person.
[soundcloud url="http://api.soundcloud.com/tracks/98220770" params="" width=" 100%" height="166" iframe="true" /]
[soundcloud url="http://api.soundcloud.com/tracks/96552372" params="" width=" 100%" height="166" iframe="true" /]
[soundcloud url="http://api.soundcloud.com/tracks/95509464" params="" width=" 100%" height="166" iframe="true" /]
[soundcloud url="http://api.soundcloud.com/tracks/94503186" params="" width=" 100%" height="166" iframe="true" /]
[soundcloud url="http://api.soundcloud.com/tracks/97846766" params="" width=" 100%" height="166" iframe="true" /]