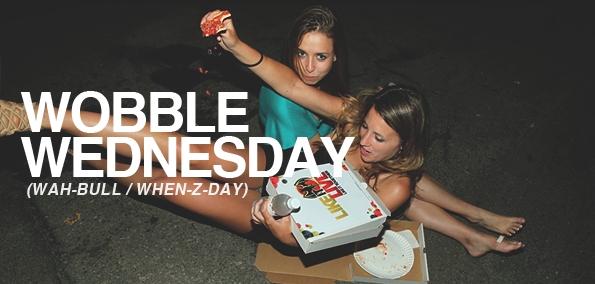 A wild assortment of future funk, dope drum 'n' bass, and a very special thank you to Candyland comprise Week 21 of Wobble Wednesday. Artists to note include Tube & Berger, Pink Noise Ordinance, Rektchordz, Metrik, and Dee Reck.
I apologize for the lack of classic dubstep tunes this week. It was really tough to find anything of the sort. I tried to make up for it with Plastician's recent Rinse FM mix. It's bassy and strange, but gets the job done.
FUTURE
Deep house vibes from Tube & Berger. These guys aren't new, but the sound is just starting to pick back up.
"Lemonade was a popular drink, and it still is." This new track from Astronomar has some serious old school hip hop vibes.
Chromeo-style sound. Very deep and groovy.
Low-end and dark.
.
Glitch hop funk from TYR.
Shuffling house tune with transposed vocals.
Crazy, complex yet minimal downtempo tune from Pink Noise Ordinance. Very Four Tet inspired.
UK BASS
Purple goodness with an Arabic chant. Strange name for a track with this type of sound, but hey, whatever floats the artist's boat!
FILTH
The guys over at Candyland are doing some pretty cool things with The One Fund, which was created to help the recovery process of the recent Boston bombings. Candyland was scheduled to play a couple days after that horrible afternoon, but had to reschedule due to the events that unfolded. To make it up to everybody, 100% of the proceeds for their upcoming show are going towards the fund. Not only that, but all the money this track makes will also go towards the fund. BUT WAIT! THERE'S MORE! Today they are doing a Mixify charity event. The proceeds? You guessed it. Right to the fund. Candyland just stepped up several notches in my book.
Bassnectar-like reese bass from Biometrix. "L.U.S.T." is part of a VitalFM compilation album you can download here.
This one riffs SO HARD! It's like a dirtier mix between glitch and filth with 1/32 notes scattered throughout. It then goes into some video game chiptune stylings. So good. Grab the whole album here.
This one starts out a little slower, but drops into a nice carbon grit that reverberates hard.
Fresh off his new Hear No Evil EP, this track is a good example of how far Protohype has come.
Glitchy remix of Destroid's "Raise Your Fist". Grab it on Beatport here.
DRUM 'N' BASS
Dancehall rhythm with a nice instrumental tracked laid over.
Speedy dnb with a moving synth track. They sound weird at first, but I kind of like the detuned vocals; gives them more of a presence.
Soothing liquid drum 'n' bass that makes great use of guitar harmonics.
The kind of tune that fits well with this new wave of house music.
TRAP
Diplo has been getting weirder and weirder with every produciton. If you don't believe me, check out his newest video collaboration with Eric Wareheim.
The intro piano riff sounds like those Garnier Fructis commercials, but the drop is decent. Cool pump-up summer jam.
Downtempo trap that still hits pretty hard. Sounds like something Eprom would have made.
The magical productions of TOKiMONSTA and CRNKN go better together than bacon and brown sugar. This is what happens when worlds colide. Not so bad, eh?
MIXES OF THE WEEK
Future XLR8R-Style Mini Mix
Heavy DnB/Neurofunk Mix
Fast-paced strange UK dubstep Mix