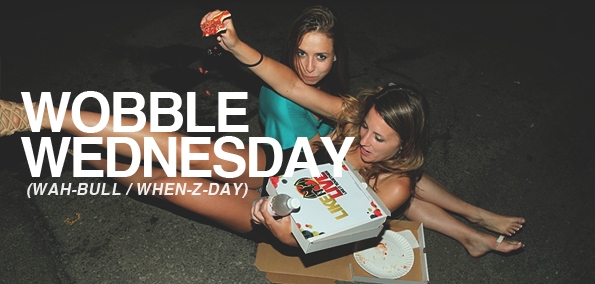 Reggae vibes, new-school house, grime, and hardstyle all make appearances in this week's Wobble Wednesday. Week 20 is packed tight with new tunes, both familiar and foreign. As always, there's a bit of something for everybody. Unfortunately, downloads are getting harder and harder to find these days, but I'd rather feature tunes of quality and the occasional download than a full list of free downloads and questionable music. Of course that word "questionable" is subjective, but that's neither here nor there. While the downloads are scarce, this week features Alvin Risk's new free EP, Junk Food.
Tracks of note include Disclosure's "F for You", FLeCK's "There", Crizzly's remix of "Fuckin' Problems", and Au5 & Fractal's "Alone". If you like hardstyle, check out Alex Young's "Mastermind". On the other hand, if you hate trap-style hardstyle then stay away from it. In the FUTURE section, Urulu's "Lonely Weekend" and Cream Dream's "Paradiso" are definitely worth a listen or two.
I figured I would make it easier for you guys, so the weekly mixes are labeled for genre free of my opinions. I like to use mixes to find music I haven't heard yet. You can imagine my delight when Diplo released his 102-song summer playlist yesterday.
FUTURE
Straight up bass astrovibe from His System. This one's a work in progress, but the current version deserves a listen.
Mellow with a strong, noticeable bassline.
Deep, dark house vibe.
Begins with about 8 seconds of silence, just so you know. This Airbird & Napolian tune brings the weirder side of electronic music to some old school house and 80s synth pop.
MyMind hits us up this week with a future garage remix of Rihanna's "Stay". Produced alongside HalfDeaf, this tune does some crazy shit with the vocals.
Fresh Disclosure. The album comes out June 3rd, so be sure to grab that.
If you liked Daft Punk's new album, you'll probably dig this tune.
UK BASS
I would use this as a perfect example to defend the current state of UK bass music. It's got everything from breaks to wobbling sin waves to twinkles. A massive tune through and through.
Solid grime tune right here.
Straight. Up. Dub. Not dubstep, not 2-step; just plain old dub sound courtesy of Dub Club.
FILTH
Sound the trumpets and praise Jah for this Reggae-influenced dubstep tune.
Crizzly always goes hard. If you think the verse is massive, just wait for the chorus.
You can't have just one Crizzly tune. This remix he did alongside Logun of ThreeSixMafia hits just as hard. Download here
Preview of a massive remix of Xilent's "Boss Wave" from Teddy Killerz.
Alvin Risk's new EP, Junk Food, is out and up for grabs at the low, low cost of $Free.99. Here is one of the heavier tracks from the album.
2-step heavy downtempo thrasher from Datsik.
DRUM 'N' BASS
Almost as beautiful as an Imogen Heap song. Really cool vocals, evolving arpeggiated pads, and heavy hitting kicks. Download here
Calvertron just dropped his new EP, 50,000 Watts. Here is a track from it to give you an idea on the overall vibe it holds.
This one dabbles in the heavier side of dnb.
TRAP/HARDSTYLE
Melodic trap with some verses.
It was just a matter of time before metal remixes started appearing. This one ain't bad.
This sounds like a heavy-hitting mix between a bullfrog and a duck on nitrous. Pretty downtempo in terms of trap, but heavy nonetheless.
Trap is sounding more and more like hardstyle as the days go by. Glad to see the younger generation of producers can appreciate what came before them.
MIXES OF THE WEEK
Tech House Mix (Justin Jay)
Heavy Dubstep Mix (Delta Heavy)
Trap Mix (Basker)