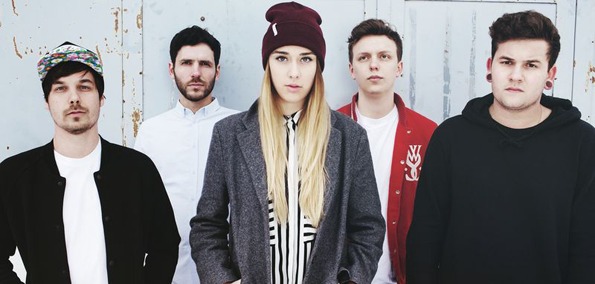 Munich four-piece Claires have something quite intriguing in their sound, which is surprising given that they build off of a familiar strategies to create their unique style. After listening to their catalog it becomes apparent that what ironically makes them stand out is the subtitles in their singer Josie-Claire Bürkle's voice. While sticking to a narrow vocal range she manages to draw attention from maneuvering through various emotions within such a narrow space. This is not to say that the supporting instrumentals fail in demanding their own attention, as they do their job in playing the role of the typical sidekick who is often needed as a crutch, but Bürkle's hushed vocals excel in constantly forging forward.
We are happy to offer an exclusive download of the highlight off of their debut The Empire, an EP that was released last year, but remains under-appreciated. "Pioneers" is the perfect introduction to Claire, as it carries an evolving electronic backing that progressively builds with supporting hypnotic effects. While the beat is fairly straightforward it never becomes stale, as instrumentation in the form of ambient-like soaring synth textures, carry the song through the mid-point break to the heavy finale. 
Download:
Claire - Pioneers
Equally as appealing, their newest song "Games" showcases sliding toned-down instrumentals that perfectly complement Bürkle's spot-on vocals. Where "Pioneers" can display an almost sinister sound at times, "Games" carries a feel-good vibe, despite lyrics that are focused around a the detachment that can result in a relationship.
The accompanying music video of friends hanging out and having fun also supports the uplifting song structure. However, like the song, if the video is closely followed the true story can be unveiled. As it turns out, the video revolves around the reason why the main female character is with her friends, in order to keep her spirits up, as visions of her ex lover cannot be shaken.
Credit the music video's ability to accurately capture the feeling of trying to get over someone to the director Teresa Hoerl. Coming off of a recent tour with CHVRCHES, we could be in for more pleasant surprises when Claire drop their debut album in the future.