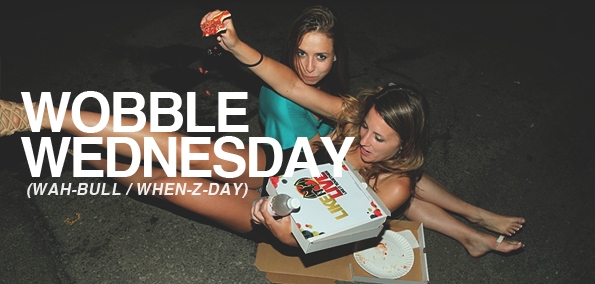 Wobble Wednesday is back with week 18 of your bass music fix. As always, there are selections from multiple genres that focus on the bassline, be it hard or soft. Some tunes to note are the grime video, new Simian Mobile Disco x Bicep collaboration, and a new sub-rocker from Widdler.
The mixes this week are presented to get you amped for festival season. Most of the "festival mini-mixes" I see popping up on SoundCloud are either filled with trap or bigroom house. I've included a couple others to balance that out. Be sure to get your checklist and research ready, it's going to be a crazy few months for all you festival goers.
FUTURE
I like what i.V. did with the vocals in this tune. Vocal manipulation is an artform in and of itself, so I'm easily impressed by tunes like this.
Coming from FACT magazine, you know it has that heady house vibe. An upright bass line and trap drums make this one very unique.
Download: Joss Ryan - Girls
That SMD x Bicep track. This tune is extremely progressive and takes a little while to kick in. Definitely one of the more chill bangers of the future genres.
This remix holds true to James Blake's typical vibe. Very nice rework.
Super chill vibes. Not for everybody, but the vocals are beautiful.
Not what you expect from Kill Frenzy, but a much welcomed vibe nevertheless.
UK BASS
The Widdler was one of the first UK bass artists I was introduced to. He's very keen on Middle Eastern vocal samples and dark bass lines. Very groovy basement music.
UK dubstep at its original level.
Grime verses with a smooth beat.
FILTH
The line between American dubstep and trap has always been relatively thin, but this track sets up shop right smack in the middle of it.
User-submitted tune that kicks some serious ass. This is extremely heavy, making it a track for the more hardcore steppers.
Dark and looming with a hopping beat and kind of all over the place, none of which are bad things.
DRUM 'N' BASS
Goodlooking Records maintains the dnb sound they've been promoting for years. Gotta love the consistency.
Dark dnb, very similar to Subwave and Dub Phizix.
TRAP
This track is produced by Grandtheft and Raak for Gilbere Forte. You may notice a familiar sample, but this is pure chill trap.
I can see this beat going well with some flowing freestyle verses.
"I wanna see yo ass go; pop it girl make it twerk." Words of wisdom right there.
This one has its own feature, but it deserves more recognition. Great tune from two of today's most prominent producers.
Brand-spankin'-new track from Valentino Kahn. Download here!
Very spacey juke/footwork.
MIXES OF THE WEEK
This week's first mix is presented to get everybody in the Summer Festival mood. It's filled with everything you should expect from the smaller headliners: heavy trap, chill trap, brostep, electrohouse, and glitch hop.
Old school house mix for the London-based FOUND festival. It's pretty bouncy and great for studying.
Outlook festival is one of the premier bass-focused festivals in Europe, maybe even the world. Here is a dnb mix to show you just what they're about.