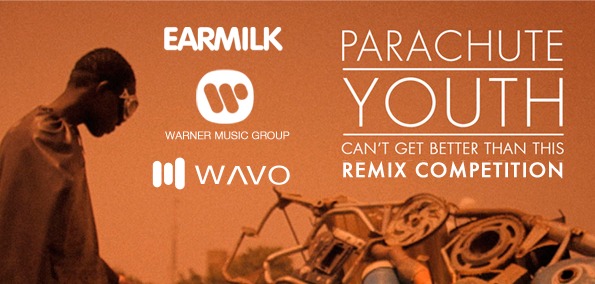 Earmilk is proud to announce a new remix competition for Parachute Youth's debut single "Can't Get Better Than This."  Last year we teamed up with Warner Music, one of the world's most recognized and accomplished recording companies, to give artists the chance to remix Kimbra's "Settle Down."  It was one of the biggest competitions of the year and launched young artist BYRAM onto the world stage.  
This year Warner Music and Earmilk have teamed up with Wavo, the social network for music, to do it even bigger and better.  In anticipation of Parachute Youth's upcoming debut album we're challenging all the bedroom-producers to put forward their best remix of their cult smash "Can't Get Better than this" -- Already a #1 hit in 5 countries.  
The winner, judged by Parachute Youth and A&R scouts from Warner Music, will see their creation receive an official release on Warner Music accompanied by a proper servicing campaign, a full scale feature on Earmilk, and marketed across the entire Wavo network.  Listen to the track below as well as some of the awesome official remixes.  For complete contest details, read on!

Powered by Wavo.
ABOUT THE TRACK: First aired on Australian radio in early 2012, 'Can't Get Better Than This' quickly developed into a major international hit. The single became Triple J's most played track of the year as it reached Gold status and received over 10 million views at YouTube. In the UK, support has already come from Pete Tong, Annie Mac and Friction at Radio 1.
Combining influences from the likes of Depeche Mode, Joy Division, and the Stone Roses, and infused with elements of contemporary house, 'Can't Get Better Than This' is an mesmerizing, feel-good track that has seen support from some of the industry's best. With it's unique, incredibly catchy vocal hook we're expecting the competition to produce a collection of creative remixes across the board.  Pre-order the Track here
CONTEST DETAILS
PROCESS
Submit remixes via the remix microsite by 12 PM ET on May 20th with the title "Parachute Youth Remix Contest." 
The remix must be original and cannot contain any materials not owned by the entrant (except for material from "Can't Get Better Than This" stems).
JUDGING
From May 21-27, promote your track.
10 tracks will be chosen based on their rank in the chart.
10 tracks will be  be chosen by us irrespective of rank (This gives all you really new artists without a fan-base a shot to impress).
These 20 Finalists will be announced on May 28th and featured on Earmilk and Wavo.

The second round of judging will consist of a panel of A&R reps from Warner Music, the Earmilk & Wavo teams, and Parachute Youth themselves.
Each submission will be listened to and judged on the bases of creativity, originality and overall production
PRIZE
One winner will be selected and have their track featured on an official Warner Music release, accompanied by a proper servicing campaign.
The winning remix  and artist will be featured on EARMILK and WAVO's websites.
WINNER NOTIFICATION
The winner will be notified on June 1st through an email addressed from EARMILK
Winner will have 1 week to respond to email. Failure to respond in 1 week will constitute grounds for disqualification, in which case the 2nd place contestant will be notified.