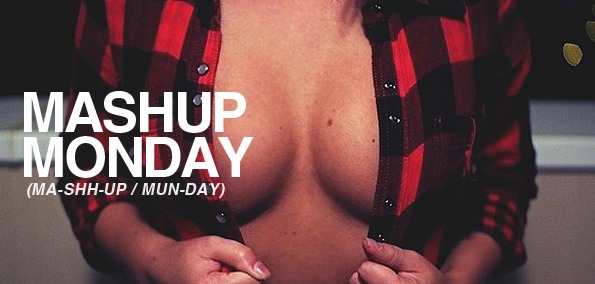 These are the mashes that are worth hearing, so stop your searching and instead settle down at your computer... turn up your speakers... and get ready for that sweet nectar that only EARMILK can give ya. Let's GO!
First off, there is nothing worse than WordPress crashing and you lose all of the material that one had written up. That's what happened to me yesterday, so apologies. Secondly, I beg thee to stop sampling Krewella. Don't get me wrong, I'm a fan of the Yousaf sisters and mustache production connoisseur Kris Trindl but that can quickly go away when 10 of the first 15ish submissions sample Krewella. Worse yet, it was the same song...current Billboard No.1 track, "Alive". So with apologies to the Krew, but I'd rather not hear them again (unless it's a new track). 1 exception for this week has to go to my buddy Ricky Cervantes for his Daft Punk merged with Krewella track. But no mas after this...I hope.
Now, my first highlighted track of this week's edition has to be newcomer Bobby Fisher. I stumbled upon him while perusing the latest offerings of Adam from Surviving The Golden Age, so shouts to Adam for that, but it's clear that Bobby delivered with his "Summertime Affection" track. With Crystal Castles' "Affection" providing the instrumental meat and vocally supplemented with Marina & The Diamonds, Lana Del Rey, and Jay Z, the mash is pretty damn catchy even with it being slightly somber. Main qualm is the brevity of the mash as it only clocks in at a brisk 1:46. Maybe Bobby will put out a long edit in the future, but if not, be content with clicking that 'play' button over and over again.
DJ-Bobby-Fisher---Summertime-Affection-(Crystal-Castles-x-Marina-The-Diamonds-x-Lana-Del-Rey-x-Jay-Z)--EM0413
Download:
DJ Bobby Fisher - Summertime Affection (Crystal Castles X Marina and The Diamonds X Lana Del Rey X Jay-Z)
I always enjoy me a good hip-hop mashup. While they are few and far between, thankfully Duncan Gerow took the onus upon himself and gives us "Two Words". Backed by a J. Dilla instrumental titled "Love Junkie", we are greeted with bars from Kanye West's College Dropout track "Two Words". Really enjoyed hearing Mos Def on this beat, Yeezy's flow glides effortlessly over "Love Junkie", ultimately creating an old-school hip hop vibe. I need more of this...
Duncan-Gerow---Two-Words-(Kanye-West-x-Mos-Def-x-Freeway-x-J.-Dilla)--EM0413
Download:
Duncan Gerow - Two Words (Kanye West x Mos Def x Freeway x J. Dilla)
Of course, we still have those EDM mashups. With the EDM fervor still sweeping the nation strong, it's nice to hear a clean union between mainstream 'radio' artists and EDM favorites. This week's first instance comes courtesy of Chicago artist DJ Trademark and his "Usher's Special" mash. Sampling Usher, Special Features, Cedric Gervais, and Borgore, Trademark creates a sensually smooth ambiance that pulsates with the high synths. With 'radio' artists tending to incorporate more electronic elements in their songs, it wouldn't surprise me to think that people who aren't versed in Special Features or Cedric Gervais & Borgore to believe that this is an original of Usher. The second example of a pure EDM mashup is from heavy hitter Tommy Trash. A 'Coachella Snack', as he calls it, Tommy gives us a clever food-themed bootleg that pairs his and A-Trak's "Tuna Melt" with Tommy's "Truffle Pig" culminating in "Tuna Truffle". The overall funky vibe of "Tuna Melt" is maintained but the energy is upped a couple notches, which will undoubtedly still have you moving.
DJ-Trademark---Ushers-Special-(Usher-x-Special-Features-x-Cedric-Gervais-Borgore)--EM0413
Download:
DJ Trademark - Usher's Special (Usher x Special Features x Cedric Gervais & Borgore)
Tommy-Trash---Tuna-Truffle-(Tommy-Trash-Coachella-Snack)-Tommy-Trash-x-A-Trak--EM0413
Download:
Tommy Trash vs A-Trak - Tuna Truffle (Tommy Trash Coachella Snack)
DJ-Eli---Memories-(feat.-DJ-FlannaL)-Mike-Posner-x-Rita-Ora-x-Jakob-Liedholm-x-Major-Lazer--EM0413
Download:
DJ Eli - Memories (feat. DJ FlannaL) - (Mike Posner x Rita Ora x Jakob Liedholm x Major Lazer) - (VIP Edit)
Ricky-Cervantes---ALIVE-(Daft-Punk-v.-Krewella)--EM0413
Download:
Ricky Cervantes - ALIVE (Daft Punk v. Krewella)
Change---Bullet-(Eva-Simons-x-Vicetone-x-Tritonal-x-Carmen-Electra)--EM0413
Download:
CHANGE - Bullet (Eva Simons x Vicetone x Tritonal x Carmen Electra)
Colin-Gourlay---Back-Up-Look-Black-(ACDC-x-Dizzee-Rascal)--EM0413
Download:
Colin Gourlay - Back Up, Look Black (ACDC x Dizzee Rascal)
Justin-Michael---Thee-Anthem-Promises-Angels-(Kaskade-x-Eric-Prydz-Felix-Da-Housecat-x-Skrillex-Nero)--EM0413
Download:
Kaskade vs. Eric Prydz & Felix da Housecat vs. Skrillex & Nero - Thee Anthem Promises Angels (Justin Michael Mashup)
The-Melker-Project---Last-Night-Daft-Punk-Saved-My-Life-(Indeep-Gets-Lucky)--EM0413
Download:
The Melker Project - Last Night Daft Punk Saved My Life (Indeep Gets Lucky)
Frail-Limb-Purity---J.-Geils-Band-v.-Far-East-Movement--EM0413
Download:
Frail Limb Purity - J. Geils Band v. Far East Movement
Lobsterdust---Midnight-Scrubs-(M83-x-TLC)--EM0413
Download:
lobsterdust - Midnight Scrubs (M83 x TLC)
Benny-Kane---Under-Mi-Marka-Sensi-(Dub-Phizik-x-South-Rakkas-Crew)--EM0413
Download:
Benny Kane - Under Mi Marka Sensi (Dub Phizik x South Rakkas Crew)
Never-Let-Go-Apollo-(Project-46-Mashup)--EM0413
Download:
Project 46 - Never Let Go Apollo (Dinka, James Darcy vs. Amba Sheperd, Dash Berlin, Hardwell)
Deiger---Premium-Bass-(Lazy-Rich-x-Nicky-Romero-x-Tantrum-Desire-x-Zedd)--EM0413
Download:
Deiger - Premium Bass (Lazy Rich x Nicky Romero x Tantrum Desire x Zedd)