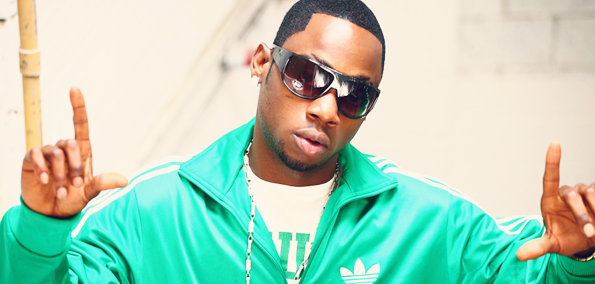 Jason McDermott AKA Stylo G is at the forefront of the British Dancehall scene, having taken it hostage with last year's underground anthem 'Call me A Yardie.'  Originally from Jamaica, Stylo moved to the UK with his younger brother Kodi Starr, also a producer of note, and quickly fell into the underground urban music scene.
Stylo followed Yardie  up with a string of hard-hitting tracks, most recently with the highly polished Soundbwoy which looks to set him firmly at the head of the pack just as the the resurgent dancehall sound, beefed up with EDM production, is hitting the mainstream.
Stylo's chart crosses decades and genres but is definitely a sountrack for the dancefloor.  It's the perfect chart to usher in those wild summer nights... don't forget to check the tracklist with Stylo's inspiration for the song selection.

Powered by Wavo.
1. Busta Rhymes - Hands where my eyes can see
"Really like this cause I grew up listening to this song and it brings back a lot of memories"
2. Beenie Man - Zim Zimma
"I can remember watching the video on tv and always aspired to be successful like Beenie Man"
3. Poison Chang (My dad) - Press Up
"This song is one of my favourites because it's my fathers song and it will always remind of him and his memories as positive role model."
 4. Ace Hood ft Rick Ross and Future - Bugatti
"Love this song cause it has a crazy beat and a crazy hook for it"
5.  Movado - Box of Money
"Movado is a unique and exciting dancehall artist to listen and his delivery on this song is wicked"
 6.  Vybes Kartel - Clarks
"Like this song for its crossover dancehall pop flavour and it stands out from most dancehall songs when played in the clubs"
7. Bridget Kelly - Special Delivery
"Nothing beats a perfect live track that has feeling in the words and this song is the perfect example. Love this song for what you can feel in the words."
8.  Snoop Dog ft Nate Dogg - Lay low  
"This song inspired me to start doing music production and was one of the songs I used to listen to all day when I was younger."
9. Call Me a yardi - Stylo g
"This song has played a positive part of my progression musicaly and as person. This is the song that really opened up doors for me and will always cherish this song."
 10.  Busta Rhymes ft Vybes Kartel - Wine
"Love this cause the song has crazy lyrics & ridiculous flows."