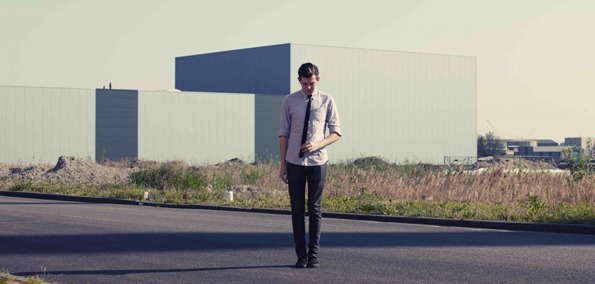 In our current musical landscape artists have been asked enough generic and standard questions to drown in and than drown some more. I felt it was time to switch it up and ask some off the wall questions for an off-the-wall kind of guy. That guy is Dillon Francis. On his webstore for only $499 dollars and 99 cents, he will have dinner with your mom or if your budget isn't that big for only $100.00 dollars he will bake you cookies. And if you have money to throw around for a cold $10,000 he will remix any song by Blink 182. (Do we have any takers?) That being said, this guy has a serious sense of humor. At his show at Webster Hall a few months back he had an entire crowd sing in unison their Pledge of Allegiance to Dillon Francis before he took the stage and unveiled a stage design reading a simple "Fuck." Check out my interview with Dillon which ranges from everything from his favorite spice girl to what he would name his child if he were to fornicate with Diplo. Enjoy. 
Earmilk: If you were a cat which breed would you be? Why?
DF: A pug. Just kidding. Maybe a bobcat.
EM: What's your favorite musical show tune to sing in the shower?
DF:  Ummmmm IDGAFOS!?
EM: Cap'n Crunch vs. Lucky Charms?
DF:  Cap'n Crunch.
EM: If you had a reality show what would you call it?
DF:  The Fucking Awesome Show.
EM: Who's your favorite reality television star? Why?
DF:  The Fat Jew. Because he is hilarious and it's amazing doing shows with him.
EM: Since you were restricted to a life on hooked on phonics and didn't learn your 1st curse word till you were half a man, nowadays, what is favorite curse word?
DF:  FUCK
EM: Favorite Spice Girl?
DF:  Baby. Or bb.
EM: Favorite comedians?
DF:  Jim Carrey. Fucking classic man.
EM: Do you plan on accompanying Trindad James on tour as one of his dancers considering the recent success of your own release of "popped a Molly"?
DF:  Hahaha yeah I'm going to be WOO-ing in the back.
EM: If you and Diplo had a baby what would you name it?
DF: Diplon Francis
EM: Thoughts on Justin Bieber smoking weed?
DF:  Very PLUR
EM: If you had a super power what would it be and why?
DF: To be able to clone myself into a million Dillon Francis's
EM: Simon or Paula?
DF: Simon
EM: Fey or Palin?
DF: Fey
EM: Donald or Rosie?
DF: Donald
EM: Lastly on a scale of 1 to 10 how successful would you say Taco's for DJ Awareness was?
DF: 69