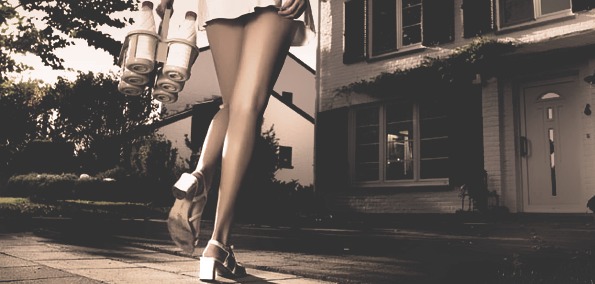 The duo known as Houses have a new album in the works entitled A Quiet Darkness, dropping on April 16th on Downtown Records. The label is home to a truly eclectic group of artists including Crookers, Gnarles Barkley, Mos Def, Justice, Penguin Prison, Santigold and Major Lazer just to name a few.
After years of combating drug addictions and halfway homes, Dexter Tortoriello (half of the Houses duo) decided it was time for a change. This release is symbolic of when the multi-instrumentalist and vocalist packed duo up his bags and ventured on to the next chapter in his life. And it looks like Tortoriello has come a long way from the battle to become sober, as this is not a fairy tale story but one of truth and pain, and one that brought him into the arms of Megan Messina, the other half of Houses. In Chicago, Tortoriello's hometown, the twosome met while working together and instantly hit it off: between shifts at work and making music at night, they found something organic, and eventually came out with their first album All Night in 2010. They Internet buzz started generating with their track "Soak it Up" which seemed to be an impressive feat. It was only their second release they posted online, but the critics sang their praises.
While it's been a short break since their last album, the steam hasn't died down. Their sophomore album A Quiet Darkness debuted on HuffPost Entertainment, dubbed as a concept album. Stating the album, "tells the story of a couple searching for each other in a post-nuclear apocalypse."Houses made their way through the US while making the album, and it's obvious that they've stayed true to their escapist attitude and emotionally charged tracks. Tortoriello writes, "We finished the record at Sonic Ranch Studios, which is a beautifully isolated studio on a pecan farm in El Paso, Texas, and then afterwards moved to L.A. The album from start to finish traveled quite a bit and saw many different incarnations in each location, each of which brought the songs into new directions."
The entire album is one that soothes your mind as you find it wandering through the layers in each track. Each track is unique in its own way and allows you to take a journey through their story. If you are looking for something to get lost in, this is it. While it's not April 16th just yet, you can check out the album while it is streaming on Soundcloud. I also left you guys their latest video for the track "Beginnings" and "The Beauty Surrounds," watch both below.   
[soundcloud url="http://api.soundcloud.com/playlists/4650016" params="" width=" 100%" height="450" iframe="true" /]