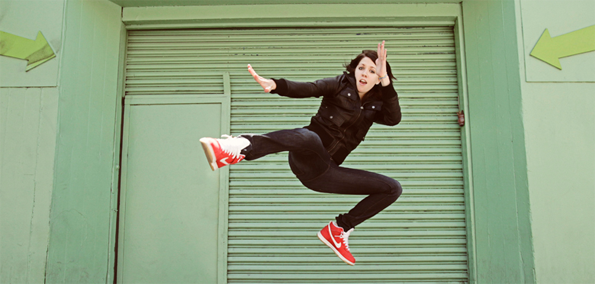 I have a big fat crush on Ivy League graduates turned musicians. It's because despite all the success they could have had with their alumni network and fancy degree, they chose to risk it all and make art. Intelligence is sexy, which is why Stanford graduate K. Flay is a straight ten in my book.
She has just released a new track, collaborating with Danny Brown, and they both go HARD over an electronic beat. The first ten seconds alone is enough to catch attention, and as she comes in, she spits as hard as any man could. The chorus might be a little cliché, but with the help of Danny Brown, it all manages to come together at the end. Their collaboration may have come as a surprise for many people, but I'm hoping this isn't the last time we will see the two release a track together. The track was also produced by Felix Cartal, who's definitely stepping his game up with this beat.
[soundcloud url="http://api.soundcloud.com/tracks/85933122" params="secret_token=s-k3LtY" width="100%" height="166" iframe="true" /]
Danny Brown is all over the place, including Coachella and tours with Baauer and Kitty (Pryde) respectively. He also has Old, coming out via Fool's Gold Records soon. K. Flay has some tour dates as well and recently released West Ghost for free. Finally, Felix Cartal is keeping himself busy, including celebrating his birthday this Tuesday at the Dim Mak Studios in Los Angeles.