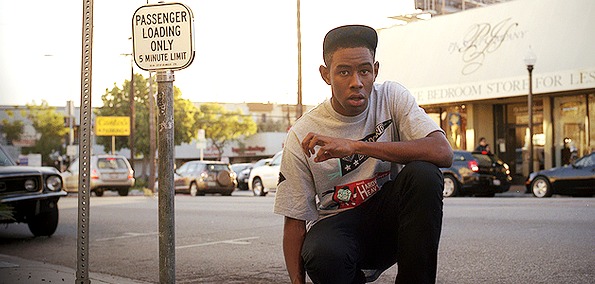 "We accept the love we think we deserve." It feels so corny to quote The Perks of Being a Wallflower, but it seems that this is the overarching theme in the Los Angeles based Tyler the Creator's song featuring Pharrell, "IFHY," and in the track's accompanying video.
The theme is nothing groundbreaking: man strives for love and happiness with a girl, only to end up in a roller coaster of emotions; it's the same old story, but with a creepy twist that only Odd Future could pull off. Tyler and his on-screen girl have become real life dolls, bringing their story with a strange plasticity and bringing something fresh to the tragic tale. It's like mixing Eminem and Rihanna's, "Love the Way you Lie," with Kimbra's, "Settle Down," resulting in one of the strangest OFWGKTA videos to date. Not wanting to ruin the ending, let's just say there is a brilliant mix between Tyler as a doll, and Tyler as a human, surely symbolic for his hard exterior and inner feelings (although with him, it doesn't feel right to make these judgments out loud without sounding pompous). He's never been one to hold back, and while the song itself is pretty standard Tyler, the music video is on another level.
He ends the video with Hodgy Beats alongside him performing "Jamba," bringing in some banging beats after a whirlwind of dark emotions. Overall, it's another brilliant piece by the young artist. Keep the surprises coming Tyler, you've really caught my attention now.  
His album, Wolf, will come out April 2 via Odd Future Records, and he is currently on tour with Earl Sweatshirt. If you desire for more Tyler, he also has a show on Adult Swim, Loiter Squad, on Sundays at Midnight.