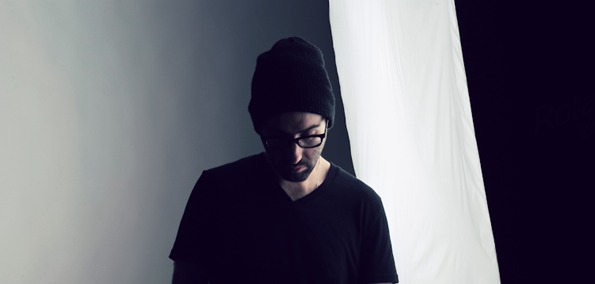 Colorado native Alex Botwin, better known as Paper Diamond, is a man of many hats: label owner, producer, DJ, violinist, extraordinary remixer, creative designer, curator of Elm & Oak Academy, and that's just the tip of the iceberg. There seems to be no slowing down for this brilliant artist who claims that his biggest vice is being a workaholic.
From his musical prowess to his creative genius, it is no question why he chose a moniker with a deeper meaning than face value. Paper Diamond's moniker stems from the idea of taking a single or complex element and making it into something greater than the sum of its parts. As Mr. Botwin puts it, "It's like taking nothing and turning it in to something, or taking something that could be simple or complex, based on your own personal take on the thing. So if you have a piece of paper, whatever your diamond shape is, whether simple or complex, that's your art form. So for me musically speaking, whether it's simple or has a lot of layers, it's my self-expression. So basically the name means my art."
Yesterday I had a chance to interview Alex, someone I've admired from the very start of his Paper Diamond project. He has mastered music, business, and ingenuity in a flawless manner. I have said it once before and will say it again: with a fresh take and serious swagger, your eyes and ears should stay tuned into Paper Diamond's glowing empire. 
Check out the interview below and be sure to be on the lookout for his forthcoming Paragon EP dropping April 16. In the meantime, curb your appetite with his latest releases from the EP, "They Can't Tell Me Nothing" and "XIX".
"XIX", the new single from Paragon, is a collaboration between Paper Diamond and the much-celebrated LA production duo Christian Rich and features vocals from Scottish songstress Angela McCluskey of Telepopmusik fame.  According to Paper Diamond, "It's a darker, moodier song which is a bit of a different direction than other pieces on Paragon." The collaborative production on "XIX" yielded the velvety, expansive cut into something dark and nightlife-approved, lacquered with glossy tones and pulsing rhythms. "XIX" script-flip oozes post-electronic minimalism, and highlights McCluskey's aching vocals. Think dark rooms with flashing lights, narcotized conversations shrouded in a cloud of smoke, a dance party in slow motion. Enjoy! 
[soundcloud url="http://api.soundcloud.com/tracks/83251021" params="" width=" 100%" height="166" iframe="true" /]
[soundcloud url="http://api.soundcloud.com/tracks/85194919" iframe="true" /]
EARMILK: Looking back, what was your first experience with music?
Paper Diamond: I grew up in Kansas City. I came from a musical family, my grandmother played the jazz piano, my mom played piano, my dad plays trumpet. My mom threw me into lessons at a very young age. When I was four, I started playing violin, then guitar, drums when I was 12. When I was six years old, I knew music and design were what I wanted to do.
EM: You're currently on tour with Excision, how's that going so far? Any crazy stories you can share?

PD: We'll I really can't share, but I did see one of the crewmembers get drawn on with Sharpies more than I've ever seen in my life. It started with one Sharpie and then all of a sudden there were ten Sharpies and everyone was just going to town. It's definitely been a wild time. We started January 25th and I've been on the road in a different city every single day since. We still have a little time to go and then I'm off to Europe directly after the tour.
EM: What is your favorite and least favorite part about touring?
PD: Playing music and making music. There is nothing to do besides work on music and play it.  You know, we've been staying pretty healthy this tour, getting our exercise and eating pretty well. So it's pretty much music, music, music, work on videos, work on internet stuff, more music, every single day. I like just living the constantly moving lifestyle and being able to focus on one thing and one thing only. I feel like that's where my music really shines the most. 
EM: Where do you draw most of your inspiration from?
PD: I am a giant sponge. I draw it from everything. I love all kinds of music and I'm constantly listening to new stuff, old stuff, stuff on vinyl that I sample, listening to hip-hop, rap, electronic music, indie music, all kinds of different stuff. I grew up a musician so I really just love music of all sorts. I love where it's going and how it's changing and I'm excited to see where it goes. I feel inspired almost daily. When I lose inspiration in music I'll just start working on some other stuff and than when I get bored of that I just go back to music.
EM: In your own words, how would you describe your current sound?
PD: For Paragon specifically, it's kind of like Levitate in that it was a really good indication of what a year of my life was like in my musical influences and my inspiration, and current production techniques and all that. The new EP Paragon is really another good indication of the last year and a half of my life. I'll stack literally hundreds of tracks over the last year and a half. Pretty much, Paragon is something I want to remember that is a great indication of what I think is some of my best music from the past year and a half.
To me all that stuff is real personal, and like I said, since I'm always inspired by different things, I never even know what I'm getting into when I start a track. It's a constant exploration. You know, some people really let loose during shows, and some people are like whatever. I do have an amazing time every night when I play, but when I'm making the music, that's when some of my outer body experiences happen. You kind of get outside of yourself and let the music play and happen. It's a different kind of work. 
EM: Your Paragon EP is dropping on April 16th. Can you give us any details about what to expect? Where did the name come from?
PD: Paragon means an ideal instance or a perfect embodiment of a concept, and to me it's not saying that my music is perfect because I don't think that anything is perfect. I think there is actually some kind of beauty in flawed things. It goes back to the same concept of taking a year and a half of my life and condensing it into a beat of music that represents everything in my world. So for me those are the ideal instances of the times.
EM: Can you tell me about your wireless Traktor set up on your iPad? How does that work and why do you prefer to use it?
PD: I initially designed it on Touch OSC on the iPad and we were working on developing our own software for it as well. It started out when we were making the software it wasn't able to do what I was able to do with the simple program. It's actually controlling two computers now, one with Ableton Live that has all of my music on it. So basically, I can take any song I've ever made or any section of the song or different channels of it and mix it live.
Then it's also controlling a second computer, which now controls my LED rig. The LED rig that I have on stage is actually controlled by that same iPad. I'm basically just using the midi controller. It's capable of doing anything the midi controller does, but for me it's easier to use this. Some of the ways the DJ shows are set up, you have like five minutes to set up your stuff and get on stage. So I'm able to control my entire show, including video, and have it set up in five minutes. During the summer, we're going to be able to fly around the country, set up the diamond and we actually have a new idea for something crazy sometime this summer and I'm just going to be able to control that stuff right on stage along with the music.
EM: Can you tell our readers about Elm & Oak? Where did the idea come about? 
PD: Elm & Oak is basically like the music, it's always changing, it's a design firm, a record label with an art gallery, which is also a store and next door we throw parties and shows and festivals in Colorado. We sponsor snowboarders, skateboarders, etc. It's basically a big community of artists, athletes, designers, painters and things of that nature who have banded together to create change and do something cool.
With Elm & Oak, we started a program called the Elm & Oak Academy. Basically we're bringing inspirational speakers such as certain booking agents that book large acts. Dominic Lalli and I spoke on one of the first Elm & Oak days, we talked about music, it's like a conversation question and answer. We had over 450 people sign up, even after just the first one, giving us one of the largest student groups on CU, and it's also one of the first student groups not owned by CU that ever got funding. So that's definitely something we are proud of. It just opened the door for us to give back and inspire people to get out there and do something, because even in the world of arts, there are lots of opportunities if you work hard. We're trying to inspire people and build a art and music community in Colorado and beyond.
EM: Tell me a little more about Paper Diamond TV? When can we expect that to come out?
PD: A lot of the stuff I've put out previously has been straight music videos and a couple behind the scenes videos, but I really want to give people a more personal feel of what I'm like and what the people I'm on tour and surrounding myself with are about and what we're doing. Paper Diamond TV is just going to be a more personal look at being on the road, being in the studio, working and running Elm & Oak, and doing all these different things. I just wanted something that will connect me with my fans that isn't just music and me posting on social media.
EM: What do you think about this new trap movement? Do you think it's here to stay?
PD: To me it's fun because it just sounds a lot like rap music. You can go to a real club, and for the first time ever, they're playing straight up rap music at dance clubs and people are freaking out for it. Being an avid listener of hip-hop and rap since I was a young kid -- I lived in Memphis, Tennessee for several years and I feel hip-hop and rap were such a huge part of the culture down there, and to me it's fucking awesome to see people freaking out to hip-hop and rap inspired music in dance clubs.
Do I know if it's going to stay? I have no idea, but it's fun to play sometimes. As far as I'm concerned, I'm just going to keep on my musical path. I was always making hip-hop and being able to throw in some stuff that is inspired by it and have fun with it. I'm personally down with it.
EM: Your sound is very forward and futuristic. Any other artists you see pushing the envelope?
PD: I think there are definitely a bunch of people killing it right now. Anybody from BUKU out of Pittsburg, ETC!ETC! out of LA, everybody like Diplo is doing crazy shit right now, Flying Lotus is one of my favorites. I listen to all kinds of music so I'm constantly checking out what's new and traveling around. I still have been listening to a lot of bands like Little Dragon and a lot of hip-hop, a lot of Kendrick Lamar, Toro y Moi, No Such Things' new record, all kinds of good stuff.
EM: While on tour you've been getting inked up in different cities, can you tell me about some of the tattoos you have done while on the road?
PD: I'm taking this opportunity to get in with some artists in all these different cities and they all have personal meaning. I have a camera on my forearm remembering to be present and capture the moment. I have the Penrose Triangle on my inner arm, which is basically an optical illusion. It is a real thing in life where you look at it from one angle every side is 3D, but if you look at it from the opposite angle it looks messed up, so basically to me it's like anything is possible if you look at it from the proper angle. In Idaho, I recently got a medicine bottle with a banner that says, "Laughter is the best medicine." I'm kind of turning it into a piece of luggage that captures all these little concepts and remembrances from all over the world. 
EM: If you weren't busy making music, what would we find you doing?
PD: You would be find me, oh god, just working on art, working on design stuff, skateboarding? I don't know. If you took music away from me I would probably go crazy. You might find me in an insane asylum.
EM: If you were curating your own festival, who would headline? Could be dead or alive.
PD: Dead or alive! Are you kidding? (laughs) Bob Marley, Jimi Hendrix, Notorious B.I.G, I might even get Westside Connection back together for one show, Michael Jackson, Herbie Hancock, Charles Mingus, there are just too many. It would be a super jam fest.
EM: Best advice you ever received?
PD: Seriously, anything is possible if you just set your mind on it and work really hard and continue to work until that. Dreams can come true, you just have to totally devote yourself to it. Anything is possible, including change.
EM: Biggest vice?
PD: Being a workaholic.
EM: Celebrity crush?
PD: Scarlett Johansson.
EM: Favorite meal?
PD: Mexican Food.
EM: One person you would like to smoke with, dead or alive?
PD: Yeah I'm trying to smoke with Snoop Dogg still.

EM: Lastly, what can we expect from you in the upcoming months?
PD: I've got a new song coming out this week, another one from the EP and everyone that hates on trap music or anything that's sound too remotely "rappy," this song is going to be a good indication of what's going to be coming out on the new EP. The new EP is going to be all over the place and I think there is a little bit of something for everyone. Also Paper Diamond TV, new music videos coming out, I'm going to be at a majority of the music festivals this summer, shows in Europe. You can expect to hear a lot from me soon. You know, making it rain, every day, on schedule.