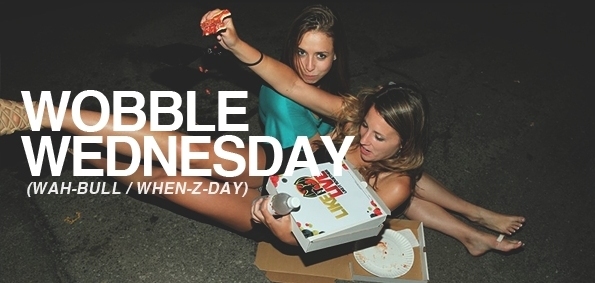 Wobble Wednesday is a constant battle of the genres. Should I include more future tunes? Should I focus on the filth? Is this drum 'n' bass too heavy? Is it not heavy enough? All questions I go over in my head each week. Sometimes one genre comes out on top of the others, but like Jaro from the documentary, Jaro Dreams of Sushi, I aim to only include products of the highest possible quality.
This issue speaks volumes to arguably the most important job of a DJ—song selection. Anybody can mix two songs together, but are those songs worth listening to? Does that Ke$ha x Wu-Tang mashup really need to happen, or would this Bassnectar x Ludacris combo work better? Obviously that depends on the crowd you're playing for. Only after you've mastered the art of the selection will you get the recognition needed to spin whatever you want and still keep any dance floor packed. Obviously this doesn't always apply and some exceptions slip through the cracks, but for the most part you need to establish a reputation before you can just go all willy-nilly with your set.
Look at Avicii's Weekend II Ultra set. I'm not going to criticize him for that rendition of Hoedown House (sic), because he's already established his abilities as a producer. He can do whatever he wants and people will still listen. In the experimental world, The Gaslamp Killer actually made a name for himself by playing such weird music that he would often kill the dancefloor at clubs in the San Diego Gaslamp District. Again, these are the exceptions.
I guess the point I'm trying to make is, each week I search for the cream of the "wobble" crop, but only you can decide if they're worth a second listen, Take the recommendations or leave them. Don't be afraid to form your own opinion, but never live with a closed ear, lest we stifle progress.
FUTURE
Gritty electronic track with throbbing bass and a singer with a set of pipes that could sing the pants off a nun. I can picture this track playing in one of those trendy underground mixology bars after midnight.
Immediately kicks off with a monster rolling bass line and what sound like kitchen utensils. The buildup leads into a dark tech house body. This one is great for any opening set.
I'm pretty sure A-Track and/or Jack Beats sampled Woody the Woodpecker for this one. Either way, it fits nicely. Great booty bass.
UK BASS
Not your usual chill dubstep track, but a UK track nonetheless. "...This one causes pulses to race with a bounding drum line and a siren-like synth melody that is bound to send ravers crazy."
FILTH
This new TYR track is more electro than anything else, but I never turn away slap bass. Needless to say, this one hits the spot nicely.
I couldn't decide which remix to include because they're all great in their own way. Below is the original + one remix for ak9 & Tyler Hunt's new track, "Shadow".
Original Mix - crunchy and barky with heavy emphasis on the synth
Auratic Remix - that familiar Skrill-Billy sound
Dead Battery had the first "Hello" remix I ever heard, and I immediately fell in love with the sound.
Fuck-That-by-Dead-Battery--EM0313
Download:
Dead Battery - Fuck That
AOWL has a very similar sound to the cleaner heavy side of filth, much like Funtcase and Figure. This track is pretty crazy in its own right, but definitely not your typical dubstep track.
These two never cease to amaze me. "Penguin Farts" is technically glitch hop, but it's heavy enough to earn a spot in filth. This is my favorite track of the week.
This is a reader-submitted track. Great production value on the drum kit and keys, and a killer drop that blows you away. Show some support for the up & comers in the dubstep game.
You've probably heard the sample from this one before, so it'll have an immediate familiarity. I love the unexpected turn it takes.
A simply great filth remix by Jarvis (an even greater name). Grab the Free Download.
DRUM 'N' BASS
The newest EP from Hybris is out of control. This is some deep dark drum 'n' bass, so respekt it as such! Also, there are four tracks in this link, so don't be alarmed at the sudden change in sound a quarter way in.
This is a weird one—part jungle, part juke. This guest track by legendary producer, Machinedrum, is being featured on Astrophonica's three-part experimental VIP series. It is available as a limited edtion of 300 x 10" one-sided vinyl with two-color screen printed and hand-numbered sleaves. This is a seriously rare grab if you manage to snag one.
Classic heavy liquid dnb.
Massive jungle track from the legend, Congo Natty.
UK-Allstars-feat.-Tenor-Fly-Top-Cat-General-Levy-Tippa-Irie-Sweetie-Irie-Daddy-Freddy-(Radio-Edit)-1--EM0313
Download: Congo Natty - UK Allstars feat. Tenor Fly, Top Cat, General Levy, Tippa Irie, Sweetie Irie, Daddy Freddy (Radio Edit)
TRAP
More from the softer side of the trap. No crazy drop, per-se, other than the introduction of heavy bass to pair with the hihats and twinkling keys.
Newest track from gLAdiator, released for Ultra. I'm sure the crowd went nuts for it.
Simply put, Donkong's entire WTF IS MOLLY GRIT Free EP is very strange. Not bad, just…different. It attempts to combine "the molecular base of trap, moombahton, juke, dubstep, and tropical bass sounds" to make the most diverse album on the charts today. "Turn It Up" is my favorite from the EP.
Somewhat minimal trap with punchy synths and crisp hihats. Great for a festival or trap-oriented show.
OHMNI-by-ALPHAHIFI--EM0313
Download: ALPHA!HIFI - OHMNI
Now this is a great trap remix of Figure's classic track, "Must Destroy". It takes a lot to make a remix that's worth listening to more than once. This one's got it.
Festival trap
"Oh boy!", not to be confused with Diplo and GTA's "Boy Oh Boy"
Oh-Boy-by-Riot-Ten--EM0313
Download: Riot Ten - Oh Boy!
Bouncy and chill (Free Download)
Another great festival track. HxV has been killing it lately.
MIX OF THE WEEK
Drum 'n' Bass, Drumstep, Dubstep
Interesting fact about NOISIA: If you flip their name upside down, you get VISION. Noisia + Vision = Insanely Clever. Anyways, this week's mix is filled with fresh new and banging classic drum 'n' bass, drumstep, and dubstep tunes. NOISIA put it together for Triple J Radio in Australia, but I hope they can forgive me for including it this week, as it's simply too good to pass up.
TRACKLIST (available on SoundCloud page)