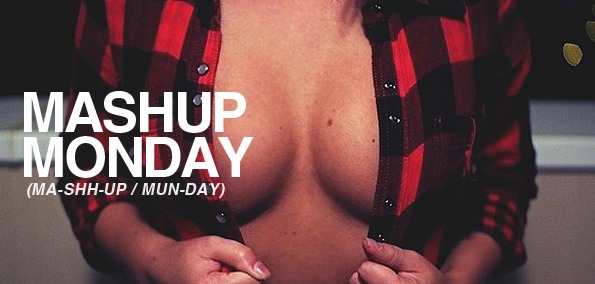 Mashup Monday - we're back again with some of the freshest mashes to start your week off right. These are the mashes that are worth hearing, so stop your searching and instead settle down at your computer... turn up your speakers... and get ready for that sweet nectar that only EARMILK can give ya. Let's GO!
As I sit here rubbing my sleep-deprived eyes finishing up this week's segment of Mashup Monday, I'm reminded of just how great it is to be able to put this together for y'all. The support you listeners have maintained through not only my time of being in charge of Mashup Monday, but from the beginning of this feature, is well-valued. Your comments week after week reaffirm just how dedicated y'all are to EARMILK, and make it extremely enjoyable to compile these weekly lists... no matter how long they may take. But enough of the sappy stuff, y'all are here for music and true to form I'd like to share with you 20 unique mashups that are worthy of some plays.
Starting off, we have DRMWVR (pronounced dreamweaver) with a five-sample mashup that is fun-filled, charming, and toe-tapping inducing. I've always been a fan of Empire of the Sun's "Walking On A Dream", so it's nice to hear this 2009 hit sampled once again in the early months of 2013. Combining it with RAC and Penguin Prison's catchy 2012 "Hollywood" creates an aura of feel-good vibes and should leave you smiling. Don't be afraid to bob to the beat as you walk down the road with your headphones on, DRMWVR has provided us with a track that deserves such a reaction.
DRMWVR---Hollywood-Blvd-(RAC-x-Penguin-Prison-x-Empire-of-the-Sun-x-Felix-Da-Housecat-x-TEED)--EM0313
Download:
DRMWVR - Hollywood Blvd (RAC x Penguin Prison x Empire of the Sun x Felix Da Housecat x TEED)
Following that up is a rare Flight Facilities (they of the "Crave You", "Clair de Lune", and "With You" fame) mashup/edit consisting of Outkast and Cassius. A throwback of sorts, Flight Facilities amps up the electro-funk meter with the aforementioned Cassius's "Feeling For You" while infusing hip-hop royalty Outkast's "Rosa Parks". What made this track stand out wasn't the fact that it came from Flight Facilities, but rather that it's a breath of fresh air in a diluted stereotypical EDM mashup scene. Unique, well-structured, and instantly likeable are strong points of "Feeling for Rosa".
Flight-Facilities---Feeling-for-Rosa-(Cassius-x-Outkast)--EM0313
Download:
Flight Facilities - Feeling for Rosa (1999) (Cassius x Outkast)
In a rare move, I'm giving you two mashups from the same artist. Yeah, I know you're thinking "Hold up, you've done that before..." and I have, but rarely have I posted accompanying videos. In one of my earliest posts on EARMILK, I had noted this artist for their exceptional work and it's about time I did it again.
For those wondering, I'm talking about Ithaca Audio and their first track is an older (3 months) mash titled "The Mixtape". Don't be fooled by the title, "The Mixtape" is a tribute to the technology of past that allowed us to record music such as the Tascam 1" tape machine. Sampling 16 different items, the mashup is, above anything, creative. The same can be said with the second mashup titled "Game Theory", in which Ithaca Audio boasts 19 samples in an ode to video game music (and performed on game controllers). Check out "Game Theory" and its accompanying video at the very end.
Ithaca-Audio---The-Mixtape--EM0313
Download:
Ithaca Audio - The Mixtape
I could keep on rambling about the rest of the tracks, but I'm of the thought that by this time y'all have just skipped ahead to just listening and ignoring the words that are typed in front of you. Not that I blame you or hold it against you. So let me conclude by saying that Elocnep's mashup of Oliver's "MYB" is a perfect fitness/workout track with its high-energy beat (it's the track immediately following this paragraph). I just can't understand a word that is being said because I have no knowledge of French and the words being said by Yelle. Regardless, I dig the hell out of it. Other mashups of note is Michmash's "whole lotta live", Fissunix's "This Way Officer!" and ViC's "Daft Road, but as always, hit me up in the comments section sounding off with which tracks you enjoyed.
[soundcloud url="http://api.soundcloud.com/tracks/82331636" params="" width=" 100%" height="166" iframe="true" /]
GaraGara---Run.Walk.Cruise-(Kool-G-Rap-DJ-Polo-x-Dire-Straits-x-Smokey-Robinson)--EM0313
Download:
GaraGara - Run.Walk.Cruise (Kool G Rap & DJ Polo x Dire Straits x Smokey Robinson)
Jackson-Days---When-I-See-You-In-Paradise-(Arty-Alesso-x-Coldplay)--EM0313
Download:
Jackson Days - When I See You In Paradise (Arty & Alesso x Coldplay)
DJ-Topsider---Floating-(Jessie-Ware-x-Ellie-Goulding-x-Justin-Timberlake-x-Major-Lazer-Amber-Coffman-Blood-Diamonds)--EM0313
Download:
DJ Topsider - Floating (Jessie Ware x Ellie Goulding x Justin Timberlake x Major Lazer, Amber Coffman, & Blood Diamonds)
Michmash---Whole-Lotta-Live-(James-Taylor-Quartet-x-Black-Sabbath-x-James-Brown)--EM0313
Download:
Michmash - whole lotta live (James Taylor Quartet x Black Sabbath x James Brown)
LAU---I-Could-Be-The-Bass-(Bootleg)-(Avicii-Nicky-Romero-x-Synchronice-x-Georgi-Kay-x-Topher-Jones-x-Nari-Milani-x-Trinidad-James-x-MakJ)--EM0313
Download:
Synchronice, Avicii & Nicky Romero, Georgi Kay, Nari & Milani, MakJ - I Could Be The Bass (3LAU Bootleg)
Fissunix---This-Way-Officer-(Aerosmith-x-The-Pharcyde)--EM0313
Download:
Fissunix - This Way Officer ! (Aerosmith x The Pharcyde)
Capn-Fleeb---Ghost-machine-Where-have-you-been-(Rihanna-x-Florence-Welch-x-Deadmau5)--EM0313
Download:
Cap'n Fleeb - Ghost Machine, Where Have You Been (Rihanna x Florence Welch x Deadmau5)
DJ-Rc---Hope-The-Night-Out-(Vicetone-x-Martin-Solveig)--EM0313
Download:
DJ Rc - Hope The Night Out (Vicetone x Martin Solveig)
MashMike---Ode-to-Relax-(TJR-x-FGTH-x-Salt-N-Pepa)--EM0313
Download:
MashMike - Ode To Relax (TJR x FGTH x Salt 'N' Pepa)
Koyote---Separate-Cannonballs-(Journey-x-Showtek-x-Justin-Prime)--EM0313
Download:
Koyote - Separate Cannonballs (Journey x Showtek x Justin Prime)
ViC---Daft-Road-(C2C-x-Daft-Punk)--EM0313
Download:
ViC - Daft Road (C2C x Daft Punk)
Rems79---You-Should-Be-Dafting-(Daft-Punk-x-Bee-Gees)--EM0313
Download:
Rems79 - You Should Be Dafting (Daft Punk x Bee Gees)
Luca-Rubino---I-Dont-Care-I-Could-Be-The-One-(Nicktim)-(Fall-Out-Boy-x-Avicii-x-Nicky-Romero)--EM0313
Download:
Luca Rubino - I Don't Care, I Could Be The One (Nicktim) (Fall Out Boy x Avicii & Nicky Romero)
MMM-(MadMixMustang)---I-Love-Vogue-(Madonna-x-Icona-Pop)--EM0313
Download:
[MMM] MadMixMustang - I Love Vogue (Madonna x Icona Pop)
Mobius-B-Side---Ambiguous-Adoration-(Nomadic-Firs-x-Miguel-x-Ciara-x-ODESZA)--EM0313
Download:
Möbius B-Side - Ambiguous Adoration (Nomadic Firs x ODESZA x Miguel x Ciara)
Ithaca-Audio---Game-Theory--EM0313
Download:
Ithaca Audio - Game Theory