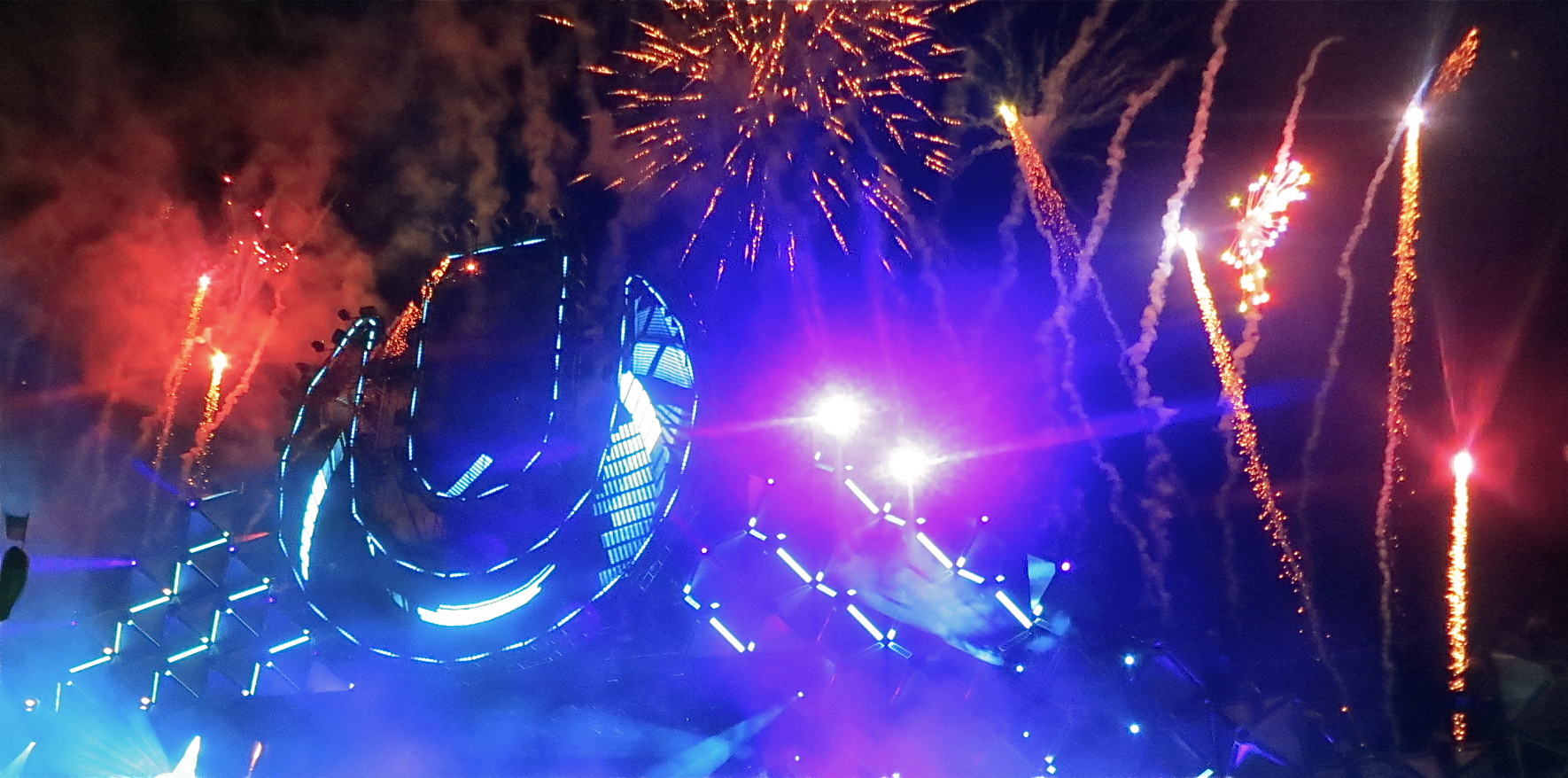 It's Miami Music Week. A time when dance music fans, artists and industry management alike gather in south Florida for ten days of socializing, performances and brainstorming to create the best music and events of the entire year. People like myself wait for this time of year with excitement for another full year once it's over, and the anticipation is now over: it's here. If you are there or are heading down to Miami right now, you'll find that the energy in the air throughout the city is tangible and unlike anything else. And at the pith of this week of artistic beauty lies the one and only Ultra Music Festival, that this year flanks both the beginning and the end of the experience.
This year Ultra found itself in the middle of controversy. Entering into a week that was almost cancelled by a vote of the city of Miami, those who participate in the week were being watched closely, and so far, are bringing great energy and good behavior. The fact that we "made it through" to WMC made the excitement extra tangible, and as on the first day of any festival, that could be seen in the crowds moving toward Bayfront Park on the perfect Friday afternoon.
Upon making it trough the front gates, I immediately noticed that Ultra had improved upon the festival layout from last year. Gone were the bottleneck paths between stages, now replaced with more open tents and visibility of the venue. This was specifically noticable at the Ultra Buenos Aires stage, which was now completely open. Ultra Buenos Aires was more than a tent, it's an open overarching stage that surrounds you, where you can dance within, sit on the grass next to, or even dance outside of it and feel like part of the crowd inside as you're walking by. On Friday, this meant a solid lineup of trance DJs known for their intimately engaging, over the top energy on stage.
Tritonal set the perfect tone for the day opening with the club mix of their new song "Deep Into Black," along with their own mashups and club mixes of fan favorites like their remix of "Calling Your Name" by Anomaly. The duo from Dallas is always especially amped up on stage, and on Friday helped further fuel the excitement that marked the beginning of the festival. Later in the day, Markus Schulz brought an energy filled set as well, that was a little more uplifting what we usually see from the Dutchman that included Beat Service's remix of his recent hit, "Nothing Without Me." Really, no set was something to be brushed aside with stellar performances by Dash Berlin and Ferry Corsten as well.
Nothing-Without-Me-(Beat-Service-Remix)--EM0313
Stream:
Markus Schulz feat. Ana Diaz - Nothing Without Me (Beat Service Remix)
The-Spiritual-Gateway-(Transmission-Theme-2013)-(Original-Mix)--EM0313
Stream:
Markus Schulz - The Spiritual Gateway (Transmission Theme 2013) (Original Mix)
Over at the main stage, fans geared up for the first evening performance from the night from Fedde le Grand. A UMF veteran, the Dutchman is always a must-see at the festival, and this year proved to be no different. Filled with hardcore electro ID's, one of the best bootlegs ever of Faithless's "Insomnia," and a live performance by Nikki Williams, le Grand's performance was riveting from start to finish.
As the first nighttime set at the main stage, le Grand's production was the first to show the power of the lights and infamous "U" logo that lit up the night. Leaving a bit more to the imagination than stages in the past, the geometric patterns weren't just your standard LED screens, but moveable lights that at times felt like they were so finely tuned that they were moving as one being.
Afrojack took the decks in front of an audience that wanted to simply get down. As usual, the crowd at Afrojack had more people on shoulders, jumping and waving both flags and articles of clothing in the air than you'd see for other acts. The Dirty Dutch king opened with a fantastic mashup of his oldest and best hits that had been reworked to create an unbelievable introduction. Sprinkling in his more recent crossover popular hits and bleepy ID's, his live set shows the movement he's made in his career since we last saw him at Ultra. What is more interesting is that during Weekend 2, he'll perform both as Nick van de Wall and as Afrojack. I'm very interested to see how he differentiates his musical personalities with his stage name and under his given name.
Swedish House Mafia was by far the most anticipated act of the entire night, if the entire weekend. Causing a 30 minute lapse at the main stage, the trio's team worked to set up a completely separate stage within the main stage infrastructure to deliver their show. The Swedes return to UMF to close out their farewell tour after a hiatus from working with the festival, and delivered a set that was typical of what we'd expect: nothing but fun.
Full of their infamous bootlegs featured in last year's groundbreaking set at Madison Square Garden, and special nostalgic moments surrounding "Leave the World Behind," "Kidsos," and their remix of Coldplay's "Every Teardrop is a Waterfall," Axwell, Angello and Ingrosso certainly left their mark on Ultra's main stage. Unfortunately though, for those who have seen their show in other cities, there is literally no departure from what you would have previously seen. By closing out an arena-based tour, we'd hope that the guys would know better than to replicate the same thing at a festival. Still, the main stage Friday closed down flanked by an unbelievable fireworks show.
Fatboy Slim closed down the Carl Cox & Friends Arena in his typical style, that if you haven't heard before, take a listen below and you'll be hooked for life. Developing a mixing style born in the age of vinyl, the breadth of music included in his live performances is something of a dying breed. Opening with some electro house but keeping a disco and tech theme throughout the set, and always including those oh so famous lyrics to "Star 69," there wasn't anything to do but to get seriously groovy with every song that came on. Fatboy Slim's live performances are those that are eye opening into the history as well as the future of house music, and after a first look is the performance that you will, without a doubt, look forward to every year.
Stick with EARMILK for further coverage on Ultra and other Miami Music Week Events!