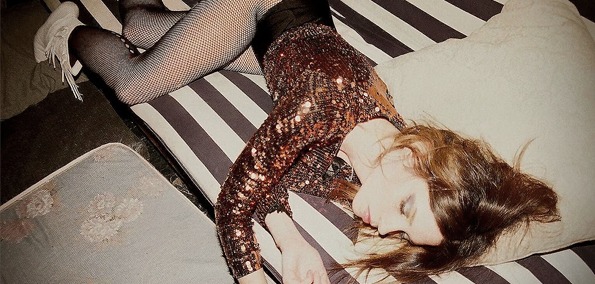 All I want right now is my own bed. My own futon with the same old smelly sheets and my own blanket with the same drool stains all over because that's where home is. Today is the last day of SXSW and I'm at Jessica's house trying to remember what happened last night. Good thing I took notes early during the day but forgive me for the brevity of this review. 
Day 4 started at The Hype Hotel for Stereogum's showcase with Kitty, Lakutis, and Youth Lagoon. Brooklyn residents Kitty and Lakutis both sounded as great as always. It was the first time seeing Iowa native Youth Lagoon. There was a full band with him and they did a little shredding. Trevor kept his face down the entire time but looked like a total baller with his dark frame glasses and two gold chains on his plain white tee. There was so much volume and amp to Youth Lagoon's live performance and never once was there a loss of intimacy because Trevor's voice will forever stay boyishly endearing. 
From Hype, I headed over to Haven at 409 Colorado. Chaos PR threw a daytime "Certified Trap" party. I still don't know how I feel about listening to trap during the day, but this party was definitely turned up. I arrived when DJ Sliink was playing a Future track, then transitioned it to Flosstradamus and Chief Keef -- you know, all of those bangers. Rappers FKI emcee'd and Ne$$ from Weekend Money partook earlier that afternoon. There was free coconut water and popped chips at Haven. It was a a good time. 
For all of SXSW, I only just wanted to catch Inc. and Totally Enormous Extinct Dinosaur. Last night, Britain's electronic producer Totally Enormous Extinct Dinosaur played at Hype Hotel. I stood there for 20 minutes wondering why Orlando did not have a microphone and why he was not playing any of his own songs. I found out later that he was simply doing a DJ set. Even though that was a bit disappointing, his set was still groovy. I just want to know, when will I ever see Totally Enormous Extinct Dinosaur live?
Goth pop girls in Dark Sisters played at the back of Wendy's around midnight. It was at a gallery space in the backyard. With all nights off and the two girls crawling all over the floor whispering about period sex, Dark Sisters brought a Britney Spears plus spooky, psychedelic vibe to the DIY crowd of Austin -- which was obviously amazing. 
 At 1 am, Solange made an appearance at The Hype Hotel. I loved coming from a grungy art gallery to watching Beyonce's sister at a real music venue. That's what music festivals are about, right? Music catering to various different scenes/people? Anyway, Solange was just okay. She performed only 4 songs and ended with the single that was produced by Blood Orange, "Losing You". I honestly only wanted to see Solange for that song and apparently, so did everyone else. I ended the night cuddling with friends at a hotel room across the street. Yes, I slept on a bed last night. Thank you, Amelia Trask.