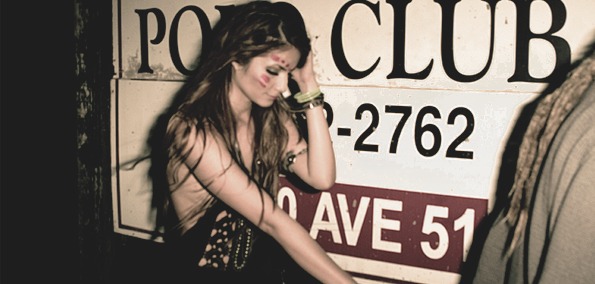 Hello from Austin! I realize my Sprint 4S iPhone cannot handle the amount of people and activity in Austin so it's been really rough trying to get around with a useless phone. The ability to navigate, contact, google, tweet, instagram, vine, and gmail is very limited. That said, I can't reach my actual SXSW schedule, which tells me what bands I specifically wanted to see before getting here. It's okay though, Wednesday still felt pretty productive.
Day 2 began with home girl, Effie, ordering food service as she got ready for a show with French Horn Rebellion.  I headed over to The Hype Hotel in hopes of receiving free tacos but that's only available after 8pm. There was a daytime showcase and Polyphonic Spree was playing at the time of my arrival. The Texan band graced everyone's afternoon with their psychedelic rock and their costumes were enlightening. Ryan Hemsworth got on the side stage for a DJ Set after Polyphonic Spree. He prepped the crowd and aroused everyone for Disclosure with his amazing touches of R&B and hip hop. We all know how active Hemsworth has been on the internet and he is highly active during this SXSW--playing at everyone and their mother's showcases.  It's great because we just can't get enough.
[soundcloud url="http://api.soundcloud.com/tracks/37521055" params="" width=" 100%" height="166" iframe="true" /]
[soundcloud url="http://api.soundcloud.com/tracks/67546070" params="" width=" 100%" height="166" iframe="true" /]
Around 5pm, The Hype Hotel was packed and of capacity. This was when Disclosure was scheduled to perform. Everyone stared at the stage and waited anxiously for the two young boys to take their roles. When they finally arrived, the crowd released all of their previous stress and bounced joyously to Disclosure's disco-dance vibes.  I've only seen them once before at a sold out show at Glasslands and this time was just as exciting. Before closing with "Latch", the boys teased the crowd with samples for a good couple of minutes, then extending the song and the crowd left in full satisfaction.  If you get a chance to catch Disclosure since they're on tour right now, do it.
[soundcloud url="http://api.soundcloud.com/tracks/59051244" params="" width=" 100%" height="166" iframe="true" /]
Immediately after watching Disclosure, we all ran to a VIP music tech happy hour that was hosted by my friend, Jessica Page at Ex.fm. This happy hour was basically a meeting for all the smaller blogs to connect and rekindle their love for each other. It was adorable watching the interactions and card exchanges happen. That evening, Ex.fm had a showcase with Megablaag. California producer, Jerome LOL, started this party and tears almost came down my face when he played "Changes". More feelings were touched when Autre Ne Veut took the stage with one of the Zambri sisters as they expressed their heart-reaching R&B gospels. It was an emotional night and I ended it with sleeping at the back of a friend's outback. Cheers to not being completely homeless. 
[soundcloud url="http://api.soundcloud.com/tracks/54210592" params="" width=" 100%" height="166" iframe="true" /]
[soundcloud url="http://api.soundcloud.com/tracks/78184108" params="" width=" 100%" height="166" iframe="true" /]