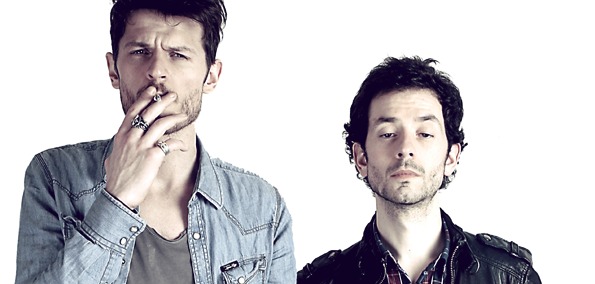 Carbon Kevlar is a French electro duo consisting of Hadrien Bal and Jonathane Driol. They started to make music together in 2010 and were brought to light a year later by producing music for the famous French TV show "BREF". Their track "Coco Shaker" was used as the main theme of the show and very quickly became a hit in France. The single reached the first position of the French iTunes electro sales chart and the first music video they did for this same track has now over 300,000 views on Youtube.
I had the chance to remix "Coco Shaker" last year, played with them in France and really like their work -- I've featured it many times in my Dancing Dead mixes.
Their popularity originated in France, but they now have fans throughout Europe and are ready for world conquest with their latest EP, God Phazer, out now on my own record label, Den Haku Records. French electro, made in France, remixed in France, packed in Japan and now ready to be dropped in every second club.
"God Phazer" comes with four remixes. The first one, from Tom Deluxx, is kind of a violent rework of the original. Then come two different complextro remixes: a groovy one from Kube and a dirty one from French duo Infrastep. Last remix from Greg Hoffman is more progressive and much more quiet.
[soundcloud url="http://api.soundcloud.com/playlists/3820090" params="auto_play=false&show_artwork=true&color=000000" width="100%" height="450" iframe="true" /]
Carbon Kevlar
God Phazer
Den Haku Records
Feb 20, 2013