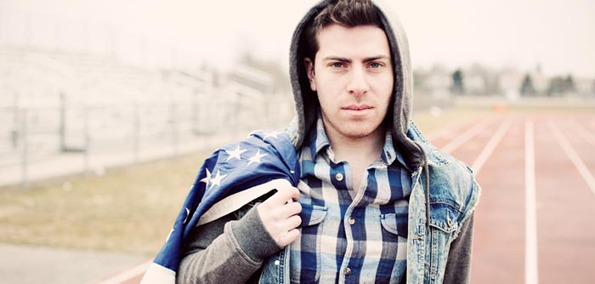 In the week leading up to the release of Crew Cuts on February 20, rapper Hoodie Allen has been juicing up the anticipation with the recent release of "Cake Boy" and its official music video. Just today, he has released a second song off of the album, which is titled "Fame Is For Assholes".
A large factor in Hoodie's escalating popularity was his latest album, All American, which had the body of rap and the sounds of pop. "Fame Is For Assholes" revisits this style in a sense, compared to the rap-heavy "Cake Boy". This particular track infuses more vintage doo-wop hop, making it an easy-listening and fun song to sing-a-long to. Not to mention that "Fame Is For Assholes" features Chiddy (Chiddy Bang) who is part of a pop-rap group that samples from well-known artists like Passion Pit and Sufjan Stevens.
With the two working together, they yielded a catchy tune with an infectious chorus. Hoodie Allen also released the official music video, portraying a high school basketball game that parodies classic basketball movies like The Hoosiers. It's Team Hoodie vs. Team Chiddy in the music video acting as rivals, but in reality, they worked together harmoniously to create a tune that have been long kept from fans. 
[soundcloud url="http://api.soundcloud.com/tracks/79735715" iframe="true" /]