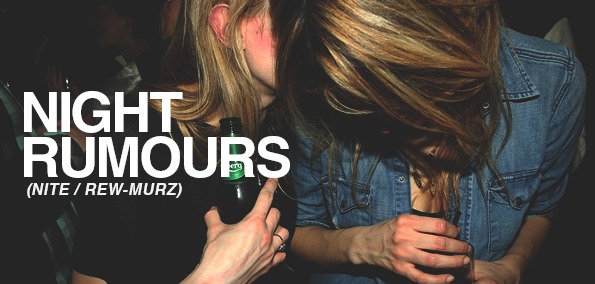 Find them at basement nights and warehouse one-offs reaching from New York to Montreal and overseas Berlin, a collect of conneisseuring clubbers. Void of tasteless vagabonds and cheap standards, looking to give credit where credit is due. The recent flood of clichéd counterfeits has made most music better left unsaid, but it's the rumours looping in our head and tugging at our ego that gives us the need to shine light. A compulsive urge to spread from one ear to the next, to draw a line between bottle service cogs and what is honestly the cutting edge of electronic dance music. There's no room for Vegas roller coasters or casual chit chat, just Night Rumours worth spreading.
---
ON THE STREET
---
Laura Jones
Sensoramic
Visionquest; 2013-02-11
VQ023
---
"Another rising star based in the charming and musically gifted city of Leeds UK. Laura Jones turned the heads of notorious labels with her magic touch on the decks. The dj/producer holds a tight spot on UK label Leftroom alongside a Detroit/Berlin favorite Visionquest. Her story starts when a young Ibiza-inspired, marketing graduate flipped the script, joined music school and ¨learned how to dj¨. She then went on a return visit to Ibiza and after making the right friends she played them her now signature, sensual, melodic tracks, capturing a new brand of hearts on the dance floor. Taking in all the attention deserved, Laura Jones landed a spot on Visionquest's Spring Club Collection sampler with her 'Live a Little' track and hit even harder with her 'Love in Me' track which held the no.1 spot for weeks on Beatport.
Sensoramic being her first solo EP, includes the renowned track 'Love in Me' and is a complete definition of her sound; combing her characterizing hypnotic style with her trademark soft and sensual vocals. The double-sided imprint, also includes a Dub Rework version of 'Love In Me'. On the backside lies the third track, a vocally-seductive 'Loose Myself' and ending the track list is the more techy, late night - 'Every Thought'. Sensoramic, released on Visionquest puts Laura on the playing field with the young and Motown rooted - Seth Troxler, Ryan Crosson, Shaun Reeves and Lee Curtiss. She's quickly made her mark over the last few years, and is ready to take 2013 by storm." - Vanessa Gil
[soundcloud url="http://api.soundcloud.com/playlists/3198588" params="" width=" 100%" height="450" iframe="true" /]
---
Trade
Sheworks 005
Works the Long Nights; 2013-02-04
SHEWORKS005
---
"Just when you think the techno scene couldn't get any better, Trade shows up; a newly formed collaboration between Blawan and Surgeon. These two remarkable producers, both originating from the UK, have come up with some fine techno that will make you crash a warehouse and throw a rave party. 'Half Nelson' drowns you in a pool of distorted kicks and cymbals that no lifeguard could save you from. Then things get a little eerie and frantic when 'Positive Neckline' comes around with its oscillating acid line and turbulent background synth. 'Touch This Skin' is Sheworks 005's driving force; serious hard-hitting drums accompanied by some off-beat reverbed clangs. The release concludes with 'I Notice You All', a voyage through the unknown with conversing acid lines and hesitant cymbals. Trade's debut EP is out now on Blawan's label Works The Long Nights and is limited to vinyl only." - David De Sousa

[soundcloud url="http://api.soundcloud.com/tracks/73431075" params="" width=" 100%" height="166" iframe="true" /]
---
Chubba
Good Days
Sirch Records; 2013-02-04
SIRCH004
---
"London's Jay Richards, also known as Chubba, recently released a new EP on Danish imprint Sirch Records. From ravy big room tracks to more serious bass oriented house tracks, Chubba has received a hero's welcome with replays by Marcus Nasty and many more. This house-only producer has all the taste and talent of a Dirtybird signing, so we're all excited to see what else is to come from him. If you'd like a little taste of what this upcoming talent has to come, check out his SoundCloud and especially this EP." - Matt Rauch
[soundcloud url="http://api.soundcloud.com/tracks/75303315" params="" width=" 100%" height="166" iframe="true" /]
[soundcloud url="http://api.soundcloud.com/tracks/75303486" params="" width=" 100%" height="166" iframe="true" /]
---
THROUGH THE GRAPEVINE
---
Kyodai
Moving
Local Talk; 2013-03-1
LT024
---
"Smooth, upbeat, and infectious can all be used in describing German brother duo Kyodai's upcoming release. After last years jazzy deep house song "Breaking" panned out to be the biggest release Sweden's Local Talk has put out to date, it was only a matter of time before Kyodai paid the imprint another visit. Their newest effort is a two-sided extended play that is deliberately titled Moving as it showcases grooves with a driven dance yet relaxed vibe. The front end of their EP, entitled 'The Scene', is a piano driven cut that utilizes a soulful vocal sample powered by a funky bassline that welds vintage with modern. The B-side is called 'Moving (Breaking Part 2)' and updates the tone of last years relaxed "Breaking" by only letting go of its strong synth-led push to showcase a jazzy breakdown culiminating into a canyon-like drop. Keep your eyes peeled, as Kyodai should have a full length out on Local Talk later this year." - Aaron Thomas
[soundcloud url="http://api.soundcloud.com/tracks/77261464" params="" width=" 100%" height="166" iframe="true" /]
[soundcloud url="http://api.soundcloud.com/tracks/77382685" params="" width=" 100%" height="166" iframe="true" /]
---
Willie Graf & Tuccillo
Talking House Vol 1.
Local Talk; 2013-03-15
LTTH001
---
"Ibiza native and Cielo resident, Willie Graff and partner in crime, Tuccillo, have come up with a fantastic track on Swedish label Local Talk. Local Talk is a label deeply influenced by classic house, and all of their releases display this profound love for the era. Taken from their upcoming Talking House Vol.1 compilation (and their previously released Sunday Morning/Misdirection EP), 'Sunday Morning' is a crisp, cheerful affair with old school house appeal. With a bass line groove at the heart of the track, vocal echoes give it that MK vibe that was so profound in the 90s. Not to mention the drum kit seems very much Roland focused. This track is as pleasant as the morning sun, and you can grab it alongside many others when Talking House hits the shelves later this week." - Kevin Rodriguez
[soundcloud url="http://api.soundcloud.com/tracks/50192329" params="" width=" 100%" height="166" iframe="true" /]
Free cuts from Local Talk
[soundcloud url="http://api.soundcloud.com/tracks/74523730" params="" width=" 100%" height="166" iframe="true" /]
[soundcloud url="http://api.soundcloud.com/tracks/49037371" params="" width=" 100%" height="166" iframe="true" /]
---
EDITOR'S CHOICE
---
Djedjotronic
Kaikō
Boysnoize Records; 2013-02
BNR096D
---
"No doubt a heavy hitter amongst many, Paris' pitch to the Boysnoize collective has yet to strike out on any piece he's laid his hands on. Whether it be through BNR or the Trax sister label, Djedjotronic has consistently batted the best the brand has on bench. And his newest addition Kaikō couldn't have come sooner as the imprint's last few, while cleverly crafted, feel a bit parched compared to the laboratory lunacy that's run rampent in techno and even the remnants of electro. Youtube and mixtape rips of the title track have been drawing in all the hype on this release, and it's no surprise as Djedjotronic picks up trash from the past to create an edgier and more industrial take on a sound well bred in the BNR catalogue. But after looking around you'll find that there's a lot more to this EP than a hyped-up title track, the B-side 'Life' is a crunching hybrid house jam with cold keyboards and a pulverizing 909 snare while 'Depth' guns at your headphones with quick envelopes on pulsating leads. It doesn't take much for 'Back' to be the definite favourite, who can resist a hammering kick and swishing hats to make your hole feel like Berghain. Lush stabs and a booming low end wrap up this release nicely and leaves us just where we want the Bordeaux-native and BNR label to be." - Lukas Switlicki
Boysnoize Records · Facebook · Twitter
Play:
Djedjotronic
- Kaikō
Play:
Djedjotronic
- Life
Play:
Djedjotronic
- Depth
Play:
Djedjotronic
- Back
---