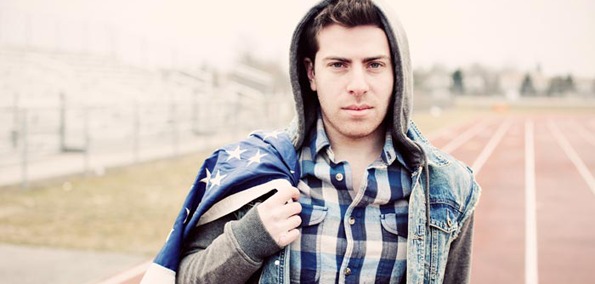 It's about that time again where we are in the midst of experiencing a huge influx of new music with the first few months of the year. Anywhere from announcements to singles, it's been flooding in almost non-stop for the past month and a half and we at Earmilk couldn't be more please. Every so often, a big names makes a considerable blip in our radar. In comes a new single called "Cake Boy", by Steven Markowitz, a.k.a. Hoodie Allen. He is a rising American hip-hop artist who wields flow of river rapids. Infusing pop with hip-hop, he has created himself an army of followers that is continuing to grow every single day. You can consider his latest album All American to be a catalyst of his this insane fan-dom avalanche, given that the wildly popular "No Interruption" is a single off of said album. 
Hoodie Allen has recently announced the impending drop of his next album, Crew Cuts, which is due out February 20. Along with his announcement, he has thrown all of us a bone which is titled "Cake Boy", and the official music video produced by the legendary !llmind. A few months ago, we interviewed him personally about his upcoming album, to which he gave us a clue about it being his best rapping and sampling yet. "Cake Boy" reaffirms his statement. Compared to any other song off of All American, it is definitely more rap-oriented and less pop influenced. His lyrical flow in this particular song is the main driving force that captures your ears. Instead of grand booms and effects, he relies on typical and standard hip-hop/rap beats. Hoodie Allen spits words much quicker, showing the world he's also got game in the rapping scene.
Stream below to get cakin' messy.
[soundcloud url="http://api.soundcloud.com/tracks/78734890" iframe="true" /]