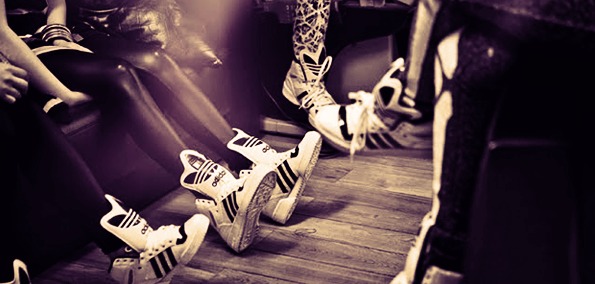 In 2010, Elliot Oveson and Akbar Mohabbat joined forces to create Basscrooks. This multi-talented duo fuses its roots in hip-hop, house music and turntablism with a bold bass-heavy, electronic flavor. They have graced stages alongside acts like Crizzly, Nervo, King Fantastic, Krewella, Secret Panda Society, Talib Kweli and Manufactured Superstars, to name a few. Their sound continues to evolve each and every day with a desire to raise the bar in the dance music community. We had a chance to go one-on-one with the duo known as Basscrooks. They also left us a very special mix so be sure to check out both below. 
Earmilk: Can you start off by telling our readers a little about yourselves? Where are you from, etc…

Elliot Oveson: I grew up all over the place really…Southern California, Massachusetts, Indiana and now Colorado. I've been DJing for over 10 years and working hard on production for the last 3 years or so.  I've always been a huge fan of hip-hop and have loved EDM for as long as I can remember. I also work at The Global DJ Academy as a Serato instructor here in Denver, teaching the local young bucks how to be legit DJs.
Akbar Mohabbat: I was born in Germany, then turned into a gypsy and lived in Southern California, Phoenix, St.Louis. For the past four years I have been living in Denver, learning Ableton and focusing on the transition from nightclubs with an open format to EDM-specific gigs at music venues. I was raved throughout my teenage years, until I was about 22. Then I started spinning open format at clubs, and a couple years later, found myself wanting to revert back to what really caught my attention music wise..

EM: When and why did you two decide to link up? Why do you work well together and why did this collaboration work better than pursuing solo projects?
AM: We met in 2007 when Elliot came through St. Louis and played a weekly called "Mash Up Mondays"; a couple months later he was back in town, opening up for LMFAO. His style stood out to me. We kept in contact and realized that we had similar tastes in music.
EO: I wanted to start a DJ duo that was mainly EDM based, but also incorporated aspects of hip-hop by using turntables to scratch and by dropping hip-hop vocals over the electronic beat. I had known Akbar for a while, and when he moved to Denver it only made sense to team up with him and try to make this thing happen. We could easily both be doing our own thing, but we figure if two heads are better than one, then four turntables are better than two.
EM: Where did the name come from?
EO: I thought of the name randomly a while back. The music we love tends to be mid-tempo and bass heavy.
AM: "Avicii" was taken.
EM: In your own words, how would you describe your sound?
AM+EO: Mid-tempo, bass-heavy, melodic and electronic, with hip-hop influences. We pride ourselves on our live performances; not many people are still using Technics and scratching live during their sets. We like to think that's one thing that sets us apart from everyone else.
EM: What kind of music influenced you growing up? Any particular songs or albums on repeat?
AM: When I was a little kid, I pretty much listened to what my older brother listened to: 2Pac, MC Hammer, Mad Lion, Snoop and early 90s hip-hop. As a teen I listened to Prodigy, Korn, Green Day, Beastie Boys, Slipknot; oddly enough, when I started getting into the rave scene, I listened to a lot of 3 6 Mafia and Grateful Dead along with my EDM stuff. It was a strange yet delightful combo. It worked for me, at least.
EO: My first tape was Michael Jackson's Thriller - that was my shit. As I got older I started getting into a lot of East Coast hip-hop and reggae, listening to cats like Bob Marley and Gang Starr. When I was in high school I started DJing and that really opened my eyes to all types of music. I was instantly locked on House Music. Older mixtapes by artists like Bad Boy Bill and DJ Rectangle motivated me and made me want to be a better DJ. Now I listen to everything…I'm always looking for tunes to sample and those could be anywhere.
EM: Do you come from musical backgrounds?
EO: Music has always been in my life and always will be.
AM: As a kid I played the snare drum in third grade and then I started playing the guitar in the ninth grade when I formed a band with some friends. That didn't last too long.
EM: What did your parents think when you told them you would be pursuing a career in music?
EO: My parents are awesome and they have always supported me in doing whatever is going to make me happy. HI MOM J.
AM: I would like to have a magical story about how supportive they are, but they still give me the "come work for the family business (goat-herding)" speech.
EM: Any dream labels you want to sign with?
EO: MAD DECENT would be the dream label, but locally, Pretty Lights Music or Elm & Oak would be really dope.
AM: I'm crossing my fingers for NO LIMIT Records. I'm DYING for a tank chain. Mad Decent has always been on the list, with OWSLA and Mau5Trap or Dim Mak.
EM: Can you describe your work environment? What do you produce on? Is it always the same formula?
AM+EO: We mainly use Ableton in our home studios and Serato for our live performances, but our formula changes depending on what we are trying to do…sometimes we use samples, other times we use plugins and patches, usually it's a combination of the two…at the end of the day we're just trying to make music we like and hope the masses like it too.
EM: What's the music scene like in Colorado?
AM+EO: Denver is a great city. Tons of shows and tours come through here, covering just about every genre imaginable. As far as EDM, there's probably a huge headliner here every weekend. It's nice being able to regularly see big acts. There's also a lot of good DJs/Producers here too. Overall, I would say that as far as music goes, Denver is a good city to live in.
EM: What's your favorite track to drop in a set?
EO: As of now (Jan 31, 2013, 5:05PM) probably BUKU "All Deez", Bro Safari "Scumbag", Baauer & Just Blaze "Higher"… or "Thriller".
AM: I'm really digging the Flosstradamus track "Total Recall" and Ree$e's "Molly" (LOUDPVCK remix).
EM: What albums are you looking forward to this year?
AM+EO: As far as traditional artists, we are patiently waiting for Daft Punk and would love something new from Prodigy. Besides that, we're always ready to hear some new tunes from acts we haven't heard of yet. Right now we really like Bro Safari, Pierce Fulton, MGK and Two Fresh.
EM: If you weren't producing music what would we find you doing?
EO: Donuts in a gravel parking lot.
AM: Mastering my glow stick routine to Darude's "Sandstorm". The original version, of course.
EM: Any new years resolutions?
AM+EO: Our main goal this year is to make people break their resolutions while listening to our music.
EM: Last time you really laughed hard?
AM: Trying to explain the difference between Bands, Gwops and Stacks to white women.
EO: Listening to Akbar answer this question.
EM: Last album you bought?
AM: The last CD I bought was Bun B, "Trill".
EO: I can't remember the last full album I bought, but I did buy Eazy-E "Real Muthafukin' Gs" on iTunes the other night.
EM: Biggest vice?
AM: How much time is left?
EO: Green M&Ms ;)
EM: Celebrity crush?
AM: Topanga
EO: Kelly Kapowski
EM: DJ crush?
EO: Pauly D.
AM: The Krewella girls five years from now & DJ Irene
EM: What can we expect in the upcoming months?
AM: More tracks. Polishing up our production.
EO:  I just want to say "a lot more music."
[soundcloud url="http://api.soundcloud.com/tracks/78333260" params="" width=" 100%" height="166" iframe="true" /]