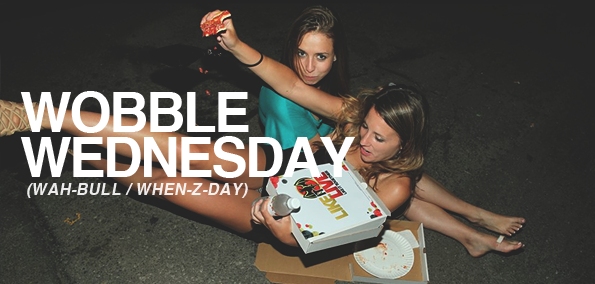 It would appear that you, the readers, are seeking a more fair and balanced Wobble Wednesday, since the late Filthy Fridays are no longer with us (R.I.P.). This week is dedicated to FF's memory, placing greater emphasis on the heavier side of 140 and 175. I also spent more time hunting for tracks that you can grab and play on the road.
This week we have selections from the finest UK bass, grime, filth, drum and bass, and trap, with some future and funk at the end to shake things up. If any tickle your fancy in that special way, support the artist and his/her efforts. After all, teamwork makes the dream work.
Without further ado, I PRESENT THE LINEUP!
UK BASS
This Hectic track is spacey, bass-y, and heavy with vocals that mix well with any other track in its genre. Play this one in dark dank basements with the hipster dubstep friends I know you all have.

GRIME
The production value of this new club banger is through the roof. It's always nice to see a producer with a good ear, because good grime is hard to come by. I think you'll really enjoy this one.

FILTH
I had the pleasure of seeing Stephan Jacobs alongside ill.Gates in San Diego for Halloween last year (2012). The two of them blew me away, so this track is exactly what I expect from a monster performer like Jacobs. Joined by Metaphase, he brings the dynamic sounds of American dubstep and absolutely kills it with the vibrato in this one. Enjoy the heavy, melodic, and thumping vibes of "Medical Grade", now available on the Floss Angeles EP on Rottun Records.

The staccatos in this track give off a very heavy, almost trap-like vibe that would go well with any set focused around 140 to 175 (trap, dubstep, drumstep). Remember the laser tag days? Well, it sounds like he sampled the phaser from those '90s commercials promoting the childhood pastime. The vocal samples are pretty dope as well. Makes for great hard-cut transitions, like a lot of Figure's stuff.

While this sounds like an electrohouse track in the beginning, the pianos are too beautiful to leave this track out. Not to mention that it goes hard (much like I did) after the drop. I will say, it is 128 bpm, but when I hear a beautiful track I can't just leave it be. IT MUST BE SHARED! So here you go, the newest free track from PrototypeRaptor.

I really dig the vocal samples used in this song and the melodic scales used throughout. It's heavy, brutal, and has a weird Skrillex-meets-Daft Punk sound to it. Free download is in the YouTube video description.

NSurgent---DJRapture--EM0113
Download: DJRapture - N'Surgent
DRUM 'N' BASS
My love for drum 'n' bass goes without saying, but the release of "Marka" last year was the reason I dedicate most of my own mixes and sets to the sound. It was a beast of its own merit, exploding into the scene and putting Dub Phizix on the map. With that said, you can imagine how happy I am with the upcoming release of "I'm A Creator". It has the same vibe as "Marka", but paired with Manchester MC, Skittles, it brings Dub Phizix one level up in my book (if that's possible). I look forward to more bangers from these modern legends.

This is exactly what I expect from a monster duo like Excision and Downlink. Both have released such hard-hitting bangers that even the metal kids started joining the dubstep/DnB parade. Specimen A's remix takes "Swerve" and magnifies it tenfold in the eyes of drumstep lovers like myself.

In one week, we will be blessed with the minimal-yet-melodic sound of Stray's new album, being released on Blu Mar Ten Music. The fact that "Thumbprint" was made in less than week demonstrates the level of skill a producer needs to pump out tracks of this quality so quickly.

TRAP/RATCHET
The original "No Handz" is a ghetto-rocking banger, but the vibe is a little slow for the modern trap game (no disrespect). CRNKN takes it and revamps it with a 150 bpm speed and enough snare hits to make any crowd throw bows. Grab the download and rinse that shit.

A fitting follow-up to that CRNKN remix, this track samples a small portion of the "No Handz" chorus. This one is more of a set opener, but mixes well with some UZ or gLAdiator.

I've been looking for a good "Bandz" trap remix for a while now. This OG Status remix isn't exactly what I meant, but I can see it going over well in a trap/dubstep set. While it is very synth- and stab-heavy, their take on traditional trap intrigues me. Free download with a Facebook Like.

"Damn son, where'd ya find THIS sandwich?!"

FUTURE/FUNK
The only Stickybuds I know are those Guaranteed by Deekline and Ed Solo, but that's ragga/jungle and nowhere near as funky as this remix of a completely different song. This song has plenty of broken glass and glitch, and there's even a Kenny Powers sample in it. I mean, c'mon! If that doesn't get you wet…

Downtempo and funky. GIRL UNIT never ceases to please with his technical robotic sounds spaced evenly for optimum sub-humping pleasure.

MIX OF THE WEEK
DUBSTEP/DRUM AND BASS [HEAVY]
Tracklist:
Specimen A - All Or Nothing (Dub)
Specimen A - Slam Dunk (Inside Info Remix)
Excision & Downlink - Swerve (Specimen A Remix)
Specimen A - Slam Dunk (Stoneway Remix)
Excision & Skism - Sexism (Far Too Loud Remix)
Daft Punk - HBFS (Specimen A & James D'ley Refix)
Specimen A - I Will Not Lose
Specimen A - Slam Dunk
Skism - Red Heat
Specimen A - Rock Star ft. Sufficem (Dubplate)
Far Too Loud - 600 years
Excision & Datsik - Deviance (Dirtyphonics Remix)
Daft Punk - Aerodynamic (Specimen A & James D'ley Remix)
Specimen A - Shut your Trap (Dubplate)
Far Too Loud - Firestorm
Specimen A - London
Doctor Werewolf - Lasercat Rocket Attack (Specimen A Remix)
Shockone - Polygon ft. Reija (Dirtyphonics Remix)
Far Too Loud - Lightbringer
Shockone - Chaos Theory
Excision & Downlink - Swerve (Specimen A Remix)
Fourward - All That Matters
Specimen A - Forgot about Breaks
Skism & DC Breaks - Killer ft. Dee Freer
Fleur & Cutline - Broken Mirror
Fleur & Cutline - Broken Mirror (Specimen A Remix)
Fleur & Cutline - Broken Mirror (Metrik Remix)
Subfocus - Tidal Wave ft. Alpines