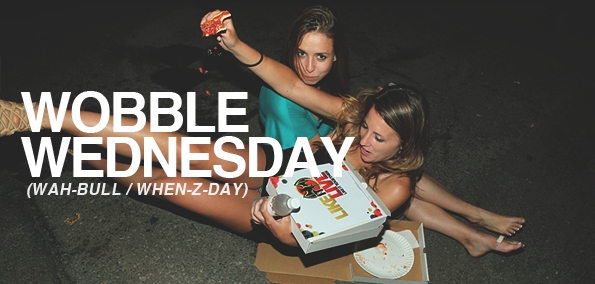 Wobble Wednesday Version 4.0 is about to kick off, but first I think we need to have a discussion on what to expect for the weeks and wobbles to come. I wanted to elaborate on the history of this beautiful sound, but Crimestein did a wonderful job with his Dubstep 101 article in 2011. Instead, I'll share a few classics, my all-time favorite, and some new bangers.
For all you history buffs, check out the Ishkur's Guide to Electronic Music and MixMag's Dubstep Family Tree for a little more insight into the birth and development of the genre.
Before we get to the music, I'll explain the layout: Each track has a piece of info describing the sound. Some have a separate piece outlining the artist and what to expect from their previous work (if you've never heard them before). The end of each post will have a series of mixes I've listened to over the week that I think you'll enjoy, and artists I think you should be on the lookout for. For now, enjoy the slew of tunes I've provided below and I'll rant later.
On a different note, the beautiful thing about living in California is the endless amount of music I'm subjected to on a daily basis. Local events and rising artists/collaborations are aplenty. I'm always looking for shows to attend and new talent to interview, so feel free to join the discussion and share your suggestions! This is a judgment free zone!
Send me your tracks, mixes, suggestions, local event info, etc. on Twitter at @BeerCanDid or below in the comments.
Peace and Good Vibes!
NB
HISTORY LESSON (you'll need a sub for these, or a great set of head cans)
Wookie – Battle (S2SP 001, 2000)
(P.S. If you hold down the Left and Up arrows, you can play Snake while you wait for this video to load. Works for any YouTube video!)
Horsepower-Productions---Fist-of-Fury-(1080-HD)--EM0113
Stream
:
Horsepower Productions - Fist of Fury
(TEMPA 005, 2001)
--Skream---Midnight-Request-Line--EM0113
Stream
:
Skream - Midnight Request Line
(TEMPA 014, 2005)
Stream:
Loefah - Goat Stare
(DMZ 006, 2005)
Stream
:
Kode9 + Spaceape - 9 Samurai
(Backward / 9 Samurai, 2006)
Stream
:
Benga & Coki - Night (Original)
(TEMPA 030, 2007)
Stream:
Skream - Rimz
(Skreamizm Vol: V, 2008)
NEW SCHOOL
UK BASS
Dark, heavy, and grimy in all the right places. Opens up with a few tinks on the hihats and drops into a low-end bass vortex. Truly one for the books.
Dark, slow, heavy interspersed with vocals. Reminds me of Commodo's darker tracks.
These two tracks have similar weight as FNC, but with a groovier feel. They would pair nicely with FNC and Paloma Faith in a mix.
More of a robotic type of heavy, while retaining focus on the low-end.
PURPLE
Stream:
Starkey - Neck Snap
Smooth, jazzy, light without neglecting the low-end. Beautiful baby-making purple tune right here.
Glitchy, trippy, trappy. First thing that comes to mind is Trap meets Purple. This would go great in any trap set, and I encourage you to do so. Spread the Good Word of Purp!
Deep, dark, crunchy, pretty much a mirror image of Joker's style without infringing in any way. A truly beautiful track.
GRIME
Wiley---Step-18-Freestyle-(Produced-By-Flava-D)--EM0113
Stream:
Wiley - Step 18 Freestyle (Produced By Flava D)
Heavy and dirty with verses from the UK's own Wiley. Known as the king of free music, he has given us a track to rinse in the dirtiest of situations.
Stream
:
Sir Spyro ft. Footsie - Night Shift
Skanky, dark, and grimy. Rinse.FM's Sir Spyro teamed up with MC Footsie to bang out this massive track.
BROSTEP/FILTH
Now this is some REAL funky shit! Carnival-esque and filthy thrown in a blender with video game sounds and robots.
These two have really outdone themselves this time. Heavy hitting and robotic, just like Papa Skrill taught. Truly a banger for those who love the sound.
DRUM 'N' BASS
Dark, tribal, heavy. Beautiful, almost Gregorian backing vocals add to the darkness and created a mood for any Calyx, Teebee, or Metalheadz fan. Be on the lookout for more from these guys.
Win-Or-Lose-(ft.-Anna-Yvette)--EM0113
Stream:
Computer Club + Must Die! - Win Or Lose (ft. Anna Yvette)
Liquid, banger, vocal
Tribal, chill, heady. This track is part of their recent Safari EP.
I am a diehard Sub Focus fan, and this track has it all: kickin' drums, punchy synths, soulful vocals, and even a cute girl in the music video! This would go well as either a mid-set drop or a background work tune.
TRAP
I had the privilege of knowing Luke in college, and he is one of the chillest dudes around. Everything this kid produces is pure gold. He manages to transform each genre into his own style. This trap track is no exception.
Whooping synths and heavy bass, everything the trap needs!
MIXES OF THE WEEK

UK BASS:
Setlist:
1.Perverse - Epidemic
2.Catacombs & Knowledge - Exodus
3.Kelly Dean - Columns (SMOG DUB)
4.Mesck & Deafblind - Strife (DUB)
5.Juss B - Concentration
6.Chad DUbz - Fatality (DUB)
7.Standard Procedure - Dusk (Disonata Remix) (DUB)
8.The Argonauts - Sendout
9.Biome - Formation
10.Core - Bassmental
11.EshOne - Search Party (DUB)
12.LX ONE - On My Own
13.Telzar - Untitled (DUB)
14.Razor Rekta - Bang Ya Door
15.Standard Procedure - Shadows (DUB)
16.Badklatt - Iron Eyes
17.Chad Dubz - System (DUB)
18.TLZR - Depth Perception (DUB)
19.Mesck - No Shelter (DUB)
20.Sleeper - Zodiac
21.Youngsta - Destruction
JUKE/FOOTWORK/TRAP:
INTERLUDE 002 KEN EVIL by Ashes57 on Mixcloud