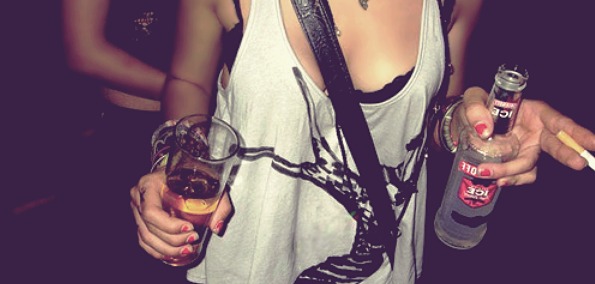 The holidays are upon us and as a gift to NYC, EARMILK, Cool Records, Mad Decent, and The Interstellar Pig have teamed up to give you this carefully constructed dance party lineup. We figured that since the world is on its way out, you might as well log one or two last noteworthy experiences before we all meet our catastrophic demise.
Interstellar Pig is a relatively-new-yet-renowned artist management/event production brain child based in NYC. It was only a matter of time before we teamed up to bring you a lineup as fresh as this.
Glasslands Gallery is a venue known for its consistent ability to host shows and parties with lineups of the best up-and-coming and well-established talent from all over the world, perfectly located in Williamsburg, Brooklyn. There are no pesky door people or dress codes. Earmilk recently hosted the Cat Face Party (yes, a party that is based around drawing a cat face on your face and dancing all night) with special guests CJ Milli and Dirtyfinger at Glasslands. Pictures of that party can be found here.  
Don't forget to bring your holiday party vibes.
(2) FREE TICKETS WILL BE GIVEN TO (2) LUCKY TWEETERS!
Please tweet the flyer (included below) and tag @earmilkdotcom, @interstellarpig, and @tannercaldwell_ for a chance to win TWO free tickets to this event. The winner will be announced and contacted via Twitter the day before the event.
CLICK HERE FOR FULL EVENT DETAILS
JAW JAM
[soundcloud url="http://api.soundcloud.com/tracks/69244155" params="" width=" 100%" height="166" iframe="true" /]
DIRTY SOUTH JOE
[soundcloud url="http://api.soundcloud.com/tracks/68726099" params="" width=" 100%" height="166" iframe="true" /] 
BRANCHEZ
[soundcloud url="http://api.soundcloud.com/tracks/68785803" params="" width=" 100%" height="166" iframe="true" /]
XAPHOON JONES
[soundcloud url="http://api.soundcloud.com/tracks/68062572" params="" width=" 100%" height="166" iframe="true" /]
WESTSIDE SCHMUCKS
[soundcloud url="http://api.soundcloud.com/tracks/67318022" params="" width=" 100%" height="166" iframe="true" /]
TANNER CALDWELL
[soundcloud url="http://api.soundcloud.com/tracks/70104471" params="" width=" 100%" height="166" iframe="true" /]