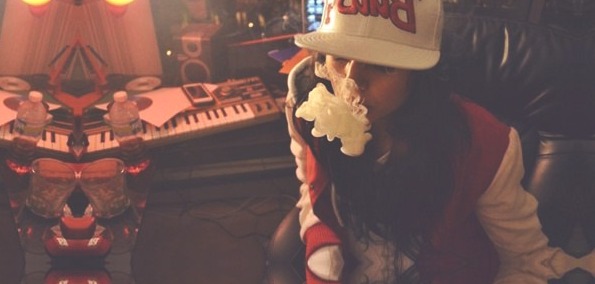 With the immersive trap scene taking over the music world among producers and DJs alike, these days it's bound to seem rather repetitive and drawling with the amount of flooding producers generating this style. Yet there is hope: producers who have been creating this music from the beginning are finally gaining respect and we at Earmilk are here to feature these emerging artists. Los Angeles producer and DJ Falcons has been at the forefront of the dirty south electronic party scene for a while now and has recently released his Remixxes Vol. 2 EP, and if you are at all acquainted with his recent Boiler Room set, some of the songs will be quite familiar. Falcons takes a modern, dirty south spin on four classic hip-hop and R&B tracks, and always throws in his personal falcon cry tag.
The first track off the EP, "Vroom", is definitely the most popular and catchiest of the tracks. "Vroom" is a chiller track with subtle 808 drums and water drips throughout. Falcons takes catchy sampling from Missy Elliot's "The Rain" and rearranges it to make one of the most soothing 808 bass tracks to come out in months. The track "Googely" samples the clever lyrics from Project Pat's "Good Googly Moogly" into a fun 808 track that you can't help but bounce to. The slowed Projects Pat's slowed vocals are perfectly layered over subtle trumpet and vocal cuts.
For those unfamiliar with Falcons' Boiler Room set alongside producers Sinjin Hawke, Morris, and Dreams, here is the full 46-minute mix from last July.
TRACKLIST:
Falcons - Vroom (missy remix)
Trap Arnold x Trick Daddy & Trina - Falcons blend
Falcons - That Bump
Falcons x Slim Thug & Paul Wall - Untitled instrumental
Falcons x Slim Thug & Paul Wall pt. 2 - for my dawgs instrumental
INOJ - Love you down (Kokobo remix)
Falcons - ShoulderLean
Falcons - Nigeria
Nadus - Between the Sheets
Paid Beats Only (Trap Arnold x Djemba) - Yung Howard
Djemba Djemba - Oh Ok Yeah Thats Cool (forthcoming Jeffree's)
C.Z. - Doin what I do
Falcons - Googley
Jagged Edge -Tip of my Tongue (Inst.)
Guido x Ciarablend
~ DOPE A$$ POWER OUTAGE ~
KP and Envy - Shawty Sing My Way (B. Bravo remix)
Dorian Concept x Lil Flip - Flip my chips
Mike G - Trippy mane bootleg
Chunk up the deuce - syko B-more edit
Bosstone x Amerie edit
Falcons - TeamSupreme (demo)