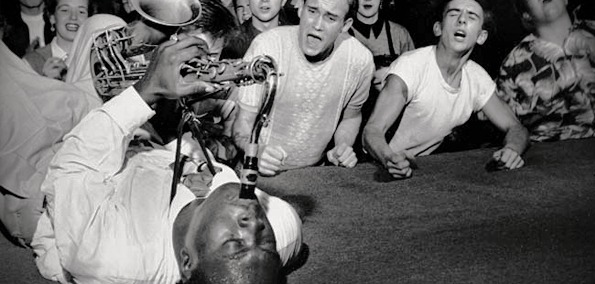 What do you get when you take a blow up pool, some super dope dance skills, an outrageous front yard gathering, an underground dance party, a larger than life duck, and a fresh take on dubstep and soul? Well this is WatchTheDuck's latest venture, a video for their newest single titled "Poppin Off."
WatchTheDuck are pioneers of a sound some are calling "soul step." The track and video combine elements of their musical roots, including the sounds of soul, dance, trap, rap, hip-hop, and dubstep, for something entirely original and unique. WKTU put it this way, "If Jimi Hendrix and Skrillex had a musical baby, 'Poppin Off' would be their bass heavy, soulful child." It's a whole lot of funky fresh sounds and a refreshing landscape welcoming a diverse audience.
https://www.youtube.com/watch?v=2P_P7KLyo8E&feature=player_embedded
Hailing from Alabama and currently residing in Atlanta, the group's members include Eddie Smith III, Jesse Rankins and Jonathan Wells and a duck? Yes you read that right. The fourth member of the group is a duck. Well not an actual duck, but a group mascot. Their mantra surrounds the concept of a duck and the meaning behind the group name, Eddie states "Everybody sees the duck traveling smoothly on top of the water," but nobody sees it kicking hard as hell under it, struggling to stay afloat. We would always say 'WatchTheDuck' whenever we were in certain industry scenarios, when everyone's your friend and is trying to be of importance. We say it to each other to kind of lighten each other's mood." The video has already had the eyes of 500,000 people just by word of mouth. The video also includes their extended family, the Dragon House Crew. (The guys in the video putting on those killer robotic dance moves) Eddie remarks, "They make music visible, they make you see what we're playing. We're all about making it visible, which is why we're not just on stage DJing to tracks. We're literally reworking and replaying everything live." For WatchTheDuck musical freedom means making great music they love where they can pour their hearts and soul into a beat. They are currently in the studio working on a forthcoming EP and are ready to bring their underground vibe to the masses. In the meantime head on over to their Soundcloud for the "Rub-a-Dub" mixtape to satisfy your ears.