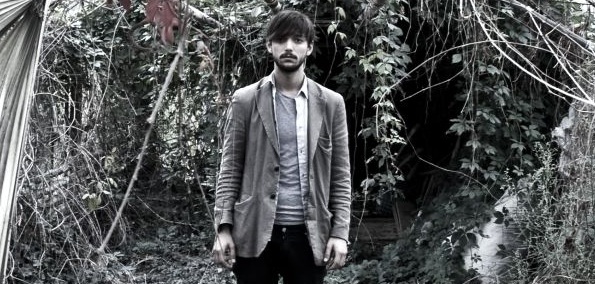 Viennese
Sixtus Preiss
dropped a release on local
Affine Records
last month (home to
Dorian Concept
among others) that is good fodder for rabid fans of
Hudson Mohawke
,
Rustie
, et al. That et al. includes
LuckyMe
of course, who is a short degree of separation from this release via
Cid Rim
's appearance. It's difficult to put to words or genres on these hypercharged and superlative beats with some subtle-yet-wiry jazz touches, but they're fun to listen to. I hadn't heard of Sixtus before this EP but after hearing his
Boiler Room set
, I couldn't refuse the offer for an interview and mix. But first, a preview of the release, as it says plenty about Sixtus:
Sixtus opens with some upbeat playfulness before the "samba feeling being this" sample drops away into soaring synths and squealing highs. There's not much time to decompress before "Kation" kicks in with some off-kilter drums and vocal ballooning a la HudMo. The Cid Rim remix turns the title track into a gloriously spaced out number. There's some grandiose almost 8-bit keytaresque leads that duet nicely with the soothing pulses in the bridge, and it's a
free download
to boot.
Skim the interview's attempt to get to know Sixtus Preiss a bit before you listen to the mix - it's an equally eclectic mix of sounds, but I think it's suited for kicking back, maybe getting your buzz on a bit. He did title it "Toast it Up Mix," after all.
EARMILK: Hey, what have you been up to lately?
Sixtus Preiss: At the moment, I'm working on tunes which will soon be recorded with my band.
EM: What's your story on how you came to produce? What have you used hardware/software wise for production?
SP: As I'm a drummer I was fascinated by the programming of chord progressions or uncommon metres to play along. And also the possibility to try out which bass drum position fits the best. I use Ableton and some hardware synths like Juno 106 or SH-101. I don't think hardware synths are in any case better than digital ones, but the cool thing about them is: you just turn them on and play.
EM: So there're some clear jazz influences on the EP as well as the mix. Obviously [judging from the tracklist] you've got a lot of love for Warp Records - what are some other influences for you?
SP: The biggest influence is my musical surrounding. Also most of the music I listen to are hints of friends (musicians or not). And … jap. Warp is okay.
EM: What's the scene in Vienna like? I probably only know of a few artists like Dorian Concept, Cid Rim, The Clonious. Who else would you shout out?
SP: The scene in Vienna is really inspiring. There is this unique Viennese jazz sound as well as the improvised music scene, or the singer /songwriters. Many great young painters and film makers. Photographers ... There is so much new stuff to discover every day ... And I'm sure you know some other musicians from Vienna.
EM: Cid Rim's "micro album" was dope, as is his remix of your tune. Can we expect more collaborations in the future?
SP: Sure! That's also one great and important thing about working in Vienna: it's big enough to meet new musicians and small enough to meet them again.
EM: Any particular theme or idea you had going into the mix?
SP: No.
EM: I dig the progression and selection. That Me'shell NdegéOcello tune is great. What's another joint you think of when you hear the word "soul"?
SP: As a genre: there is no need for genres anymore. As an expression: every music needs it.
EM: Well thanks for everything. Anything you want to add before people dive in?
SP: Thank you very much and enjoy my autumn selection!
So there you have it, no need for genres anymore. I for one am relieved. Some more Vienna musicians in this mix as well including Kompost 3 and Antiehdas. Now toast it up and listen up:
Sixtus Preiss - Toast It Up Mix
01. Ahmad Jamal - Look For The Silver Lining: Dreyfus Jazz

02. Bill Evans & Lee Konitz - Palo Alto: Verve Records

03. Austin Peralta - Epilogue: Renaissance Bubbles: Brainfeeder

04. Kompost 3 - How To Bathe A Mogwai: Laub Records

05. Me'shell NdegéOcello - Dead Nigga Blvd. (Pt.1): Maverick

06. Clark - Herr Bar: Warp Records

07. Sixtus Preiss - Samba Feelin Beein This: Affine Records

08. Hudson Mohawke - All Your Love: Warp Records

09. Machinedrum - Come1: Planet Mu

10. Antiehdas - Ntmmyaw
11. Sixtus Preiss - Kation: Affine Records

12. Rustie - Ultra Thizz: Warp Records

13. TNGHT - Goooo: Warp Records x LuckyMe

14. Sixtus Preiss - Samba Feelin Beein This (Cid Rim Remix): Affine Records

15. Sixtus Preiss - 'Intro On "Ahh..."' or 'Outro Of A Mix'