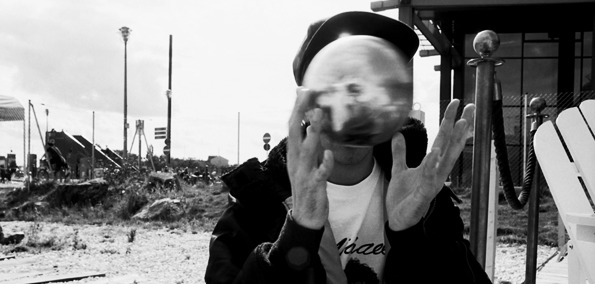 When it comes to Alex Ridha, better known as Boys Noize, and his new productions, there's usually a big circle of expectations because of the capacity he has earned through the years by successfully surprising the fans, whether they're long time ones or the newest. For the past two years he's been consistently scouting rising electronic music producers (which are now pretty much established acts) for his own record label Boysnoize Records and collaborating alongside a few of his favorite friends (and, personally, some of the best producers around) including Chilly Gonzales, Erol Alkan and Mr. Oizo (with a project called Handbraekes, last year).
A---125---Boys-Noize---XTC--EM1012
Stream:Boys Noize
 - XTC
B---112---Boys-Noize---What-You-Want--EM1012
Stream:Boys Noize
 - What You Want
Not to mention the "world-touring thing," which has been straight from one to another of the most famous festivals and venues all over the globe. He finally comes with the long awaited third album, Out Of The Black, which has all those game-changing cards you can ask sitting at a poker game. Early launched singles 'What You Want' and 'XTC' are mostly a mixture of techno and club music, really dangerous weapons if you happen to hear them loud, including some of the acid and vocoded samples, almost the essence of what we've been hearing from his previous acclaimed works. Same for 'Missle' and 'Touch It', structured with unceasing rhythms and dark vibes which bring out a futuristic side of the progressive style style Ridha has developed into his newborn creation.
Tracks like 'Reality' or the deeper 'Ich R U' bring us to more melodic dimensions, filled with the most unexpected vehicles, including harmonicas in the background or smooth and vibrating carillons. If something at this point is unavoidably reminding a bit of unforgotten gems like 'Yeah' or 'Oh!', the brilliant collaborations we bump into have more of a mature and experimental touch we definitely didn't see Boys Noize use before. Gizzle's vocals on 'Circus Full Of Clowns' sound like a forward pushing rap, while mystical pianos and hard basses go back into a catchy style that gives a electronic hint.
Finally, 'Got It' has everything a club track could claim for, not to mention Snoop Dogg's irresistible touch to make sure that mainstream is a joke and "EDM" is maybe just a made up word. 'Out Of The Black' comes out October 8th worldwide via his own label Boysnoize Records (bonus tracks for I-Tunes, Japan & OZ: 'Ich Jack', 'Yellow' ft. Siriusmo and 'Distant Lover'). Let us know what you think!