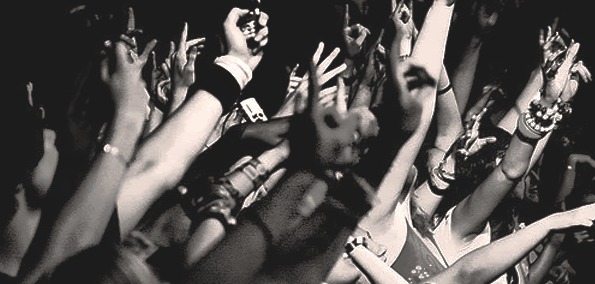 Well the day is upon us - Counterpoint Festival has arrived to Atlanta, GA (well close to it). Taking place from Sept. 27-29 in Fairburn, which is just 30 minutes outside of Atlanta, Counterpoint hosts an impressive assortment of musical talent ranging from Adventure Club to Heroes & Villains to MiMosa  to Alesso to Skrillex to Pretty Lights to many more. Needless to say, there shall be an act for everyone.
Hosted by MCP Presents and C3 Presents, you know the guys that host Camp Bisco and Lollapalooza respectively, Counterpoint is a new festival to hit the thriving festival scene, and a potential heavyweight for the Southern area of the U.S. With 350 acres of land acting as the stomping ground, Counterpoint "will put the hottest names in electronic and dance music on multiple stages" and over the course of 3 days, thousands of people shall bask in sensually stimulating light shows and ear-gasmic music. If you're looking for tickets, don't fret because there are still 3-day "weekend" passes starting at $185 (buy here) as well as VIP and Platinum VIP packages (indulge here). And if you choose to rough it naturally, a la Coachella or Bonnaroo and other nature-friendly festivals, Counterpoint offers camping grounds for you and your friends. There's an option for everyone!
In terms of musical talent, see below for a day-by-day breakdown of notable acts as well with set time and location.
Thursday
Adventure Club: (7:30-8:30 Beat Tent)
This Canadian duo has been making waves with their mesmerizing and awe-inspiring dubstep, that has captivated the ears of thousands of fans. With a love for bacon and the drive to keep dropping hit after hit, I finally get the chance to hear/see Leighton and Christian live. Expectations are high but I'm sure that with their epilepsy-inducing light show and powerful bass drops, I'll leave more than happy (and maybe a little weak in the knees).
[soundcloud url="http://api.soundcloud.com/tracks/57234432" iframe="true" /]
Beats Antique: (8:45-10:00 Beat Tent)
A trio from Oakland, CA, Beats Antique delivers a nice blend of gypsy instrumentation with electronic undertones. Can't say I've heard anything like it, but with an emphasis on live instrumentation and an allure of an outside culture, Beats Antique is an act that has piqued my interest.
[soundcloud url="http://api.soundcloud.com/tracks/57412565" iframe="true" /]
See full lineup and schedule here
Friday
Theophilus London: (3:30-4:30 Point Stage)
Hailing from Trinidad but having been raised in Brooklyn, Theophilus delivers his brand of hip-hop infused with small hints of electronic and new wave influence. Using the instrumentation and synth lines to really help deliver his vocals, Theophilus has begun to make a name for himself not only within the music scene but as a favorite of EARMILK.
[soundcloud url="http://api.soundcloud.com/tracks/42540654" iframe="true" /]
Avicii: (8:45-10:15 Counterpoint Stage)
Big name house/electronic producer Tim Berg aka Avicii continues his festival appearances. Having seen him for a bit in Lollapalooza, I plan to catch more of his set so as to really appreciate what he has done in the past year or so. Being catapulted into stardom with "Levels" (yes...that song), Tim has shown that he isn't a one-hit wonder with other high-energy tracks having been released since.
[soundcloud url="http://api.soundcloud.com/tracks/58413926" iframe="true" /]
Bassnectar: (10:15-12:00AM Point Stage)
Lorin is another artist that absolutely destroyed Lollapalooza...you seeing the influence of C3 Presents? With a raw, deep bass, and insane energy during his sets, I'm expecting Bassnectar to draw one of the bigger crowds of the weekend. He has a pretty good following in the Deep South, so this means an absolute frenzy of Bass-heads in which I'd wholeheartedly advise you to be a part of. Hopefully I'll see some variation in his set this time around, but I wouldn't be too disappointed if that doesn't happen.
[soundcloud url="http://api.soundcloud.com/tracks/59327233" iframe="true" /]
Other notable acts include Atmosphere, Super Mash Bros., Feed Me, 3LAU, A-Trak and the Fool's Gold Showcase, Alesso, and many more. See full Friday lineup and schedule here
Saturday
Paper Diamond: (3:45-4:45 Beat Tent)
There is seemingly going to be an abundance of Colorado/Colorado-based producers in Counterpoint, and Paper Diamond is one of them. His music style is quite varied, but that's a testament to his background in having played a multitude of instruments. I'm interested in seeing which direction he'll take his live set, but with his set being a little earlier in the day that gives me more time to really figure out my stance on his set.
[soundcloud url="http://api.soundcloud.com/tracks/60690793" iframe="true" /]
Big Boi: (5:15-6:15 Point Stage)
Talk about a blast from the past. Antwan André Patton, aka Big Boi, is a true testament to the music scene that Atlanta is known for. With his previous work being with Outkast, and having maintained a presence through his solo music, Big Boi is synonymous with Atlanta hip-hop. Hailing from Savannah, Georgia, the hometown response that I expect Mr. Patton to have is huge but at the same time, with Counterpoint being predominantly electronic/EDM-based I wonder if that will cut into his potential crowd size.
Pretty Lights (and Pretty Lights Showcase):
Pretty Lights - 10:15-12:00 AM (Point Stage)
Pretty Lights Showcase - 4 acts playing from 6:15-10:15 (Backbeat Tent)
Derek Vincent Smith, aka Pretty Lights, is making his mark felt with this festival. Now I'm not saying people haven't heard of him (if you haven't, I politely ask you to stop living under a rock), but rather Pretty Lights is one of two labels, the other being Fool's Gold a la A-Trak, that have their own showcase at Counterpoint. Big-time? Certainly. Worth it? I would think so. Pretty Lights threw a huge set over at North Coast which I sadly missed, but no worries if you haven't had a chance to see him, what better place to do it than in the ATL?
[soundcloud url="http://api.soundcloud.com/tracks/54717153" iframe="true" /]
Other notable acts include Skrillex, Laidback Luke, Steve Angello, Zedd, Porter Robinson, and many more. See full Satureday lineup and schedule here.