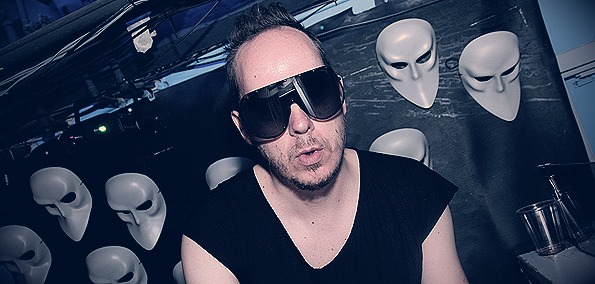 If you haven't caught a Black Asteroid performance, you're missing out. Whether he's laying down his own dark techno at a public club for a larger audience or DJing a private loft party for the eager few, Bryan Black never fails to deliver a religious experience of sorts. In Boston, he's become one of the most revered guests at the CVLT parties (gatherings with a knack for bringing guests ahead of the musical curve of the city as a whole, a goth night that's not really a goth night but instead focused on new, smarter, darker types of dance music with an inclusive vibe). We're talking borderline god status for the transcendent nature of his shows. Certainly there are peaks and troughs in his sets, but you'll never find a drop; instead, it's a matter of hypnosis. There's no conscious transformation; it's the sort of mental shift that you only notice after all is said and done, in that moment of jarring transition back to reality.
We recently posted about his new Black Acid EP, released September 10 on Electric Deluxe. Below, as a follow-up to his Boston show at Machine last Saturday night, I asked him a few questions about the new EP, his musical history and influences (including work with Prince and Depeche Mode and his band MOTOR), and how various geographical locations have influenced his extensive music career.
All photos by Adrienne Berlin.
EARMILK: What are your thoughts behind Black Acid? How is the new EP different from what you've worked on in the past?
Bryan Black: The idea with Black Acid was to do something very different from the first EP. With my debut Engine EP, I had everything sequenced in militant 1/16th note patterns, creating this intense energy. My goal with Black Acid was to find other ways to create energy without repeating this formula. In some respect this EP sounds most similar to the first EPs I did back in 2004 with MOTOR.
EM: The cover art and branding for Black Acid are really cool. What's the story behind that? Did you have a role in designing those?
BB: The font is unique to Electric Deluxe. It's a custom font, and I've always been drawn to it. When it came to designing the sleeve, I pushed the black on black concept. It's a matte black sleeve with a varnish print on top. I've always wanted to do this, but no label would ever pay for it in the past. Finally, it worked out on this release, and is very fitting to the music.
EM: Could you walk us through your creative process behind making an album or EP?
BB: I try and find a concept or style that I want to follow first. Sometimes I will listen to voice notes on my iPhone with song ideas that I drunkenly mumbled at various times. I work best when I have a clear idea of what I want to do before I even go to the studio. At the same time I'm starting the music, I'm also visualising the artwork.
EM: What moments in your musical history have been most influential or meaningful for you? What have been your biggest turning points?
BB: I think working with Prince in the very beginning of my career will always play a role in what I do. That experience shaped me in so many ways. After that ended, I moved to London and re-discovered dance music properly. I hung up the guitar and made techno music, and have been doing it ever since. In London I signed to Mute Records, and later worked with Depeche Mode.
EM: You've traveled quite a bit and lived in a few different places, is what you do musically affected by that?
BB: Yes. I was in London when electroclash/ 80's revival started, and that inspired me to quit my day job as a graphic designer and make music again full time. London was the center of music, design and fashion at the time, so I think location played a big role in my music for sure.
EM: Having experiences in a bunch of different places, what cities/scenes have been your favorites? Where do you think there's the most potential right now?
BB: Tokyo is always my favorite city to play/visit. After that, Amsterdam, Barcelona, Paris. Right now I guess the potential is in the USA. At the moment EDM is predominantly cheese, lowest common denominator dance music, but slowly people are discovering more exciting underground sounds and I can feel this already having an impact on the techno scene in the US.
[soundcloud url="http://api.soundcloud.com/tracks/57160804" params="auto_play=false&show_artwork=false&color=000000" width="100%" height="166" iframe="true" /]
EM: Your live shows definitely have a very particular feel. How did you develop that persona?
BB: I think it was shaped by my experience in live bands. I like the physical element to performance. Most people come from the bedroom DJ experience and move up. I came from a different place and that might be why my take on techno and performance is so different.
EM: How does the thought process between a live and a DJ set differ?
BB: Not very much actually. DJ sets are usually longer, so I pace myself accordingly. The performance element is toned way down when I DJ and I get to play my favorite songs.
EM: What are you listening to casually right now?
BB: At this very moment I'm listening to the new Pet Shop Boys LP. Also playing the XX's new LP. On the techno front, the new stuff coming from Monoloc and Truncate is great.
[soundcloud url="http://api.soundcloud.com/tracks/52616530" params="auto_play=false&show_artwork=false&color=000000" width="100%" height="166" iframe="true" /]
EM: What albums have been the strongest long-standing influences for you?
BB: Nine Inch Nails' Pretty Hate Machine will always be the most influential album for me. It really shook me up when I first heard it, and inspired me to start my first band, haloblack.
Prince's Purple Rain - this had a big impact on me when I was a kid.
EM: What's the most exciting thing coming up for you right now?
BB: SPIN are premiering the new Black Asteroid video "Black Acid" (on September 24) and next month I'm on the cover (my first cover) of a major European dance magazine called DJ Broadcast.