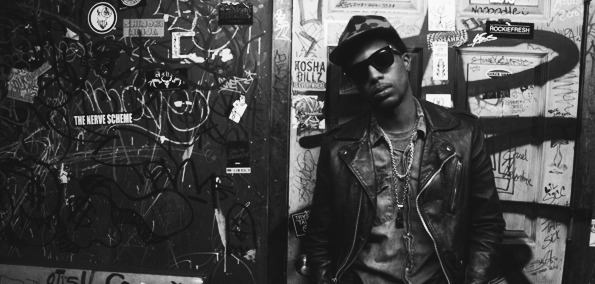 Rockie Fresh has had quite a year. The 21 year-old Chicago rapper from his second mixtape, Driving 88, to rave reviews, which in turn led to video and photo shoots, interviews, and an elevated profile. And, just this past July, all of Rockie's hard work seemed to have paid off when he signed his first record deal with Rick Ross' Maybach Music Group. We were able to catch-up with Rockie recently, and got the scoop from him about how it feels to be a part of the MMG family. Below are some excerpts from that interview as well as a remix of the track "You A Lie" off of Driving 88 featuring MMG  boss, Mr. Rick Ross, and a link to tickets and dates for Rockie's upcoming Electric Highway Tour.
---
Earmilk: So Rockie, it's been a pretty busy couple of weeks for you though, yeah?
Rockie Fresh: Oh man, tell me about it. It's been crazy.
EM: Is this your first deal?
RF: Yeah, this is my first deal. This is my first, you know, major record deal.
EM: And how does it feel?
RF: It feels really cool. More-so because of who I'm signed with, you know, such a high caliber of people. Rick Ross was labeled the hottest MC this year by MTV, and being able to work with him consistently and on a day-to-day basis, that's been the craziest part. But because I've been working since the day that I actually signed the paper, I haven't even really had a chance to really sit down and take it all in yet. But the fact that I'm recording with Rick Ross all the time now has probably been the coolest part.
EM: How did this all happen? Did Ross hear your tape or did someone give it to him? Did he find you online?
RF: Actually his A&R guy, Spiff, checked out my video for "Into The Future" when I released it and he passed it on the Ross, and Ross checked it out and I guess he liked what he saw, so he flew me out to hang with him in LA. The environment was so chill that I didn't think he was going to offer me a record deal or that he was going to become my first big-time rapper brother in the industry. Or that he'd be someone that was going to be there for me, to provide me with help and things like that. I never thought that I would become a part of MMG (Maybach Music Group, Ross' label). But then he called me a couple of days after and let me know that he was interested in signing me, and I was honored by that, so we made it happen.
Rockie-Fresh----You-A-Lie-Remix-(Feat_-Rick-Ross)--EM0812
Download:
Rockie Fresh - You A Lie Remix (Feat. Rick Ross)
EM: Awesome. So you feel like Maybach Music Group is a good fit for you then? Do you feel like it's going to change your style?
RF: Oh, not at all, man. The appreciation that they have for my sound and the type of music that I make is the main reason why I wanted to go with Maybach Music. I have my own lane here, you know, because I'm the only artist from Chicago, the only artist that has the type of sound that I have, and they appreciate that and they want to give it a platform. If you've noticed, since signing me, Ross has been going real hard with a lot of my material from Drivin' 88, and you can expect some other remixes from him and other MMG artists on that tape too. It's just really about taking what I've already done to another level and settin' up that Electric Highway release.
---
EM: From Modern Life (2009) to Driving 88 (2012) your style changed quite a bit. You want to talk a bit about what changed between those two tapes, and about how your process has changed?
RF: Well I started off writing raps when I was a freshman in college, ready to drop out. And now I'm a touring, signed recording artist. That whole transition, at such a young age, and all the stuff that I've been able to experience and all the people that I've come across, that's why my contents are always evolving on a day-to-day basis.
EM: So how old are you then?
RF: I'm 21 now.
EM: Where were you going to school?
RF: I was going to a junior college in Chicago, and I hated it, so that motivated me to become a better rapper.
EM: How would you describe your music or your style, and what do you want people to know about your music when they're listening to it?
RF: Man, it's just my real life. I talk about my experiences, my point of view, everything that's going on in the world that I witness being a 21 year-old Chicago native. Looking at things from that perspective, and how certain world events effect my city, the way things about this lifestyle of being a rapper effect me. I rap about all that, and I try to put it in a story that anyone can relate to and learn something from it.
EM: Has anyone told you that you remind them of a young Kid Cudi in terms of style?
RF:Yeah, I've heard that before. And that's very flattering to me, because obviously Kid Cudi is a great artist, but I think with the more material I drop, people wll really be able to see the difference.
EM: Being a Chicago guy, are you a Bulls fan or a Bears fan?
RF:Oh man, totally. I'm all for Chicago sports. I want to see all the teams win, and even though that doesn't happen as often as I'd like it to I still ride with the Bears and the Bulls and the Sox.
EM: Oh, so your a Sox guy and not a Cubs fan?
RF:Nah, see I'm from the south side so I'm a Sox fan. But I've pretty much lived all over. I lived in the south side in the hundreds, then on the north side in the suburbs, and now I live on the west side of the city. So I've seen the city from a lot of different perspectives, and I love it.
EM: Chicago has produced a lot of high profile rappers in the last decade or so, and the scene has gotten even more attention as of late with the rise of yourself and Chief Keef.  How do you think that being from Chicago has changed your style? And, why do you think that people seem to gravitate toward Chicago rappers? What is it about that city?
RF:It's just so diverse. Cheif Keef is representin' the streets of Chicago and I represent something totally different, but we're both flourishing in a crazy way, along with King Louie and other artists. We all come from different places in the city so all of our stories are different, but we've all seen some of the the same things so it makes it easy for us to support each other. It's just such a good time.
Also, everyone's so young. I never thought that being 21 would make me feel a little bit older, with Cheif Keef being 17 and now I'm hearing about new kids who are, like, 15. So I guess I'm a little bit older in the new Chicago scene, but that's pretty cool because it shows how fresh the movement is and how big the potential is down the line.
EM: What do you do other than music? Do you skate? Play ball? Pottery? Do you do pottery?
RF:Nah, I might need to get into that though. That sounds like something the ladies might like. I might need to do a little of that pottery. I play video games: NBA 2K12, only. I'm looking forward to that 2K13 release. And other than that I watch movies. But that's really it outside of music. And now that I just signed my first deal, I've got a lot of work to do. I probably won't even have time for those two things, even though I'd like to. The music is the main focus, and I really have fun doing it so it's not a problem.
EM: Who's your team in 2K12?
RF:I only play with  Oklahoma City. I've been playing with them for the last three years, and I've survived with them through the worst of times and now I'm probably one of the best 2K12 players in the world. 
EM: Do you play online at all?
RF: I like to play live, man. I like to be right next to my opponent so I can smack talk and make it a real fun experience. 
EM: Okay, well when we stop recording I need to get your username so we can play online. It sounds like you need to be humbled. I'm going to take you to town with my Nuggets. You won't be able to handle me.
RF: (laughs) Oh man, we'll see. I like my chances. I've heard all of this before.
EM: What's it like hanging with Rick Ross? How is hanging with Rick Ross different from not hanging with Rick Ross?
RF: You know, I get to meet to meet a lot of cool people. I got to meet Kanye for the first time. DJ Khaled is now a supporter of my music. Rick Ross is one of the most respected names in music right now, so that brings some different stuff that I wouldn't be experiencing otherwise.
EM: Was Kim K with Kanye when you met him?
RF: She was, yes.
EM: Did you meet her?
RF: I didn't talk to her. But she stood next to me. 
EM: Did you give her your number?
RF: (laughs) No, no, I wouldn't hate on a Chicago homie like that.
EM: Alright Rockie, well thanks so much for your time today man. We're all stoked for you, and I'm even more stoked about beating you on 2K12.
You can catch Rockie Fresh on his Electric Highway Tour, which got underway August 30 in Annapolis, MD and will make its way through 20 major US cities. Links to tour dates and ticket sales  are available below.