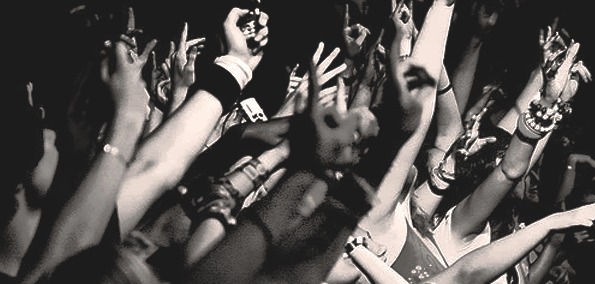 This Labor Day weekend Electric Zoo returns to Randall's Island in New York City for its fourth year running, and aims to be bigger and better than ever. Comprised of a main stage, and 3 genre-themed tents that deliver a variety of the highest quality dance music and the performances from biggest producers out there for EDM lovers to revel in. Presented by Made Events, it looks like "the zoo" is sticking to what it's seen success with in the past - a simple, intimate feeling setup.
Much like at the Swedish House Mafia extravaganza that happened in NYC back in December, E Zoo will also host a Provocateur pop up shop, to allow for a more "exclusive" feeling VIP experience. With the increase in popularity of dance music over the past year or so, festivals have had to put themselves out there to try to differentiate themselves from the masses of line-ups and themes that have emerged.  Electric Zoo is no different, and is presenting massive after parties around the city that are hosted at both Roseland Ballroom and the Best Buy Theater for all three nights. In the end, with any level of participation in the events that Electric Zoo is offering, it promises to be yet again one of the top festivals of the summer. It appears that this year's line-up and set times were inspired by the growth in popularity in the music that Electric Zoo supports - check out our preview below.
EARMILK's PICKS: Friday
Pioneering a genre of his own, Pretty Lights closing the main stage on Friday night with his blend of electro-hip hop-soul will make for the perfect ending to Day 1, and the ideal way to get us all excited for whats to come during the following days on Randall's Island.
Stream:Pretty Lights
- You Get High
Over at the Group Therapy Stage, emotional trance veterans Above & Beyond bring on a variety of sounds from respected producer and Ferry Corsten to New York City native Zack Roth, and "rookie of the year" newcomer Andrew Bayer.
Need-To-Feel-Hope-(Above-Beyond-Mashup)--EM0812
Stream:Arty vs. Reflekt feat. Delline Bass
- Need To Feel Hope (Above & Beyond Mashup)
Don't miss Marcus Schossow at the main stage. Known for being a DJ of the people, he's known for taking song requests during his performances directly from Twitter. Schossow's performances have a range in sound - he includes everything from crowd-pleasing mainstream hits to his own harder trance sound. His set at Electric Zoo this year will no doubt demonstrate why his fans love him. 
Alright-2011-(Marcus-Schossow-Remix)--EM0812
Stream:Red Carpet
- Alright 2011 (Marcus Schossow Remix)
Also playing Friday: Netsky, Alvin Risk, Adrian Lux, Hardwell, Nicky Romero, Mat Zo, A-Trak, Tommy Trash, Brodinski, Gesaffelstein, Dillon Francis, Jack Beats, Nadastrom, Luciano, Reboot, David Guetta, and Laidback Luke
EARMILK's PICKS: Saturday
Steve Aoki & the Dim Mak Stage - Always full of shenanigans and one of the most entertaining performances to watch, Aoki and his label host their own stage on Saturday. The sounds coming from this tent will range from dirty dutch to hip hop to progressive house - and will include anything to get the crowd as wild as possible. The energy in Dim Mak's performances easily permeates into the crowd and is something not to be missed. 
Earthquakey-People-(The-Sequel)-feat.-Rivers-Cuomo-(Original-Mix)--EM0812
Stream:Steve Aoki, Rivers Cuomo
- Earthquakey People (The Sequel) feat. Rivers Cuomo (Original Mix)
Don't miss Maya Jane Coles - voted "DJ of the Year" by Beatport in 2011, deep house maven will be spinning at Sunday School Grove on Saturday. Stand near the speakers for this one: the groove in the bass in Coles's productions is unmistakable. 
You-(Maya-Jane-Coles-remix)--EM0812
Stream:4th Measure Men
- 4 You (Maya Jane Coles remix)
Also on lined up: Axwell, Sasha, Benny Benassi, Autoerotique, Dada Life, Sander Van Doorn, Nervo, Mord Fustang, Angger Dimas, Autoerotique, Felix Cartal, Mustard Pimp, Kill The Noise, 12th Planet, and Chris Liebing
EARMILK's PICKS: Sunday
The trance trio headed up by frontman Jeff Sutorius, crowd-engaging stage presence of Dash Berlin will be at the main stage on Sunday. Since 2009, Dash has created a movement and a following that treat each other like family, all in support of the special ethereal and emotional sound in their productions.
Disarm-Yourself-(Club-Mix)--EM0812
Stream:Dash Berlin & Emma Hewitt
- Disarm Yourself (Club Mix)
While only in a small tent last year, Skrillex will to join the ranks of Tiesto and Armin van Buuren after being chosen to close the festival. The Grammy-winner is the face of the changing and expanding dance music scene, and the fact that he is closing Electric Zoo this year makes a statement that could pave the way for a different type of closer. Aside from his massive talent in production, his innovative sound will be a different, bass-driven way to end a weekend that will surely leave New Yorker's counting down the next 365 days until Electric Zoo 2013.
Lick-It-(Original-Mix)--EM0812
Stream:Kaskade & Skrillex
- Lick It (Original Mix)
Don't Miss W&W, who have a large and loyal fanbase for their radioshow "Mainstage." Make it to the main stage early on Sunday to see their mixing progressive house and trance, their sets are always full of surprises.
Summer-(Original-Mix)--EM0812
Stream:W&W & Jochen Miller
- Summer (Original Mix)
Also lined up: Porter Robinson, Boys Noize, Bloody Beetroots, Marco Carola, Diplo, Pierce Fulton, Dev, Adventure Club, Zeds Dead, Bart B More, Zedd, Krewella, Knife Party, Clockword, 3lau, Excision, Flux Pavilion & Doctor P