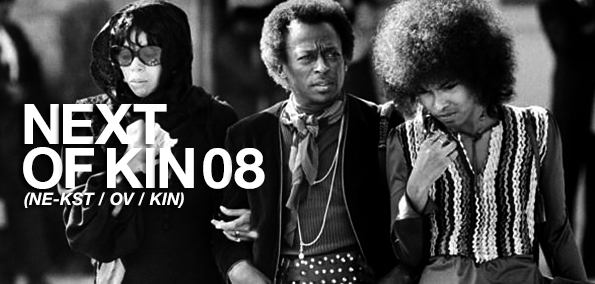 Andy Warhol was right, everyone does get their 15 minutes of fame. But who would have known his forecast was actually a caution that would turn our music scene into a dump of regurgitated hacks. A trash can of trends that are born to die in weeks, crowding the charts with pedlars of social networks and void of groundbreaking acts. How do you dig when the overseers of the industry recycle rubbish to fuel the machine of consumption over Da Vinci, only to be tossed full circle into the scraps where it rightly belongs. It's noise that overshadows those that give a damn, and when the debris settles -- their pockets still strapped and their innovations, mugged. Sounding the call for someone to set the standards and sort out the genuine. theduke's Next of Kin, a feature to cut the fat. 5 EPs you'll need to keep, every week. Handed to you in a closed fist because you know where to find them. No compromise and completely pretentious. 
---
Tiga
The Picture
Crosstown Rebels; 2012-09-10
CRM100
---
Glasses up, the alluring Crosstown Rebels is celebrating their 100th release with a man that couldn't be more in line with their catalogue of come-hither house. One of the club's greatest innovators and Turbo Recordings honcho Tiga. The Picture is casanova's first original piece in four years, a comeback to leave you lovesick for more. As expected he bulldozes all expectations, dipping his fingers in rave dubs and dark tech house the Tiga sound has drawn itself out to give room for magnetic grooves and of course don juan's glaring vocals. Covers have always been his forte and the force behind his lyrics. The past saw him channeling the works from Candi Stanton in "You Gonna Want Me" to Public Enemy in "Louder Than A Bomb". This round it's an idol, Prince's "When Doves Cry", an audacious choice that manages to prove itself as a work of his own. The flip side features a Crosstown favourite, Subb-an who jacks up the curator's classic "Pleasure From the Bass" pungent acid lines and rabid swing. It makes for back to back hits on Crosstown's #100. 
Stream:
Tiga
- The Picture
---
Asykan
Late Night Jemz
BNR Trax; 2012-08-24
BNRTRAX021
---
Grab a bit more of whatever keeps you running through the night. This week the Boysnoize Records sister label BNR Trax is diving deep into the AM with a release that pounds at your ear drums, only if you can still stand by the time the DJ has the muscle to roll these joints out. They call them Late Night Jemz, and the title couldn't be more appropriate as they all revel in after hours atmospheres, capturing the echo of Germany's warehouse clubs. And the source? Unknown. The identity of Asykan is a complete mystery, but a little investigation points to who I would say is the BNR collective's Audionite. A man that can ditto it all, his last EP Adjustment Path bears a striking resemblance. The overdriven kicks, cutting hats, and the tearing sweeps of white noise. He draws from a sharp sound palette which makes tracks like "Lear" and "Gsnörsn" rip through the dance floor in a frenzy of the most simplistic rhythms and melodies. It's coup de gras techno, and yet another barrier broken by the BNR camp.
Boomkat · Facebook · Soundcloud 
Stream:
Asykan
- Lear
---
Bobby Champs
Drag Queen
Pictures; 2012-08-20
PICT013
---
London label Pictures may still be in its infancy with only a handful of releases, but the imprint has always been one step ahead since its inception. Propping up artists like Lapalux and Dark Sky  who later garnered success on inaugurated names like Ninja Tune and 50 Weapons. Brighton's Bobby Champs is likely to follow suit as his edgy frame of bass and techno has seen cues from a crossover of artists and their beloved niches. I first caught on to Bobby through his acid infused Pictures debute Moonlight, an aggressive entrance into the international spotlight forging pushy vocal chops with razored stabs and leads. Drag Queen is his latest and although I expected another in your face record, Bobby takes a seat this time to flesh out only what works. The title track is a pesty filtered build that gradually creeps into a peak time infestation, not to mention its bugged out music video. But the pill headed raver in me leans towards the B-sides "Latte" and "Charlie", both of which are driven by cold echoing chords and the latter being a carol for your corner's pharmacist.
Stream:
Bobby Champs
- Charlie
---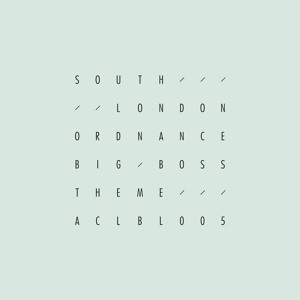 South London Ordnance
Big Boss Theme
Audio Culture; 2012-09-10
ACLBL005
---
Told you to keep an eye on this act, South London Ordnance has already been making waves at such a juvenile age with a mature crossover sound that drips in nothing but contemporary. With many slots on Rinse FM and a recent outing on Well Rounded Records, everything has been going to plan for this cultured beatnik. His percussion intensive sound leans towards the recent explosion of left field house and techno coming out of UK labels like Hemlock and Swamp 81. But there's something different about one, a sense of musicality that wraps you in the breakdown. Audio Culture is where you'll be seeing his next release, and this time around things have gotten a bit morose. The Big Boss Theme EP digs itself deeper into the ground, unearthing hawkish stabs and basslines that sit on the floor of this weekend's basement house raves. 
Stream:
South London Ordnance
- Harrier
---
Tanka
Boogie With Me
Inhale; 2012-09-03
I003
---
Winchester's Tanka is a bit of a fresh face, often popping up alongside Nottingham's Pasteman in joint ventures cued way past midnight. His pitch to Lokiboi's One House is what caught my eye as he gave the original a much needed strip down with a penetrating bass and a tight four on the floor groove. His solo debute for the Inhale imprint is no different. "Boogie With Me" is a subtle dance floor weapon, a summation of the most basic techno fundamentals to keep you moving with that cheeky smirk on your face. Its pulse bassline cuts through the mix and its vocal hook makes this a catchy tune that casanova up top would play. The B-track "Squeeze Me" stands close to the A-side but sort of deviates into a more melodic approach. Also worth noting are the reworks by South Africa's Brenden Moeller who signs on with his own name as well as his more driven moniker Echologist. Overall it's a forward thinking debute with many seductive qualities that can only make you aroused for what's to come. 
Stream:
Tanka
- Boogie With Me
---
Hamilton