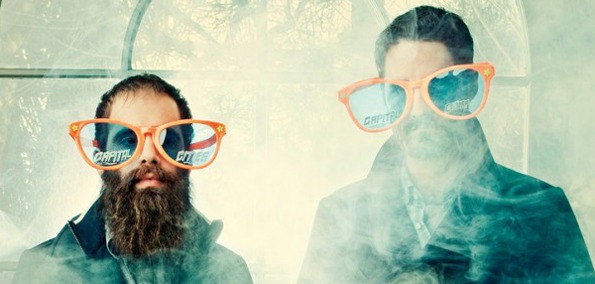 The smooth summery tunes by Capital Cities just keep on rolling in. Having released hits such as "Safe and Sound" and "Kangaroo Court", Ryan Merchant and Sebu Simonian once again demonstrate that they are more than capable of delivering a fun and perfect-for-the-summer tune, even as summer winds down.  
Originally written by  Prince's for his short-lived side project The Family and re-interpreted and popularized by the ever-controversial Sinead O'Connor, Capital Cities rendition of "Nothing Compares 2 U" starts off with a light-hearted and engaging beat that gives way to a funky sound coupled with passionate vocals, which culminates in a track that shall have you moving and grooving the entire time.
It's safe to say that this duo (quintet when performing live), hailing from Los Angeles and signed to Lazy Hooks record label, is a mainstay for electro-indie pop. And if you're looking to catch Capital Cities live, then check a couple of tour dates as well as a higher quality mp3 download below.
High Quality Download: Capital Cities - "Nothing Compares 2 U"
Tour Dates:
Saturday, August 11 - Brooklyn, New York - Popshop // Brooklyn Bowl - tickets
Friday, August 17 - Boston, Cambridge, Mass. - The Middle East - tickets
Friday, August 31 - Seaside, California - Black Box Cabaret // CSU Monterey Bay
Friday, September 7 - San Francisco, California - Mezzanine