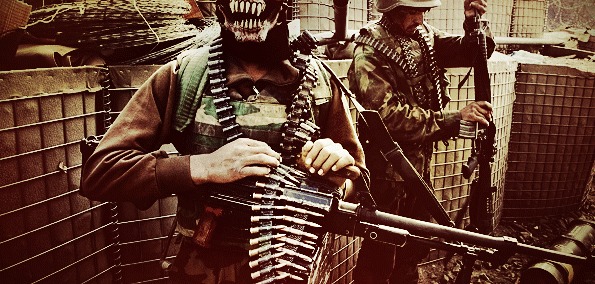 Dutch producer Meander released his debut full-length release on Low Res Records, Carbon (LOW025), July 30. Formerly working as Ophidian, he's historically been involved in hardcore techno and industrial music, but in this album and under the name Meander, he's changed directions a bit to produce something that keeps those roots intact while exploring a wide variety of other styles (you can hear influences from breakcore, drum and bass, IDM, jungle, and more).
With Detroit's "progressive, aggressive" Low Res Records having seen releases from artists like Venetian Snares you might be able to glean some idea of what to expect from this LP, which includes eight new tracks and four tracks off of 2008 release Dreaming in Reverse (LOW021). Meander was not only a graduate of music composition and production at Utrecht School of Arts, he's since expanded his talents into studio engineering, mastering, and producing/composing for the video game industry.
It's hardly worth me typing too much about the album, though, as Meander himself was kind enough to write EARMILK a full exclusive walkthrough of Carbon, a really intelligible summary of the thoughts behind each track, below, that you can read alongside a full album stream. Check it out, enjoy, and don't forget to purchase the album if you're into it!
"Carbon is my first solo album that I have released under the name Meander. It is a strange album in the sense that the songs were not produced with the album in mind, but rather as separate little creatures portraying an adventure into an array of alternative sounds. My previous EPs and albums performed as Ophidian were more centered in hardcore techno and industrial, but as a music listener, I was getting more and more into genres like IDM and breakcore, etc. When I first started out producing tracks in these genres, I was afraid to let my background shine through for fear of it not sounding "legit," but I later found out that writing the music was a lot more fun when I incorporated a lot of different styles and influences into it. Carbon represents what happened when I let go and mashed hardcore, industrial, strings, pads, chords, melodies and IDM glitches clicks, pops and beats into a breakcore shape - each song coming from a slightly different angle."
"Everything"
The first song is slightly slower than most other tracks and seemed to be the natural opener to the album. It features lots of little cut up pieces of breakbeats and the slower moving chord progression that returns in quite a number of other songs later on. In this particular case, I had to adjust the chords slightly after introducing the main melody in the breakdown, because it wanted to go to other places than I had originally planned, but any change I made to the melody itself seemed to kill it. This solution worked well enough though.
"Cell"
This track was a challenge to see what I could come up with starting out with very little material and rerecording and recycling bits of the track into itself to create more sounds. The only things I allowed myself to use were a sine wave, two or three 909 samples and a small vocal bit to make a simple basic pattern - this was the germ cell, hence the name. Anything I made after that had to be based on the recording of that first bit. Because of the constant reusing of parts of melody to make more melodies they start to evolve into fractal territory here and there and any edits I made in the beat keep on coming back and become less straightforward. It's fun because the sounds seem to have some say in where they want to go.
"Dream in Reverse"
This was one of the first songs I did after some initial early try-outs and it features on my Low Res debut Dreaming In Reverse from 2008. It was one of the first ones I was reasonably happy with. Even though I have moved on and progressed since then, I still like this one and I think it's an important track because, for me, it illustrates the moment that I started getting to grips with what I wanted to do as Meander. That earned it a place on the album.
"Delicate"
Another experiment, this time with synth-drum type sounds and a 9/4 beat which I think works really well. This will probably not be the most popular track on the album, but personally I like the way the neurotic stereo splats contrast with the mellow melodies flowing in the background. The 9-beat measure is something I'll definitely be revisiting in the future. By the way, the temporary title for this track before it got its final name was "Tiny Wooden Rectangular Shed Collapsing" - genre insiders might understand why.
"Icicles"
One of the more evolving, story-like tracks of the album. It was based around the chord progression that emerges in the first breakdown, which is probably why it isn't as in-your-face as some of the other songs. Even after a hardcore-like kickdrum is introduced after the second break, it remains fairly dreamy.
"PSET"
Oh dear, more neurotics with this one - shattered percussion and chiptune influences. I like using basic waveforms sometimes and applying old fashioned techniques. Being a fanatic Renoise (tracker sequencer) user, the days of the Amiga and C64 are never too distant a memory. This track is a bit messy, and I admit I couldn't get the mix to sound quite as clean as I would have wanted to. I considered dropping it from the album because of that for a while but friends thought it was too much fun to omit, so here it is.
"Suicide Was My Sydney"
This is another track taken from my initial Low Res EP and was one of the more popular songs of the record. It got a total makeover before being added to the tracklist though - the sounds are the same but the mix and master are totally new and exclusive to the album.
"Nennaksa"
A darker, moody track and one of my personal favourites. Most of it was done on my laptop while lying on a hotel bed in Spain before a gig. It seems to have a bit of a melancholic, ponderous quality to it that I like. Also, I think it's interesting how the different ways of filling in the time signature result in strange and obscure rhythms.
"Kumo Gassen"
This is the oldest track on the album and was lifted from an experimental vinyl release I did with my long-time friend and colleague Tapage for my personal playground/label Meta0. It never got featured on an album though and by special request from Adjust (Low Res Record's owner) it's been completely upgraded and teleported over to Low Res.
"Carbon"
The bell-like sounds in this song are actually based off a toy piano for kids. I really love the sound of it because it sounds rich and off-standard. This arrangement might sound slightly sparser than some of the others on first listen, but I can tell you there really is a lot going on - Enough to make my computer want to throw up and to make the mix a real challenge. With this track I think the build-up I tried to make with the tracklist is quite apparent. We're definitely at the more intense and hard hitting end of the album now.
"Mourning Waltz"
Adjust was really into this track from the start, and even more so when he found out he was counting threes and it actually was a proper waltz. This one probably has one of the most interesting arrangements and is also one of the best sounding mixes in my opinion. I'm also very pleased with how many of my backgrounds and influences you can hear seeping though. All this makes it a personal favourite and a song that I'm still really happy with.
"Intuitive Abstraction"
To close out the album, here's one more from the original vinyl release. More re-sampling of melodies going on and a nice little half-tempo breakdown in the middle. I was torn between using this song as the end to the album or go out with a bang and (abruptly) end with Mourning Waltz. In the end though, I decided that this track's sense of coming to a conclusion made more sense in the bigger picture than the really fun but weird alternative. Notice the nice subtle bit of lo-fi bit reducing as I re-sample and pitch down the bass drum and pad samples the "wrong way" in the last half minute or so.