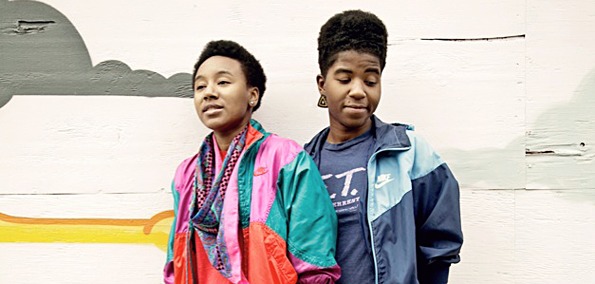 No strangers to working their production magic on other artists' songs, Syd The Kid and Matt Martian, collectively known as The Internet took it upon themselves to harness their creative powers to rework the experimental soul/funk duo THEESatisfaction's single "QueenS", which is off the Seattle duo's album, awE naturalE which was released in March of this year. Talk about a remix written in the stars. For their rework the Odd Future duo transformed the originally soulful number into a dance-infused affair complete with deep booming kicks, crisp snares and a thumping bassline.
The meeting of the two like-minded genre bending duo's is a convenient and compatible pairing. Known for their melding of alternative soul and elements of hip-hop, the complementary qualities of both forward-thinking duos makes the remix of "QueenS" all the more enjoyable. Staci and Cat decided to graciously return the favor by offering up a remix of their of The Internet's song "She Dgaf" off their debut album, Purple Naked Ladies. THEESatisfaction spacey rework features a darker more brooding sound which stands in contrast to the more lighthearted and upbeat original.
One can only hope this creative exchange paves the way for a future collaboration between the two duos. Check out both remixes and grab a copy of THEESatisfaction's debut album, awE naturalE which is available now via Sub Pop Records.