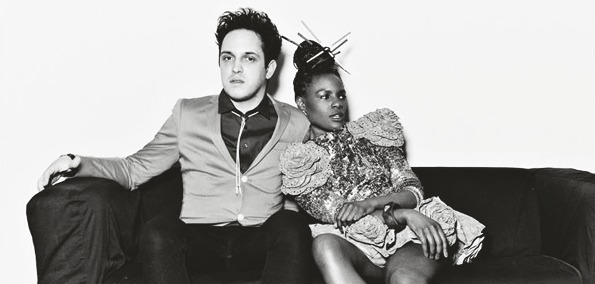 Word of the completion of the Noisettes' third album earlier this year came as welcomed news from the group that have supplied listeners with enjoyable tunes like "Don't Give Up" and "Don't Upset the Rhythm (Go Baby Go)". While their critically acclaimed sophomore album, Wild Young Hearts LP saw the group package a palatable mix of soulful 60s-tinged rock into an enjoyable alum, their forthcoming album Contact is shaping up to be a stellar follow-up effort.
Never known for sticking to one bag of tricks when it comes to their overall sound, the duo's newest single "That Girl" builds off the group's previous forays into blending infectious pop and rock. The rootsy pop-soul song is characterized in large part by front-woman and bassist Shingai Shoniwa's charismatically rich and commanding voice with supporting vocals from guitarist Dan Smith.
After listening to "That Girl", check out the video for  "Winner", which will also be included on the group's upcoming album. In support of their native England's Olympic team the group has made "Winner" available for free via their Facebook page. In addition to the video for "Winner" feel free to stream a high energy electro-infused remix of "Winner" courtesy of Kiss FM's Steve Smart and DJ/producer Westfunk.
Contact is scheduled to be released August 27 via Mercury Records