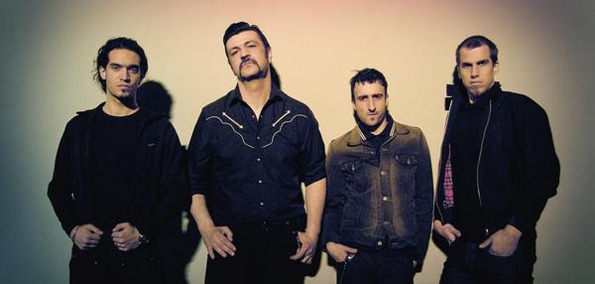 Black Strobe is back! After at least one year of absence, Arnaud Rebotini and his legendary band  just released an EP on Arnaud's label Blackstrobe Records. The EP entitled, Boogie in Zero Gravity is only the beginning because it introduces a new Black Strobe album coming up in 2013! A decade ago, Black Strobe fascinated the club scene with track like "Me and Madonna", "Paris Acid City"  and "Italian Fireflies". In the past few years, a lot of these classics were remixed by the younger generation of producers, like Hey Today!, Munk or Wagner. Furthermore, Arnaud Rebotini produces his own weapons such as "Another Time, Another Place" or "All You Need Is Techno" (with a great remix by Gesaffelstein).
Now let us take a look on the long list of tracks and remixes. In general, the new wave / nu disco sound with this large amount of influences from different genres of the two originals "Boogie in Zero Gravity" and "White Gospel Blues" is very fresh and unique, whereat "Boogie in Zero Gravity" might remind you of LCD Soundsystem. The EP features a lot of very different remixes for these two tracks: the first one comes from Sweden's Drop Out Orchestra who delivered a very smooth and funky disco tune that definitely makes you want to dance.
The remix by Max Pask and Andrew Potter who are known as Populette and release on labels such as Throne of Blood or Items & Things is much more housy and a real electronic dance track. The versatility of this EP is incredible. Jeremy Glenn from Toronto chips in an indie dance version of "White Gospel Blues" with great synths all over the track. Artificial and technoid - these are the words I would use to describe Elijah Collins remix. The London-based producer managed it to completely change the atmosphere of the original.
But now it comes to the most important thing I suppose: The brand-new music video of the title track "Boogie in Zero Gravity". It is very minimalistic but at the same time very classy and we are glad to show it to you exclusively.
Last but not least, we have another surprise for you: two remixes which are both available for free! The first one is the Museum remix of "White Gospel Blues". The Frenchman released his Debut E.P at the beginning of the year on Blackstrobe Records and his version of the track is absolutely fantastic.
Black-Strobe-White-Gospel-Blues-Museum-Remix--EM0712
Download:
Black Strobe - White Gospel Blues (Museum Remix)
Secondly, there is a remix of the classic "Italian Fireflies" by The Finger Prince from Australia. These two guys are currently rocking the little continent with the Motorik! crew and they have released their Mao EP on that label.
ITALIAN-FIREFLIES---THE-FINGER-PRINCE-REMIX--EM0712
Download:
Blackstrobe - Italian Fireflies (Finger Prince's 'Rejected on the 1st night' Mix)