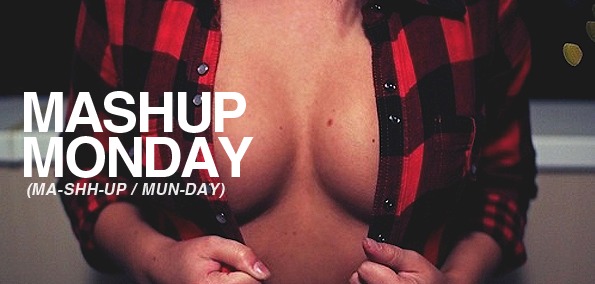 Mashup Monday - We're back again with some of the freshest mashes to start your week off right. These are the mashes that are worth hearing, so stop you're searching and instead settle down at your computer... turn up your speakers... and get ready for that sweet nectar that only EARMILK can give ya. Let's GO!
Well what better way to start off this week's Mashup Monday than none other with former contributor, 3LAU, giving EARMILK an exclusive stream of "H8" off of his Dance Floor Filth 2. If you've been following 3LAU then you'll know that DFF 2 is set for release tomorrow. Having been able to get a sneak preview of the entire project, I'll go on record and say that the project lives up to the insanely high standard that 3LAU has established for himself. And "H8" is a worthy track to really demonstrate what one can expect from Dance Floor Filth 2. With the sole vocal sample being Rihanna's "Where Have You Been" (becoming overplayed imo), 3LAU offsets her singing with strong and intense electro anthems by Steve Angello, AN21,Max Vangelli,  James Egbert, and Zedd. I can certainly see this as being a hit in 3LAU's live performances.
For a change of pace after that electro mash banger, I'd suggest DJ Dain's "Loaded For The Devil" which has a relaxing, entertaining, and old school sound. With samples coming from Primal Scream, The Rolling Stones, Gorillaz, and Incredible Bongo Band this mashup has a Creedence Clearwater Revival quality that takes me back and leaves me smiling. Kudos to you DJ Dain. Another non-electro mash that is worthy of note is that of the reputable Carlos Serrano. Perhaps you remember him from his Adele vs Daft Punk mashup or his Phoenix vs Kavinsky mash? However, this time he strays from a non-electro with electro pairing instead opting for hip hop great Jay-Z with controversial Lana Del Rey to create "National Empire". The result was enjoyable, but I wouldn't say on par with his past releases.
Yet perhaps my top mashup (in my opinion)  has to be Elocnep's "When Skrillex is in SF He Leaves The Shoes At The Doors". The ingenuity, the variety in sounds/samples, the overall vibe and flow of the track just sits perfectly with me. The intro/build seems to run a little long solely due to the repetitiveness of the vocals, but once the track really gets into the meat...I'm fucking hooked. With vocal hints of Skrillex's "Breaking The Doors" gracing the buildup, the secondary drop doesn't seem out of place but rather expertly placed. Quite simply, I'm a fan.
H8-(3LAU-Bootleg)--EM0712
Stream:Steve Angello, AN21, Max Vangeli, Zedd, James Egbert (Feat. Rihanna)
 - H8 (3LAU Bootleg)
DJ-Dain---Loaded-for-the-Devil-(Primal-Scream-x-The-Rolling-Stones-x-Gorillaz-x-Incredible-Bongo-Band)--EM0712
Download:
DJ Dain - Loaded For The Devil (Primal Scream vs. The Rolling Stones vs. Gorillaz vs. Incredible Bongo Band)
Jay-Z-vs.-Lana-Del-Rey---National-Empire-(Carlos-Serrano-Mix)--EM0712
Download:
Jay-Z vs. Lana Del Rey - National Empire (Carlos Serrano Mix)
When-Skrillex-Is-In-SF-He-Leaves-The-Shoes-At-The-Doors--EM0712
Download:
Elocnep - When Skrillex Is In SF He Leaves The Shoes At The Doors
Yoni---Taylors-Coke-Problem--EM0712
Download:
Yoni - Taylor's Coke Problem
White-Noise-Mashups---Red-Hot-Chilipop-(Remash-of-the-Remix-of-the-Mashup)--EM0712
Download:
White Noise Mashups - Red Hot Chilipop (Remash of the Remix of the Mashup)
CHANGE---Brony-(Archie-x-Nelly-Furtado-x-Gwen-Stefani)--EM0712
Download:
CHANGE - "Brony" (Archie x Nelly Furtado x Gwen Stefani)
Afrojack-Shermanology-Vs-Hook-N-Sling-Evermore---Cant-Stop-Me-Surrender-(HENRIX-Bootleg)--EM0712
Download:
Henrix - Can't Stop Me Surrender
The-Longest-Embrace-(Ego-Mashup)--EM0712
Download:
Porter Robinson x Cazzette x Flux Pavilion x Dirty South x Nari & Milani - The Longest Embrace (Ego Mashup)
TeeTs---Disconnected-Dreams--EM0712
Download:
TeeTs - Disconnected Dreams
FireBeatz-x-Qulinez-x-Bingo-Players---Cant-Blame-All-the-Parties-(Mode)-DJ-Hellfire-Mashup-Rework--EM0712
Download:
DJ Hellfire - FireBeatz x Qulinez x Bingo Players - Can't Blame All the Parties (Mode) [Dj HellFire Mashup Rework]
Not-Some-Kid---Blue-Me-(Matisse-Sadko-x-Eiffel-65-x-The-Wanted-x-The-Temper-Trap)--EM0712
Download:
Not Some Kid - Blue Me
Nicky-Romero-Vs-Diddy-Dirty-Money---WTF-Coming-(Lamrank-Mashup)--EM0712
Download:
Lamrank - WTF Coming (Nicky Romero x Diddy Dirty Money)
Sebastien-Drums-Mitch-Crown-Whelan-Di-Scala-Vs-Stonebridge---Here-I-Come-Put-Em-High-(HENRIX-Bootleg)--EM0712
Download:
Henrix - Here I Come Put Em High
Jakob-D---Silenced-by-the-Redline--EM0712
Download:
Jakob D - Silenced By The Redline