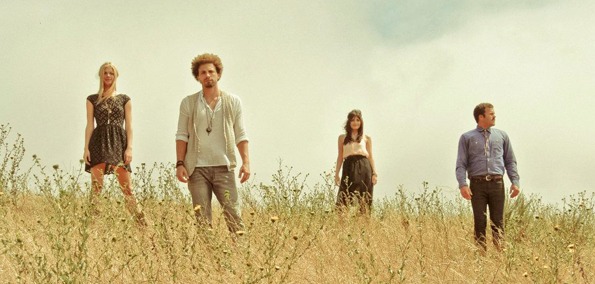 While Americana/Folk doesn't find its way onto EARMILK very often, at our core, we strive to introduce our readers to up-and-coming bands that are putting out good music. Americana outfit, Miner, fit that bill to a T. Miner, who are gearing up for the release of their debut Hey Love EP— due out the end of August — blend elements of Folk/Bluegrass/Indie or as the band aptly puts it "Indie Folkplosion". Combining song structures akin to Edward Sharpe and the Magnetic Zeros, The Lumineers and a unique vocal timbre similar to The Tallest Man On Earth, fans of any of the aforementioned bands should find solace in Miner's inviting tunes.
 As a preview to the EP, Miner has uploaded two tracks, the titular "Hey Love" and "Golden Ocean". The tracks radiate a sense of warmth and sincerity as they convey their sun-soaked, love-filled messages. This sense of authenticity stems from Miner's roots, as the band is comprised of family (Justin Miner, wife Kate, brother Jeremy) and friends who are family.
The contrast between the two tracks offer listeners a well rounded preview of what the EP may have in store for us. The uptempo "Hey Love",  replete with background yelps, necessitates that all worries be forgotten, replaced with the irrepressible urge to get up and dance around. "Golden Ocean" brings the pace down a notch, emphasizing instead Justin Miner's unique voice and the band's soothing harmonies. Both songs have a lot to like about them, which makes the wait for the EP that much harder. Keep an eye out for Miner, their EP at the end of August, and whatever else they may have in store for 2012.