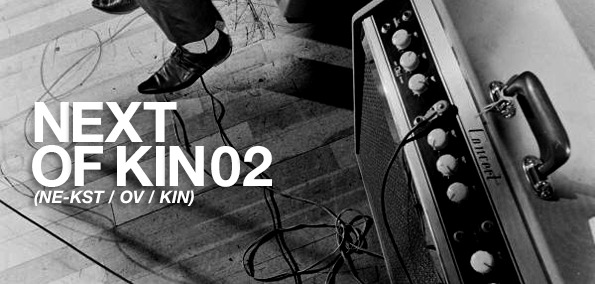 Andy Warhol was right, everyone does get their 15 minutes of fame. But who would have known his forecast was actually a caution that would turn our music scene into a dump of regurgitated hacks. A trash can of trends that are born to die in weeks, crowding the charts with pedlars of social networks and void of groundbreaking acts. How do you dig when the overseers of the industry recycle rubbish to fuel the machine of consumption over Da Vinci, only to be tossed full circle into the scraps where it rightly belongs. It's noise that overshadows those that give a damn, and when the debris settles -- their pockets still strapped and their innovations, mugged. Sounding the call for someone to set the standards and sort out the genuine. theduke's Next of Kin, a feature to cut the fat. 5 EPs you'll need to keep, every week. Handed to you in a closed fist because you know where to find them. No compromise and completely pretentious. 
---
Dusky
Flo Jam
Dogmatik; 2012-07-10
DOGM019
---
A London duo that has really ripened lately as even the bass heads have begun to admire these two deep house darlings. Alfie Granger-Howell and Nick Harriman are Dusky, a pairing of genre-spanning sounds grounded in their ongoing old school aesthetic. Their latest EP Flo Jam is their best, and the biggest for Sheffield label Dogmatik. And without a doubt the self titled track is sure to become the heavyweight house number of this year. Covering all the bases of a blissful house jam, poised strings, the most basic upswing on the hats, but most importantly an unforgettable hook that will forever be tied to their name. Perk your ears to recognize Aaliyah on vocals from the famous "Rock The Boat" sample popularized by The Weeknd. Also flip to the other side and cue up "Mystics" which is really a reprise for "Flo Jam" as it plays off the same elements of the A-side with a more drum focused outlook. To get a real taste of the duo's basement appeal check out tracks like "Numerical" and "Every Day" which channel an eerie garage vibe that can still get the floor moving. Pressed to vinyl so you can grab it today before it hits the digital shelves next month.
Play:
Dusky
- Flo Jam
---
Modeselektor, Martyn
Modeselektion Vol. 2 EP
Monkeytown; 2012-06-01
MONKEYTOWN026
---
A label that deserves more attention for consistently breaking the bounds. Monkeytown Records and their renowned sister label 50 Weapons have a cult following for all the right reasons. June saw the release of a small teaser for their Modeselektion Volume 2 compilation due at the end of this month and it features two tracks by their most esteemed heavyweights. One side from the curators themselves, Modeselektor's "Maik The Chicken" is an exemplar of what this duo does best -- alluring yet simple warehouse grooves. But who can resist the low end in Martyn's "Red Dancers" paired with stellar break-like percussion and an acid line to blur the lines between bass and techno. He's one of the few characters on the scene that you can hallmark as having no genre with a whole range of influences. Add an authentic knack for quality productions and you have an artist that immediately draws you in whenever you see his name on a release. Grab both of these cuts today or take the works as a whole when the 16 track compilation drops June 29th. With names like Siriusmo, Bambounou, Jan Driver, Addison Groove, and Monolake on the list this release is sure to make a mark on 2012 and prop Monkeytown into a worthy degree of greatness.
Play:
Martyn
- Red Dancers
---
Kahn & Neek
Percy / Fierce
Bandulu Records; 2012-06-12
BADULU001
---
There's no debating that Bristol has become a bona fide haven for bass innovation and the city's latest breakthrough Kahn is proof of that. Propped from the bridges of the internet, winning Dubstepforum's best new producer award (trumping acts like Objekt) the man is subject to loads of hype. Blame it on his apt ability to stalk the sounds of UK garage, grime, and dubstep without actually falling inside. Percy is his latest collaboration with fellow Neek and after hearing the pleas of hundreds of low end savages in the comments of this teaser video the track will finally be released alongside a B-side called "Fierce" on his own label Bandulu Records. A bit too juvenile to head your own imprint? Who knows and who cares when you have the UK foaming from the mouth waiting to cop the first twelve inch. If there's anything to take from Percy, it's that grime is on the rise. Let's just hope that power doesn't end up in fat lucrative hands.
Beatport · Facebook · Soundcloud
Play:
Kahn & Neek
- Percy
---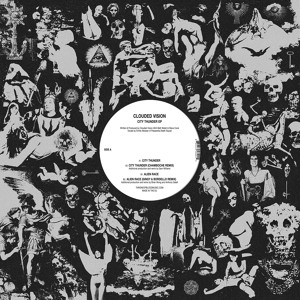 Clouded Vision
City Thunder
Throne of Blood; 2012-06-25
TOB025
---
It would have been a shame to leave out the ushering release of bona fide house legend Kerri Chandler's new record label dubbed MadTech records. A sister imprint to pass the torch, propping young up-and-comers to the spotlight on the deep house stage while also opening up to an array of influences from other genres. First on is the juvenile in dreads Citizen, so fresh he's shrouded in a veil of mystery but it's clear that this London native will be making waves as he already has a Boiler Room appearance to notch under the belt and his debute EP Deep End is a hit from front to back. Where to start when tracks like "Truth" carry the same nostalgia as your aging chicago favourites and soundscapes like "Oh Gee" simmer into a soothing warehouse mirage. The A-side is where he makes his intentions known. Opening with gloomy chords played on what sounds like a classic DX7 bell preset, he's willing to take the risk of being written off as corny even if that means making an alloy of old and new, and his best tune yet. Keep an ear out for this artist and this label as their second release hits the shelves next month featuring another steaming London artist Kashii.
Play:
Clouded Vision
- Alien Race
---
Citizen
Deep End
MadTech; 2012-06-18
KCMTDL001
---
Belgian techno freshman Locked Groove is on a roll this month as he sets to release two EPs on two of the most esteemed forward thinking labels in Europe. Having Different Paths already drop on Tiga's Turbo Recordings, the young producer has made it clear that he can consistently flesh out warehouse hooks that work. Keep It Simple is only his third record added to a string of quality releases on Hotflush. The A-side "Keep Running" plays like a mixtape, opening with cold industrial percussion then transitioning into moodier deep house with chord stabs flicking the switch half way in. It's left field and completely unexpected. B tracks "Aller Simple" and "Even Precise" hold themselves back a bit from being dance floor engines instead they paint a many-sided picture of Locked Groove that's more introspective, further adding to the mystery of his full potential.
Play:
Citizen
- Deep End
---
Hamilton