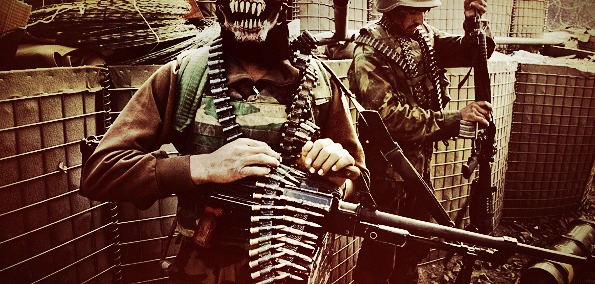 In the world of dark rave music, a few labels seem to really have it down, and it feels like Fostercare has rubbed shoulders with almost all of them, with releases on imprints like Disaro and Clan Destine. His latest LP, Altered Creature, which came out May 21 on similarly qualified Robot Elephant, blends techno, trance, and rave influences with the dark feel that's been in vogue as of late. While the term "witch house" may be limiting and passe, the sentiments of the movement continue to leak into music that pushes those limits, blending the lines between terror and unbridled good times, bringing us dance music that would feel just as comfortable as a horror film soundtrack. For those who'd prefer their fun to be accompanied by undertones of the occult, Altered Creature will deliver just what you're thirsting for.
Earmilk's got a full stream of Altered Creature below, followed by a walkthrough of the album by the guys at Robot Elephant!
"Yo, here are my thoughts about the songs – hope it's got enough substance. Unfortunately I am not so much of a dance music expert; I wish I'd be but I recognize all the different styles in there… the album is like a journey through all the dance music styles from 1990-1999 or something. It's got obviously trance, but also footwork, electro, techno, big beat and more in there… often mixed together in two songs, although it's got two songs that are much less experimental. I can see that dance music purists can't make too much out of it ;)
The album represents a departure from the lo-fi sounds of Fostercare into viable club territory; it's a journey through all kinds of dance music styles – techno, trance, breakbeat – mainly 90s oriented. At the same time, the sequence of songs are creating some kind of story arch, an emotional journey for the listener. It's also Fostercare's most accessible work to date."
1. "The Empire Will Drain U" 
The intro creates the setting for the album, which is drawing up a bit of a story arch – it sounds like someone escaping the Death Star of the Evil Empire. The track contains a fair amount of nods towards late 80s Cold Wave/early 90s techno with its arpeggiated programmed bass line, aggressive industrial rhythms and synth sounds and with the signature Fostercare synth progression. It creates a paranoid escape scenario that would fit very well with the next remake of John Carpenter's Escape from New York.
2. "City Of Gods"
This is actually a rework of "Burn this City" off the previously self-released EP Stray, but with a much more refined and meticulous production quality. It's also the only track on the album with a direct reference back to Fostercare's "old" style – warped crunk and R'n'B, put in an apocalyptic scenario. A real emotional throw-down that resembles, for instance, the similar apocalyptic TICAL 2000 by Method Man and embodies the legacy of the Houston sound.
3. "Korean Lessons"
The title indicates another big influence of the Fostercare sound – K-Pop! The track is a straightforward club banger with a smooth and silky house bass line and modest 110 BPM, and the assumed protagonist wandering through the hyper-realistic advertisement-over-saturated environment in the South-Eastern Asian mega-city of your choice – Seoul 2032?
4. "Welcome World"
This one continues the more positive mood and it's got a lot of 90s trance feeling in there, a perfectly executed style exercise, if there wasn't the unnerving breakbeat and the pitched vocals that shake things up and makes the song an interesting hybrid of popular 90s styles.
5. "Paint the Mango"
From this song, the album steps up in speed and relentlessness after the previous songs have been in a"moderate" 120 BPM, as we are reaching 130 BPM here – "Paint the Mango" has an unstoppable 4/4 beat and is an invitation to get on the ecstasy-fueled 90s dancefloor, Fostercare's this time unpitched voice demanding the listener to be "on your place, bass bass bass bass" — any questions? One of the least experimental tracks on the album and therefore very club-compatible. It's also got the signature swelling Fostercare synth melody progression in there that makes it glorious.
6. "Future Tribes"
A straight forward 130 BPM track with booming bass line that goes seamlessly with the previous song — this song marks the peak of tension in the album journey, with flashing images of a city dominated by post-human teenage cyborgs gangs. It's juvenile and rave-y but also has a bit of a cinematic feel about it. Probably altogether the most club-compatible track on the album, with Fostercare keeping the drive to experiment down a bit. 
7. "Sleepless"
This song is using two slightly different sounding kick drum sounds to inherit the footwork style house music, and it's got a breakbeat line that makes it another style hybrid, taking the pace a little bit down after "Future Tribes" but not completely leaving the dancefloor just yet. It's got a wealth of intriguing samples and synth sounds in there
8. "Deep"
Another song that sits firmly and conveniently between two styles of dance music, house and trance, in a more chilled out and sexy mood than the previous ones.
9. "SFX"
This song is kind of tying up the album with a big-beat-style bass line and long breakdowns, the protagonist finally settling down in the virtual chill out zone.
10. "Daedalus"
A glorious finishing step to the album, like a futuristic synth ballad with lots of interesting sounds and a voice pitched in this very particular mood that embodies most of the Fostercare tracks, but kind of exhausted this time. The title could refer to the album being a Daedalean maze of styles and sounds, and it provides maybe the deepest insight into its creator yet.