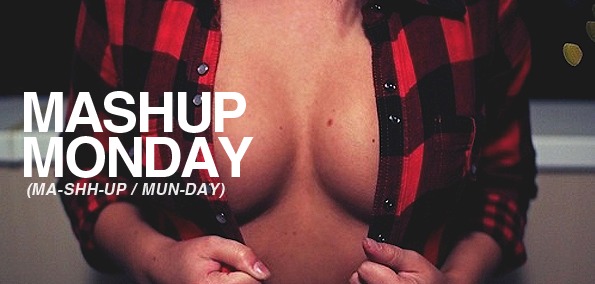 Mashup Monday - We're back again with some of the freshest mashes to start your week off right. These are the mashes that are worth hearing, so stop you're searching and instead settle down at your computer... turn up your speakers... and get ready for that sweet nectar that only EARMILK can give ya. Let's GO.
I got plenty of mixtapes/mash projects from various artists for y'all today. If you've checked EARMILK recently, then you may have seen wait what's new mixtape tingo posted earlier today. As an artist that has been posted plenty of times throughout Mashup Monday, then I'd advise you to definitely check it out here. 2 other projects that have some tracks featured on here today are Sweekuh's self-titled EP and DJ Topsider's $perry Murda EP. Sweekuh's project is an eclectic 7 track EP, with an extended edition for those who "like" his FB page, that highlights the broad variety of mashups Sweekuh is capable of creating. You may remember Sweekuh's "Hoodie's Ex Girl" from #Mashup Monday - Week 59, but "Bass Junk" and "Till Vandalism" demonstrate harder hitting mashups. DJ Topsider's $perry Murda, on the other hand, is an A vs. B mash project that highlights the vocal prowess of the hip-hop queen from Down Under - Iggy Azalea. I've never completely enjoyed the style of Iggy, but Topsider spins her in a different light by pairing her with varying instrumentals. Personal favorite is the Kid Cudi's "Day N Night" paired with Iggy's "My World" because it really amplifies the raw nature of Iggy's vocals.
Other exceptional, and contrasting, mashes that are quality mashes in my opinion were those of Dotcom and Dr. Brixx. With an EARMILK premiere/exclusive, Dotcom mashes a personal favorite of mine Kaskade's remix of Usher's and Diplo's "Climax" with some Rihanna and Katy Perry creating a powerful EDM mash. However, Dr. Brixx's mash is more of a vocal symphony of male singers ranging from Jimmy Eat World to Fall Out Boy to Blink-182 to We The Kings. All the vocal samples work well together making me wonder if this is his response to females who are proponents of "Girl Power." A mash that had some nice throwback samples was Mashed and Confused's "Eyes Going Without a Face" in which Marvin Gaye and Billy Idol were masterfully sampled and mashed. Nice vibe and great sound throughout for sure.
If you're a fan of Knife Party then make sure to check out the mashes done by Alexiscs and Bring The Noise respectfully. DJ 21azy, once again, provides us with another exceptional upbeat and party-styled mash in contrast to his more mellow and hip-hop derived mashes. And in the case that you haven't gotten tired of Carly Rae Jepsen (seriously who has?), then check out RETOXX's mash that combines her with J.Cole, Deadmau5, Afrojack, and more. Granted the intro is a little forced and the outro runs a little long, once you get to J.Cole's section and the electro buildup and drop (around the 2:00 mark) then you're in for a treat. As always, hit me up in the comments, give me your thoughts on this week's Mashup Monday post, and have a great rest of the week.
Rhyme-Vicious-(My-World-x-Kid-Cudi)--EM0512
Download:
DJ Topsider x Iggy Azalea - Rhyme Vicious ("My World" x Kid Cudi)
Download:
Sweekuh - Bass Junk
Where-Is-That-Part-Of-Me_-(Kaskade-x-Katy-Perry-x-Rihanna-x-Usher)--EM0512
Download:
Dotcom - Where Is That Part Of Me? (Kaskade x Katy Perry x Rihanna x Usher)
This-Above-All-To-Thine-Own-Self-Be-True--EM0512
Download:
Dr. Brixx - This Above All, To Thine Own Self Be True
Danger-On-The-Wonderwall-(DJ-21azy-Remix)--EM0512
Download:
DJ 21azy - Danger On The Wonderwall
Mashed-and-Confused---Eyes-Going-Without-A-Face-(Marvin-Gaye-x-Billy-Idol)-2--EM0512
Download:
Mashed and Confused - Eyes Going Without A Face (Marvin Gaye x Billy Idol)
The-Way-You-Mix-Me--EM0512
Download:
Example vs. Various - The Way You Mix Me
RETOXX---IBTPU-So-Call-Me-Definitely-(Deadmau5-x-Afrojack-x-J-Cole-x-Carly-Rae-Jepsen-x-Bingo-Players-x-Zedd-x-Quintino)--EM0512
Download:
RETOXX - IBTPU So Call Me Definitely (Deadmau5 x Afrojack x J Cole x Carly Rae Jepsen x Bingo Players x Zedd x Quintino)
American-Pie-(Cali-Swag-District-x-Joan-Jett-x-Warrant)--EM0512
Download:
The Catalina Rhyme Mixers - American Pie (Cali Swag District, Joan Jett, Warrant)
Drop-It-(Drop-That-Shit-x-Symmetry)--EM0512
Download:
DJ Topsider x Iggy Azalea - Drop It ("Drop That S**t" x Symmetry)
You-Get-High-on-Bullshit-(Pretty-Lights-x-Notorious-B.I.G.)--EM0512
Download:
DJ Isomatik - You Get High on Bullshit (Pretty Lights v. Notorious B.I.G.)
Pixel-Cheese---Feel-400-(Third-Party-x-Zombie-Nation)--EM0512
Download:
Pixel Cheese - Feel 400 (Third Party x Zombie Nation)
The-Internet-Bottle-Song-(Bring-The-Noise-Zack-Edward-Mashup)--EM0512
Download:
R3hab vs Knife Party vs Blur - The Internet Bottle Song (Bring The Noise & Zack Edward Mashup)
Stars-(Zedd-x-Tim-Mason-x-Otto-Knows-x-David-Guetta-x-Sia-x-Nadia-Ali)--EM0512
Download:
₵HANGE - Stars (Zedd x Tim Mason x Otto Knows x David Guetta x Sia x Nadia Ali)
Download:
Sweekuh- Till Vandalism
Shades-Of-The-Sky-(Kill-Paris-x-Kanye-West-ft-Lupe-Fiasco)--EM0512
Download:
Majayski - Shades Of The Sky
Pocketful-of-Bad-Girls-(Gregori-Klosman-x-Natasha-Bedingfield-x-Kanye-West-x-MIA)--EM0512
Download:
vuther - Pocketful of Bad Girls (Gregori Klosman vs Natasha Bedingfield vs Kanye West vs MIA)
Calvin-Harris-Vs.-Knife-Party---The-Last-Time-We-Go-(Alexiscs-Mash-Up)--EM0512
Download:
Calvin Harris vs. Knife Party - The Last Time We Go (Alexiscs Mash-Up)
Language-(Vocal-Edit)--EM0512
Download:
Sweekuh - Language (Vocal Edit)