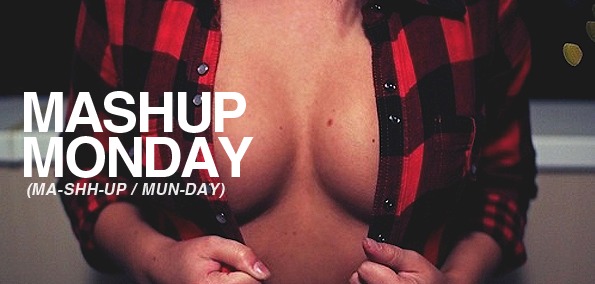 Mashup Monday - We're back again with some of the freshest mashes to start your week off right. These are the mashes that are worth hearing, so stop you're searching and instead settle down at your computer... turn up your speakers... and get ready for that sweet nectar that only EARMILK can give ya. Let's GO.
So last week we had The Hood Internet's "Pesobedear", and this week I felt it was necessary to give y'all Sean Johnson's "Golbiedear" which uses A$AP Rocky's "Goldie" instead of "Peso". Now I'm conflicted as to which A$AP Rocky track uses Purity Ring's "Obedear" more effectively, but I'm leaning towards Sean Johnson. But in the grand scheme of things, it's your opinion that matters more so help me decide which mash you enjoy more.
Continuing on this huge list, I want to present an exclusive track download from Loo & Placido off of their Retro Future Shock Vol. 1 Mixtape. The track, titled "Skrillex Rock", employs samples from Queen, Daft Punk, House of Pain, and the divisive Skrillex (divisive in that you either love him or hate him). The intro to this track was slightly suspect because I didn't know what exactly to expect, but once I heard the integrated drop of Skrillex's "Reptile Theme" I was sold. Loo & Placido, along with DJ Hero, successfully bring together a classic from Queen with the unreal sounds of Skrillex.
Two interesting mashes on the list are that of Scott Melker of The Melker Project as well as Fissunix's new track solely for the fact that both mashes employ huge name bands that I've never really listened to. Scott Melker mashes Jay-Z with The Beatles while Fissunix mashes Led Zeppelin with The Doors. I wholeheartedly admit that I was never really introduced to The Beatles or Led Zeppelin because I was raised on Spanish artists/music, but that doesn't stop me from enjoying these exquisite mash combinations.
Speaking of exquisite mashes, DJ MashHawk gives us a stunning mashup using Deadmau5's new "The Veldt" track, that I personally think is going to start making its rounds in various forms of bootlegs, remixes, mashups, etc. until it's overdone. But for now, MashHawk pairs it nicely with the simple and smooth vocals of Coldplay's "Waterfalls" creating a happy synergy between both acapella and instrumental. Another mash within the list that stands out is G-Rex's "Juicy Adventure" that pairs the unbelievable melodies of Adventure Club with the rough hip hop sounds of Three 6 Mafia. I was a little hesitant at first, but the vivacious sounds of Adventure Club is unparalleled and serves nicely to counter balance the roughness of Three 6.
Other tracks that need to be noted are that of DJ Fergie Ferg, who always seems to come out with something different compared to his last track; an older track from The Kleptones that employs the sensual vocals of Marvin Gaye; a magnificent mash from wait what using Passion Pit's new "Take A Walk"; and newcomer ricky! who reignites my love for The Glitch Mob by pairing it with Mims. And finally, I wanted to post Triple Six Sound Club's "Mercy" bootleg solely for the fact that it sounds amazing on speakers. I'm a fan of bass, and while I'm not 100% sure that this bootleg is a mashup, I felt the urge to add it regardless. So take a listen to the 27 tracks below and hit me up in the comments, via Twitter, or via Facebook with your thoughts.
Golbiedear-(Sean-Johnson-Mashup)--EM0512
Download:
Sean Johnson - Golbiedear (ASAP Rocky & Hit-Boy x Purity Ring)
Skrillex-vs-Daft-Punk-vs-Queen-vs-House-Of-Pain-vs-Dj-Hero---Skrillex-Rock-(Smashed-By-Loo-Placido)--EM0512
Download:
LOO & PLACIDO - Skrillex Rock
Say-Hello-Vs.-Because-(Jay-Z-Vs.-The-Beatles)--EM0512
Download:
The Melker Project (Scott Melker) - Say Hello Vs. Because (Jay-Z x The Beatles)
Fissunix---Ramble-on-blues--EM0512
Download:
Fissunix - Ramble On Blues (Led Zeppelin x The Doors)
G-Rex---Juicy-Adventure-(Three-6-Mafia-x-Adventure-Club)--EM0512
Download:
G-Rex - Juicy Adventure (Three 6 Mafia x Adventure Club)
ricky---We-Can-Make-The-World-Stop-(ricky-Vocal-Glitch-Mix)--EM0512
Download:
ricky! - We Can Make The World Stop (ricky! Vocal Glitch Mix)
wait-what---take-a-walk-with-bonnie-clyde-(jay-z-beyonc-x-passion-pit)--EM0512
Download:
wait what - take a walk with bonnie & clyde (jay-z & beyoncé x passion pit)
Veldt-Waterfalls-(Coldplay-x-Deadmau5)--EM0512
Download:
DJ MashHawk - Veldt Waterfalls (Coldplay x Deadmau5)
About-You-ft.-2-Chainz-(DJ-Fergie-Ferg-Trap-Edit)--EM0512
Download:
XXYYXX - About You ft. 2 Chainz (DJ Fergie Ferg Trap Edit)
[soundcloud url="http://api.soundcloud.com/tracks/46095686" iframe="true" /]
Stylust-Beats---Let-Me-Dope-You-(Two-Fresh-x-Childish-Gambino)--EM0512
Download:
STYLUST BEATS - Let Me Dope You (Two Fresh x Childish Gambino)
Cant-Stop-The-Climax--EM0512
Download:
Doug Bogan - Can't Stop The Climax
Spacemans-Finna-Werk-It-(DJ-Remix)--EM0512
Download:
DJ 21azy - Spaceman's Finna Werk It
Robin-Carrion---I-Found-Quasar--EM0512
Download:
Robin Carrion - I Found Quasar (Axwell x Max C x Hard Rock Sofa)
Pretty-Lights-vs.-Avicii-vs.-Flo-Rida---Sometimes-(Cryptex-Reglitch)--EM0512
Download:
Cryptex - Somtimes (Pretty Lights x Avicii x Flo Rida) [Cryptex Reglitch]
Download:
Clayton McCracken - Momento
Look-At-My-Illusion--EM0512
Download:
Majayski - Look At My Illusion
LeeDM101---Crazy-Rabbit--EM0512
Download:
LeeDM101 - Crazy Rabbit (Seal x Radiohead x The Doors x Miles Davis)
Shifting-Gears-Harder-Just-Like-T--EM0512
Download:
DJ Knightro - Shifting Gears Harder....Just Like That * Johnny Hammond vs Public Enemy (DJ Knightro & G's Mashup)
kleptones_sexual_dubbing--EM0512
Download:
The Kleptones - Sexual Dubbing
Gemini-Ft.-Greta-Svabo-Bech-X-Labrin--EM0512
Download:
Phil Rage - Gemini Ft. Greta Svabo Bech X Labrinth X Knife Party - A Last Fire Inside (Phil Rage Remix)
Fire-Coffee-(Dirty-Flash-Bootleg)--EM0512
Download:
Zeds Dead vs Knife Party - Fire Coffee (Dirty Flash Bootleg)
Call-Me-Mr.-Burgundy--EM0512
Download:
Czar Nicholas III - Call Me Mr. Burgundy
AG-Romain-G---Troll-Protect-(Qulinez-x-Alex-Metric)--EM0512
Download:
A&G & Romain G - Troll Protect (Qulinex x Alex Metric)
Call-Me-Maybe-in-2012-(Troika-Mashup)--EM0512
Download:
Troika - Call Me Maybe in 2012 (Troika Mashup)
Settipalli-Productions---Look-At-Settipalli-Now--EM0512
Download:
Settipalli Productions - Look At Settipalli Now (Sultan + Ned Shepard ft. Quilla, Edward Maya ft. Vika Jigulina, Taylor Swift, DJ Chuckie, Whitney Houston, David Guetta ft. Akon, Black Eyed Peas, Salt N Pepa, Chris Brown ft. Lil' Wayne & Busta Rhymes, Kelly Clarkson, Soulja Boy)
Kanye-West---Mercy-(Triple-Six-Sound-Clubs-No-Mercy-Bootleg)--EM0512
Download:
Kanye West - Mercy (Triple Six Sound Club's No Mercy Bootleg)