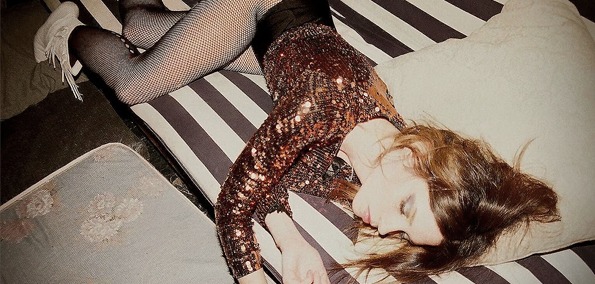 Last summer, EARMILK spotlighted Pat Grossi's—aka Active Child's—impassioned debut LP, You Are All I See. Pat's soulful falsetto led listeners on a reflective journey,exposing them to themes of love and heartbreak, infidelity, and internal struggles finding one's identity. Lead single "Hanging On" proposes the question of whether the pain from keeping a failing relationship together outweighs the sorrow endured from losing a lover, a situation many have known before.
Not intimidated by the introspective nature of Pat Grossi's work, the Brooklyn production duo GRVRBBRS (pronounced Graverobbers) melts their nü-disco grooves over Pat's entrancing vocals. The twangy retro-style synths, reminiscent of a time where big hair, shoulder-pads, rollerblading (insert any other 80's stereotypes) were deemed socially acceptable, purpose a disorienting paradigm. The uplifting disco-tech beats tempt the listener to get up and dance, juxtaposing the meditative croons which percolate through GRVRBBRS' additions. Whether the track warrants dance moves or idle reflection may be confusing, what is certain is the track deserving your attention. Give it a listen and if you enjoy, feel free to download.
[soundcloud url="http://api.soundcloud.com/tracks/44549887" iframe="true" /]
Active Child just started his latest North American tour last week. Coinciding with the tour, Active Child is reissuing his 2010 EP Curtis Lane on 10-inch vinyl, which had previously only been available through a limited release in 2010.  Over the next month Active Child will be playing a show almost every day, so check out the dates below to see if he is coming to an area near you. 
May 02 – Norman, OK @ Opolis
May 03 – Dallas, TX @ Sons of Hermann Hall
May 04 – Austin, TX @ The Mohawk
May 05 – Houston, TX @ Fitzgerald's
May 07 – Atlanta, GA @ The Earl
May 08 – Carrboro, NC @ Cat's Cradle
May 09 – Washington, DC @ Black Cat
May 10 – New York, NY @ Bowery Ballroom
May 11 – New York, NY @ Mercury Lounge
May 12 – Boston, MA @ Brighton Music Hall
May 14 – Montreal, CAN @ il Motore
May 15 – Toronto, CAN @ Lee's Palace
May 16 – Chicago, IL @ Lincoln Hall
May 17 – St. Louis, MO @ Firebird
May 18 – Lawrence, KS @ The Jackpot Station
May 19 – Denver, CO @ Larimer Lounge
May 20 – Fort Collins, CO @ Aggie Theatre
May 22 – Salt Lake City, UT @ Urban Lounge
May 24 – Portland, OR @ Doug Fir Lounge
May 25 – Vancouver, BC @ Electric Owl
May 27 – Quincy, WA @ Sasquatch Festival
May 29 – San Francisco, CA @ The Independent
May 31 – Los Angeles, CA @ The Troubadour