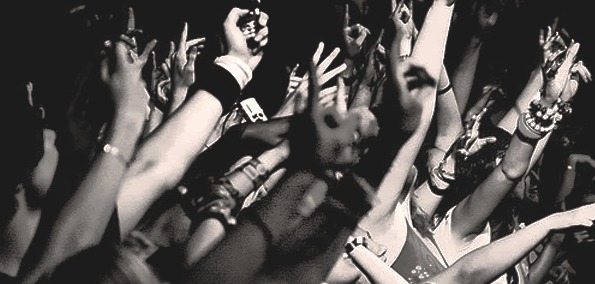 We introduced you to him at the end of February, and with his newest album, In the Beginning, set to drop tomorrow, we had to share a bit more on James Egbert before everyone else does. We're thrilled to have been given the opportunity to exclusively premiere the track "You Got Me" off the album through Earmilk, and to coincide with the gift of a premiere track, we'll also share a bit more on what James is about from his own perspective.
Having only DJed his first live set less than a year ago, the 24-year-old Denver native has shared the stage with big EDM names like Aviicii, Skrillex, and Wolfgang Gartner. Saying that he is gaining respect in the electronic music industry at lightening speed is an understatement. With an overwhelming explosion in fan-base and exposure in such a short period of time, James is loving every minute of it. Before taking a deeper dive into the artist himself, we need to take a minute to provide perspective on the track he has gifted us.
"You Got Me" is a fusion of everything that is beautiful about electronic music. We are hearing a mixture of house techniques alongside a bit of d&b. He plays with vocals to a non-invasive yet complimentary level (this, we have found, is hard to do). It is clear that he has taken some of the best attributes of the artists he claims inspires his music and placed them into this song. We are excited to provide Earmilk listeners with a sneak peek of a track off an album that we guarantee will take James Egbert's reputation in the EDM industry to an entirely new level. This track is like giving a kid a fraction of an entire cookie. The cool thing about it is, you only have to wait until tomorrow for the rest of it. We've been fortunate enough to hear the album in its entirety, so we can promise that it will not disappoint.  Stellar work, Mr. Egbert. Stellar work indeed.
In addition to providing us with a preview of his album, and the permission to premiere "You Got Me", he was more than generous to provide us with a bit more insight into who he is as an artist, and more importantly as an individual. 
EARMILK: James! Thanks so much for taking the time to chat with us. We know you're super busy gearing up for your album release. Tell us a little bit about yourself!
James Egbert: My birth name is James Egbert (who would have guessed) and I just got married a little over a year ago to my best friend Cara, who coincidentally also has the last name of Egbert now.....strange.  We have two cats.  One is named Mifflin after "Dunder Mifflin" from The Office.  The other cat is named Sevie after Sevilla, Spain, where my wife studied briefly in college.  Despite being from Denver, I like long walks on the beach.  I used to live in Huntington Beach, CA, and my parents still do.  I was never old enough to witness this phenomenon when I lived there, but I've recently discovered that if you stop for a beer at one end of the long walk, it makes the walk back very enjoyable!
EM: On a music-related note, and we're sure you get this a lot, but when did you discover your passion for music? 
JE: I think my parents discovered that I had a passion for music before I did.  The story is that I was constantly drumming with the silverware at the dinner table so at the age of 4, they started having me take drum lessons and they bought me a new drum set for my 5th birthday.  Towards the end of high school I was approached by the question of what I was going to do with my life, and I took a serious look into being a craniofacial surgeon helping young children with birth defects.  After looking through countless schools and even observing a few operations at a Children's Hospital, I came to the realization that this would have been my easy/cop-out path through life and that no other career would ever fulfill me like music could.
EM: So you felt music was your fit in life over craniofacial surgery? Crazy contrast! Music must be in your blood. What inspires the songs you produce?
JE: I think the largest inspirations to my music are  the natural pains and joys of life.  I find that when I'm in a "writing lull", it always helps to recycle my memories and recall how I felt in particular situations.  I think a lot of the In the Beginning album was written based more on "feelings" than any of my previous work.
EM: Aside from personal inspirations, who in your field do you find the most inspirational?
JE: I really respect the Skrillex's, the Feed Me's, the Wolfgang Gartner's of this world.  They're the people who realize that music is constantly evolving because our lives constantly change.  I believe that music is a direct reflection of the person/artist who created it.  Looking at these people, I had a huge respect for the project "Sonny", just a few years before Skrillex came about.  One of my favorite tracks to date is "Way Of The Samuri" by Spor, back in the days before he re-created himself into Feed Me.  And to be honest, the Joey Youngman project really never hit my cup of tea, but I have an insane amount of respect for what the "Wolfgang Gartner" sound has done to the EDM scene!  All 3 of these artists have completely opened new doors to the music industry because they felt something wasn't complete with their previous projects, whether or not it was that the music scene changed, or if it was that they personally changed.
EM: Give us your favorite memory so far throughout your career as an EDM artist.
JE: I had a pretty amazing time in LA last week.  It was my first show in LA and to be honest I was slightly bummed when I walked on stage because the venue was about half full.  I started playing my first track, and someone yelled out "play _____", one of my songs from last summer...and then another guy yelled out "play _____" (another one of my songs from last year).  Half way through my set, I had realized what a die-hard group of people were out at this show!  It's like the whole crowd knew and went nuts on every drop!  If it was one of my vocal tracks, people were singing along.  The highlight of the night was turning down the faders and just having this crowd sing me "Back To New".  It was totally that 'ah-ha' moment where I realized that I was so privileged to be playing music 1000 miles away from home for a group of people who drove a long way to just come and see ME.  I really feel undeserving and I haven't EVER had many experiences as surreal as that moment.
EM: Speaking of live shows, what venue have you enjoyed playing the most so far?
JE: I think any artist who has had the opportunity to play at Red Rocks in Colorado would have to say that venue is the most amazing venue on planet earth.  It's surreal just to look up from the stage at this stadium of like 8,000 people as it rises up the side of a mountain with two huge natural red-rocks on either side of the amphitheater.  It's just one of those places that makes you feel like it's not possible that you're actually on the planet Earth
EM: We love the Red Rocks and we totally understand why you loved it so much. So, let's get down to the nitty-gritty on the new album dropping tomorrow. What is your favorite track off In the Beginning & why?
JE: I've had this album completed for over a month now so I've been through a few different cycles of favorites.  They all mean so much to me for various reasons but I think Milky Way Wars might be my absolute favorite.  This last summer on a camping trip, I experienced the Milky Way for the first time in my life.  I wrote the song about all of the feelings and internal questions and struggles I had in that moment.  It's such a magnificent and humbling sight, just to realize we're all so insignificant in the grand scheme of things.  And yet at the same time, we all play an important role in a much bigger picture than we often times see.
EM: Tell us about the track you're giving us to premiere, "You Got Me."
JE: I really love "You Got Me" because it's a song with multiple possibilities in meanings, and listeners may take a different response to it on any different occasion they listen to it.  It's an empowering song, to know that you're right where someone wants you to be in relation to their life, their goals, their desires.  It's important as humans to know that we have meaning, purpose and value.  Personally, for me, this song means that I've been given the opportunities within my career for a reason, and I now have a responsibility to be the best role model I can be to the younger generation.  And that's right were I'm supposed to be.  I want it to be a song that as people sing along with, they ask themselves "where is it (in the grand scheme of things) that I'm supposed to be?"
 As for final words, we asked James what he foresaw for the rest of 2012. 
"2012 has been too mind-blowing so far.  I don't think I could even be able to plan where things are continuing to go but my main goals are to tour more frequently, and keep raising my own standards for my music production."
We plan to follow James Egbert throughout his journey, and after checking out "You Got Me" and his new album tomorrow, it's clear that several EDM fans will be doing the same. Enjoy the track, download the album tomorrow, and follow James! Cheers, all.
James Egbert - You Got Me (Original Mix)
Stream:
James Egbert - You Got Me (Original Mix)
Follow James: