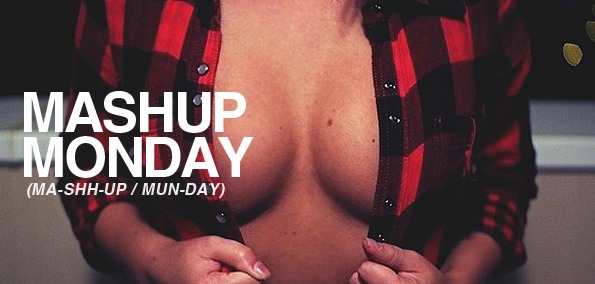 Mashup Monday - We're back again with some of the freshest mashes to start your week off right. These are the mashes that are worth hearing, so stop your searching and instead settle down at your computer... turn up your speakers... and get ready for that sweet nectar that only EARMILK can give ya. Let's GO.
 UPDATE: This is a late add, but it's so worth it. 3LAU has collabed with R3hab and brought us one hell of a track. 3LAU, a former contributor to EARMILK's Mashup Mondays, has certainly been making the right musical and career moves to put him in the position he is in now. And this massive collab track with R3hab is a testament to what he can do. This track starts off with some tranquil synths paired with Dev and DJ Sammy vocals before diving into the meat of the track. The buildup is expertly placed to get you amped before dropping into an absolute electro banger that would make any music festival go insane. So if you weren't a believer of 3LAU before, now is time to convert fully.
We got some great electro mashups, but what I'm really excited about is the more non-traditional mashes that I've managed to find. An exceptional track to help start us off is Mashup Germany's "Make It Bun Dem (Soundboys Answer)" and man does it have a great sound to it. Sampling Skrillex's and Damian Marley's new track as the instrumental, Mashup Germany pairs it with some Fall Out Boy, Bob Marley, and The Prodigy. The mash is an expertly woven track that has energy, perfect vocal samples, and that signature Skrillex sound to start off Mashup Mondays the right way. Other big name mashers - Kap Slap and Basic Physics - also provide some great mashes with Kap utilizing Avicii, Hardwell, Dada Life, and others while BP takes the ever-popular Carly Rae Jepsen sample and puts his own spin on it.
I was on a Creedence Clearwater Revival (CCR) kick lately, and luckily I found me some unique mashes that sampled them. I personally love the pair of "Midnight City" mashups that can be found below just for their uniqueness factor, and I would recommend you taking a listen to White Noise Mashups' tracks that come from his Angela's Mashes continuous album.
Download:
R3hab vs 3LAU - B#tch City (3LAU Bootleg)
Mashup-Germany - Make It Bun Dem (Soundboys Answer)
Download:
Mashup-Germany - Make It Bun Dem (Soundboys Answer)
Basic Physics - This Is Cray (Chrizz Luvly x Carly Rae Jepsen x Kanye West x Jessie J)
Download:
Basic Physics - This Is Cray (Chrizz Luvly x Carly Rae Jepsen x Kanye West x Jessie J)
Aviciis Epic Hangover (Kap Slap Bootleg)
Download:
Dada Life, Hardwell ft. Taio Cruz - Avicii's Epic Hangover (Kap Slap Bootleg)
Mighty Mike - City Down Under (M83 x Men at Work)
Download:
Mighty Mike - City down under
White Noise Mashups - Broke Phi Broke
Download:
White Noise Mashups - Broke Phi Broke
The Reborn Identity - One Warning (Full Fat Version)
Download:
The Reborn Identity - One Warning (Full Fat Version)
Sweekuh - Hoodies Fun. Ex Girl (The Temptations x Hoodie Allen x Timeflies)
Download:
Sweekuh - Hoodies Ex Girl [Hoodie Allen vs Timeflies vs The Temptations]
Stars Above and Sphoric - Sex On A Beach Summer Bootleg
Download:
Sphoric & Stars Above - Sex On A Beach (Sphoric & Stars Above Bootleg)
Download:
The Co1onel feat. Archie, Calvin Harris, The Wanted, Nadia Ali, & Anna Yvette - Napervillo
Every Language is a Waterfall (Coldplay x Porter Robinson)
Download:
Porter Robinson vs. Coldplay - Every Language is a Waterfall (TeeTs & Henry Fong Mashup)
Carlos Serrano - Night Mania (Kavinsky x Phoenix)
Download:
Phoenix vs. Kavinsky - Night Mania (Carlos Serrano Mix)
KNuckles - Touch the Sky (Shire Theme)
Download:
K'Nuckles - Touch the Sky (Shire Theme)
Das Nibley - Daft Punk Tribute (Live Mashup)
Download:
Das Nibley - Daft Punk Tribute (Live Mashup)
Heard It Through Proud Mary
Download:
CCR vs Gladys Knight and the Pips - Heard It Through Proud Mary
White Noise Mashups - Too Many Lights
Download:
White Noise Mashups - Too Many Lights
LeeDM101 - Midnight Moon (M83 x Creedence Clearwater Revival)
Download:
LeeDM101 - Midnight Moon (M83 vs Creedence Clearwater Revival)
One Day No Cry (Bob Marley x Matisyahu x The Fugees)
Download:
Rek'D - One Day, No Cry (Bob Marley x Matisyahu x Rebelution x The Fugees)
G-Rex - Fire Up That Tree On The Dancefloor
Download:
G-Rex - Fire Up That Tree on the Dancefloor
Flosstradamus - LUUK OUT GURL x DANCE ASS
Download:
Flosstradamus - LUUK OUT GURL x DANCE ASS